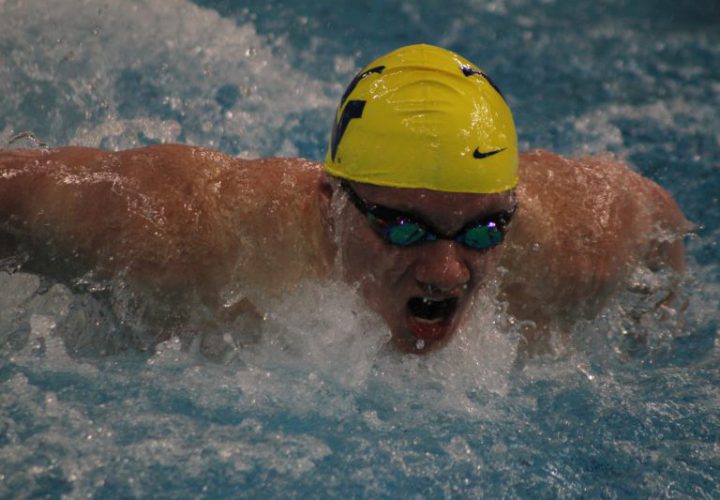 Photo Courtesy: Andy Ringgold / Aringo Photos
By Jason Tillotson.
The heated rivalry between WVU and Pitt ended in mixed results while the Jayhawks of Kansas University swam right by the squad at William Jewel University.
Here's a closer look at the action around the Big 12 conference this week:
WVU vs. Pitt
The West Virginia University men were able to defeat longtime rival, University of Pittsburgh by 187-113 while the mountaineer women suffered a 193-107 defeat.
On the men's side Mountaineer Junior Merwane El Merini scored significant points for WVU by winning two individual and two relay events alongside his freshman teammate David Dixon who secured two individual relay wins along with a single relay victory. One of Dixon's victories was the 200-yard butterfly where he would swim an impressive 1:45.80.
Other impressive swims came from WVU Junior Tristen DiSibio in the 100-yard breaststroke where he posted a swift time of 55.68 to take his first individual victory of the meet. DiSibio was also a part of the Mountaineer men's pool-record breaking 200-yard medley relay which posted a time of 1:29.94 to take the win over Pitt by almost two seconds.
El Merini was able to nab another win in the 100-yard freestyle where he put together a 45.75, just ahead of his teammate came ahead of Drew Damich, who touched second with his time of 46.01, completing the WVU 1-2 punch in the event.
On the women's side, despite a tough loss the lady Mountaineers put up a few impressive swims throughout the session.
WVU Junior Emma Harris posted solid times in the 100-yard and 200-yard breaststroke, where she was 1:06.35 and 2:22.30, respectively. Mountaineer Sophomore Julia Nilton was able to post a 53.19 in the 100 freestyle while Morgan Bullock posted a swift 2:03.53 in the 200-yard IM.
For complete results, click here.
Up next for the Mountaineers will be their senior day meet against Iowa State and Villanova on January 27th.
Kansas vs. William Jewel
Kansas kicked off their easy victory over William Jewel with a 1-2 sweep of the 200-yard medley relay with times of 1:45.97 and 1:48.79, ahead of William Jewel's top relay which touched in 1:56.43.
Freshman standout Lauryn Parrish got the ball rolling for the Jayhawks as she won the 1000-yard freestyle in 10:24.33 alongside her teammate Aley Shimel who posted a 10:52.90.
The Jayhawks took another 1-2 finish in the very next event, the 200-yard freestyle which was led by Haley Bishop who put together a 1:51.06, ahead of teammate Jenny Nusbaum who posted a swift 1:51.37 for second place. Another KU sweep was seen in the 400-yard IM with KU's deep IM squad of Madison Straight (4:28.76), Ellie Flanagan (4:29.15) and Downey (4:32.76).
William Jewel did put up a good fight in the final event of the day, the 200-yard freestyle relay where they came second with a time of 1:42.53, about a second behind Kansas who posted a time of 1:41.47 to win the event, and the meet.
For full results, click here.
Up next for the Jayhawks is another home dual with Arkansas on January 26th.