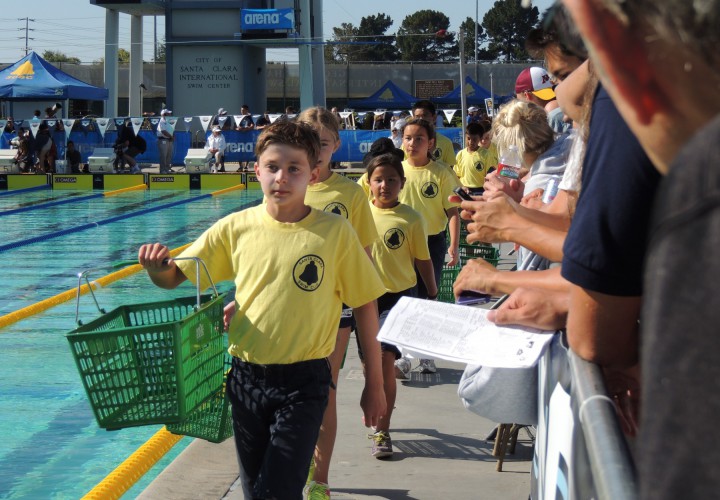 Photo Courtesy: Catherine Ladd
By Cathleen Pruden, Swimming World College Intern
At Division 3 NCAAs last March, as I waited to walk out for my final I was trying to smile to keep myself positive. One of the little girls who was volunteering by carrying baskets behind the blocks looked at me and said, "You have a pretty smile. Are you excited?" "Yes," I replied, with the smile becoming a little bit more natural, and some of my nerves easing. "Do you want to win?" she asked. "Yes," I said with a laugh. "Well I hope you win. I think you're going to do great!" she exclaimed.
This particular kid basket carrier shared some of her thoughts with me, but I'm sure she had many more over the course of that finals session.
Here are 37 thoughts of kid basket carriers:
How fast do I walk?

Is this lane 4?

Okay, yeah. I'm behind the right lane.

I feel like a golf caddy.

But, do golf caddies get paid?

I only got pizza for this.

But, my coach said I'm lucky and that this is a privilege.

Wow, this guy's feet are so big!

But his shoes smell! I thought chlorine was supposed to take care of these things.

Why does he hit himself before he swims?

Oh, I bet this guy is gonna splash me when he dives in.

He has to be eight feet tall.

Wow, yup, I'm wet now. Oh, but those timers got soaked!

I could never be a timer. They just have to sit there this whole time. I get to walk around.

But, I guess adults don't like to walk as much.

Is this girl going to forget to take off her sweatshirt?

What if her goggles come off when she takes off her sweatshirt?

It probably wouldn't matter. Maybe if she swam without her goggles and with her sweatshirt still on, I could keep up with her.

I wonder if any of these big kids have ever been a basket kid before?

How fast do you have to be to get somebody else to carry your stuff, anyways?

Why do some of these swimmers have so many things?

I'm just wearing shorts but these people have pants and parkas!

Okay, I think this is the last event.

Nope, that is definitely another group in the ready room.

I'm not sure why any of these boys even bother to use headphones. Their music is so loud I can hear it too.

Why do they keep putting their phones in the basket with the music still playing?

They can almost hear it from the blocks! That must be distracting!

Maybe I should turn it off.

Nope, I'm not supposed to touch the swimmers' things.

But, would it be that big of a deal for them to take three seconds to hit pause?

I guess when you're old and intense you have to focus.

When I get older I'll be intense too.

But, I'm still not going to hit myself before I swim. I don't understand why they do that.

Alright, last heat now. This time I'm sure.

Look! The swimmer in my lane won again!

I must be lucky.

When I'm older, and I get to have somebody carry my stuff, I hope they're a lucky basket carrier too.
To the age group swimmer who escorted my heat behind the blocks, I don't know what else went through your head that night, but I know I enjoy reflecting on our short conversation. Thanks for your time, and thanks for being part of what makes big meets feel special. Thank you to every kid basket carrier, and to every other swim meet volunteer.
USA Swimming has launched a campaign to recognize our terrific volunteers all month long! Honor all of the volunteers in your life this March by snapping their photo and posting with #1VolunTeam on Twitter, Facebook, or Instagram. Tag @usaswimming and @swimmingworldmag too!