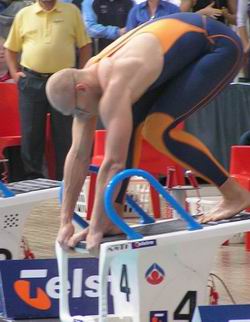 VICTORIA, Australia, June 26. TODAY, Australian Olympian Michael Klim announced his retirement via several media outlets Down Under. He leaves the sport with a bevy of Olympic medals, including a pair of golds from the 2000 Sydney Games in the 400 and 800 freestyle relays.
He also picked up a silver in the 100 fly and the 400 medley relay in Sydney after earning a bronze in the 400 medley relay at the 1996 Atlanta Games. He closed his Olympic career with a silver in the 800 freestyle relay at the 2004 Athens Games.
Even though Klim owns a pair of gold medals from relay action, he still leaves with the lament that he never earned individual gold.
"I know I did everything I possibly could have, my preparation was flawless," Klim told various media outlets in Australia. "You always wish you could have done something better, you know? But that's all right, I've dealt with it and moved on. I don't feel it's hanging over my head but I certainly wish I'd won gold."
Swimming World Magazine's 1997 World Swimmer of the Year, also leaves the sport just short of becoming the first Australian swimmer to swim at four Olympic Games.
Klim retires as a former world record holder in the 100 fly, 100 free, 400 freestyle relay and 800 freestyle relay.
The retirement comes less than a month after Swimming Australia announced a fine of $500 and a 12-month suspension of a three-month ban when Klim skipped an official organization dinner after the FINA World Championships.