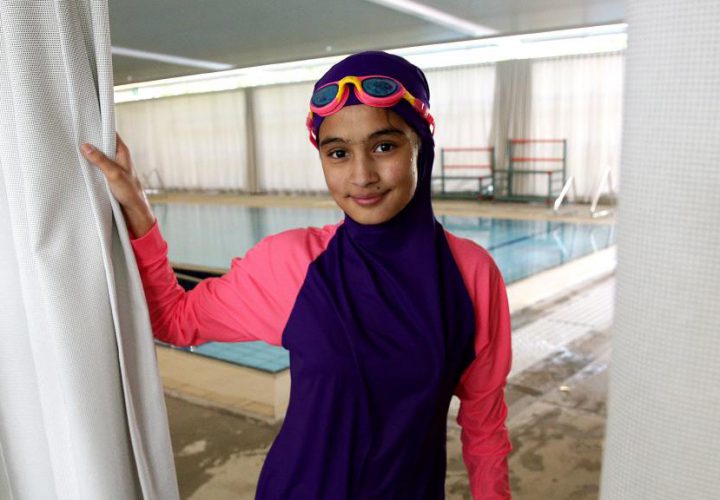 The Auburn Ruth Everuss Aquatic Centre in Auburn, New South Wales, Australia has installed privacy curtains so Muslim women can swim without being seen by other pool users. The lightweight curtain runs around the glass walls of the program pool which holds all female swim sessions for two hours each Sunday.
The pool was opened in March and Belgravia Leisure, which runs the facility, says the curtains were installed to "overcome cultural barriers and encourage Muslim women to use the pool." Auburn Council General Manager Malcolm Ryan said that, "There was a very high demand for female-only classes at the aquatic centre before redevelopment to cater for the differing modesty requirements. These classes were very popular but due to the centre only having one pool before redevelopment, the high demand wasn't being met. With the installation of curtains at the program pool, the Auburn Ruth Everuss Aquatic Centre is inclusive to the whole community at all times and can cater to any requirement, without it impacting on the rest of the centre."
Muslim women won't have to wear anything special in the new facility, which was opened in March of this year. They will be free to wear a swimsuit that is comfortable, rather than a "burkini" or a hijab that they'd have to wear in public pools.
The old pool at Auburn did not have these regulations and would often shy Muslim women away from the sport. They now predict that Muslim women can feel comfortable around other women in the female-only setting. 13-year-old Fatima Mossavi was one of the first people to use the pool in her lessons with the Australian Afghan Hassanian Youth Association. "I have been swimming since I was seven but not all my sisters can — this is good for us because they want to swim in private and now they don't have to wear anything special," she said.
The pool operator has the rights to section off this part of the pool thanks to the anti-discrimination act. Section 126 states that exemptions to the act can be granted in order: "to provide people of a particular race with equal or improved access to facilities, services or opportunities to meet their special needs".
The pool is one of three at the facility and is primarily used as an instructional pool. The locals hope it will lead to an increase in participation from Muslim women in the area. Ladies-only memberships are available at the pool, with lessons in water safety offered every week alongside women's swimming sessions every Sunday afternoon.
You can read the full report from The Daily Telegraph here