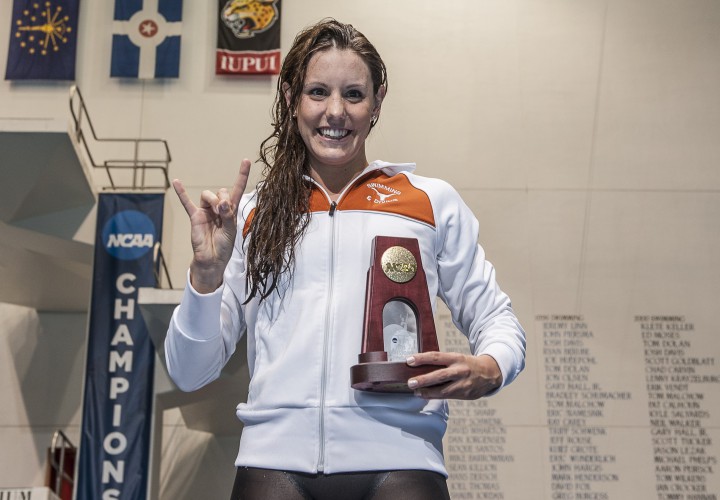 Special thanks to ArenaUSA for proudly sponsoring our coverage of the Arena Grand Prix circuit. For all of our coverage and more, please visit our event coverage page
AUSTIN, Texas, January 19. THE final day of qualifying at the Arena Grand Prix in Austin set up some potentially strong contests this evening on the campus of the University of Texas.
Women's 200 fly
The Canadian presence continued to be felt this morning in the women's 200-meter fly with Audrey Lacroix cruising her way to the top seed in 2:11.58. That's a second-and-a-half better than the rest fo the field as the Canadian Olympian looks to be the favorite heading into the finale.
SMAC's Remedy Rule posted the second-fastest time of the morning with a 2:13.15. That's her fifth-best swim ever, and she will be looking to beat her lifetime best of 2:11.32 from the 2013 Speedo Junior Nationals last August.
Mount Pleasant's Megan Kingsley touched third overall in 2:14.32, and could make a run at the top three this evening as she has made 2:11 pretty routine in her career the past few years. Canada's Noemie Thomas finished fourth overall in 2:14.62, while California's Caitlin Leverenz took fifth in 2:15.16.
Longhorn 15-year-old Victoria Edwards qualified sixth in prelims with a 2:16.80, just off her lifetime best of 2:16.48 from the 2013 Speedo Juniors, while 13-year-old rising star Madison Homovich of North Carolina Aquatics kept on rolling through her personal record book. She checked in seventh in the morning with a 2:16.82, smashing her lifetime best of 2:18.15 from the North Carolina 14-and-Under Long Course Championships last summer. PASA's Ally Howe rounded out the top eight with a 2:17.54 and could make some noise this evening.
Men's 200 fly
NBAC's Tom Luchsinger, the heir apparent to the Michael Phelps 200 fly crown in the U.S., continued to perform well even with rumblings that Phelps may return to reclaim his crown as early as March or April of this year.
Luchsinger was the only swimmer to break 2:00 this morning, beating the field by more than a second with a 1:59.89. That's just a second-and-a-half off his in-season best of 1:58.26 from the Santa Clara stop of the Arena Grand Prix last May.
NCAP's Andrew Seliskar qualified a distant second in 2:01.29. His top in-season time is a 2:00.63 from the Charlotte stop of the Arena Grand Prix in May of last year as well. Seliskar likely will dip under that time, potentially breaking 2:00 in-season for the first time this evening.
California's Tom Shields, who still has some of the best underwaters in the sport, cruised into third with a 2:01.61. Stanford's Bobby Bollier qualified fourth in 2:01.86, while NBAC's Conor Dwyer continued his packed event slate with a fifth-place time of 2:02.64.
Ramiro Ramirez Juarez touched sixth overall in 2:03.84, while Badger's Ryan Feeley claimed seventh in 2:04.27. Jersey Wahoo Zachary Fong wrapped up the championship field with an eighth-place time of 2:05.72.
Women's 100 breast
BlueFish's Laura Sogar definitely enjoyed competing back at her home pool as the Texas-Ex took the top seed this morning with a 1:08.06. That's only half-a-second off her lifetime best of 1:07.57 from the Charlotte stop of the Arena Grand Prix last year.
Sogar's new responsibilities as an Arena-sponsored swimmer are definitely suiting her well, as she's settling into the post-grad life well after an NCAA title send off from the University of Texas.
Trojan's Jessica Hardy, who is back in the full-time routine as a swimmer after taking an extended honeymoon break following last summer, posted a 1:08.95 for the second seed this evening. She's having fun getting back into the routine, and even had her fans vote for her to swim the 50 free yesterday morning all breaststroke.
SMU's Rachel Nicol placed third overall in 1:09.44, just half-a-second off her lifetime best of 1:90.12 from the 2012 Canadian Summer Nationals. SwimMAC's Katie Meili qualified fourth this morning in 1:09.71, while Abbigail Duncan took fifth in 1:10.94.
Canada's Tera Van Beilen (1:11.18), T2's Justine Mueller (1:11.31) and Aquajet's Olivia Anderson (1:11.46) also made the finale with 16-year-old Anderson being the youngest of a fairly veteran field.
Men's 100 breast
Scotland's Ross Murdoch, who won the 200-meter breaststroke with a 2:12.15 earlier this weekend, set himself up for a breaststroke sweep with a 1:00.87 during the morning session. No one else was even close to his top time from this morning. He could be looking at a sub-1:00 time this evening.
Trojan's Mike Alexandrov, after a surprising B final finish in the 200, bounced back with a 1:02.66 this morning to qualify second overall, while Tennessee's Brad Craig snagged the third seed with a 1:02.84. Trojan's Glenn Snyders rounded out the top four qualifiers with a 1:02.94.
PASA's BJ Johnson, always a sure bet to make the podium at Grand Prix events, positioned himself fifth out of prelims with a 1:03.40, while Craig Benson placed sixth in 1:04.06. PASA's Brandon Fischer (1:04.07) and UC Davis' Scott Weltz (1:04.19) posted the other A final times.
14-year-old professional swimmer Michael Andrew positioned himself for another 13-14 U.S. National Age Group record with a 1:04.87 to qualify 12th this morning. That swim is just off Anthony Robinson's 1994 age division mark of 1:04.74.
Women's 100 back
Canada kept on leaving its mark on the Austin stop of the Arena Grand Prix, especially in the women's backstroke events. This was evident in the 100-meter backstroke qualifying with four of the top eight swimmers all hailing from Canada.
Dominique Bouchard raced her way to a 1:02.57 to lead the way in what could be an exciting finish this evening considering less than a second separates first through fourth. SMU's Isabella Arcila touched second in 1:02.69, while Bulldog Megan Romano claimed third overall in 1:03.08. Ontario's Danielle Hanus rounded out the top four with a 1:03.38.
Hilary Caldwell of Canada, the 200 back winner last night, took fifth in qualifying in the shorter distance event with a 1:04.32, while U.S. sprinter Simone Manuel continued her off-event schedule with a sixth-place 1:04.56.
Ontario's Meryn McCann placed seventh in 1:04.57, while PASA's Ally Howe kept up her good fortune with a run of eighth-place finishes as she posted a 1:04.59. She took eighth in the 200 fly to open up the day.
Men's 100 back
Tucson Ford's Matt Grevers coasted into the top seed in the shorter distance backstroke this morning with a 54.68, while fellow veteran backstroker Nick Thoman of SwimMAC cruised into second in 54.86. The two should put on a show this evening when the two turn up the heat.
California's Jacob Pebley and Ryan Murphy tied for third with matching 55.13s in prelims, while NYAC's Arkady Vyatchanin posted a fifth-place time of 55.51. Stanford's Eugene Godsoe touched sixth in 55.68.
Meanwhile, the German contingent got into the action with Christian Diener (56.26) and Felix Wolf (56.50) comprising the rest of the championship heat.
Making the B final, 14-year-old pro Michael Andrew clocked a time of 57.38 to qualify 12th overall. He split the race 28.40, 28.98 en route to his record-breaking swim. That time nipped Benjamin Ho's record of 57.39 set last April at the PASA Race for Earth Day meet.
Andrew's lifetime best had been a 58.18 from the 2013 Speedo Junior Nationals last August. He also put another 13-14 record on notice this morning with a 1:04.87 to qualify 12th this morning in the 100-meter breast. That swim is just off Anthony Robinson's 1994 age division mark of 1:04.74.
Women's 200 IM
Depending on how the 200 fly goes earlier in the evening, California's Caitlin Leverenz could be looking as a dynamic double tonight. Leverenz earned the top seed in the 200 IM this morning with a 2:16.70, but has way more in the tank heading into this evening as she's been in the 2:10 range in-season.
NCAP's Katie Ledecky continued to diversify her event schedule, capturing second in the distance fly event with a 2:17.88. It's been awhile since Ledecky has swum this event, considering she was entered in with a yard time. Her swim this morning blitzed her previous lifetime best of 2:25.83 from the 2011 Virginia Long Course State Championships.
BlueFish's Laura Sogar, who could also be in the running for a strong double following her 100 breast this evening, qualified third in 2:18.65. That's nearly an in-season best for Sogar, who has a 2:18.48 from the 2008 Sectionals, and has a lifetime best of 2:15.60 from the 2009 U.S. National Championships.
PASA's Karlee Bispo placed fourth this morning in 2:19.21, while SwimMAC's Katie Meili claimed fifth in 2:19.54. Santa Clara's Courtney Monsees (2:19.65), Mount Pleasant's Megan Kingsley (2:20.36) and Lakeside's Leah Stevens (2:20.62) also made their way into the finale.
Men's 200 IM
California's Josh Prenot turned in a 2:04.08 to lead the way in the men's medley this morning, and will be looking to beat his in-season best of 2:02.48 from the Fran Crippen Memorial meet last summer in Mission Viejo.
NCAP's Andrew Seliskar, who has been finaling with regularity this weekend, qualified second in 2:04.80 with PASA's Curtis Ogren hitting the wall third in 2:04.98. NBAC's Conor Dwyer picked up yet another A final swim, this time with a 2:06.15 as he will be vying for some ever-important podium points as he and teammate Yannick Agnel battle for the top of the rankings.
Wisconsin's Michael Weiss (2:06.39), Ontario's Evan White (2:06.88), Canada's Alec Page (2:07.14) and Nitro's Sean Grieshop (2:07.81) cashed in the other transfer spots into the finale.
Michael Andrew, who already broke one national age group record today, and could be looking at breaking the 100 breast mark tonight, also set up another chance with an 11ht-place 2:08.44. His own national age group record in the event is a 2:05.13 from last year.