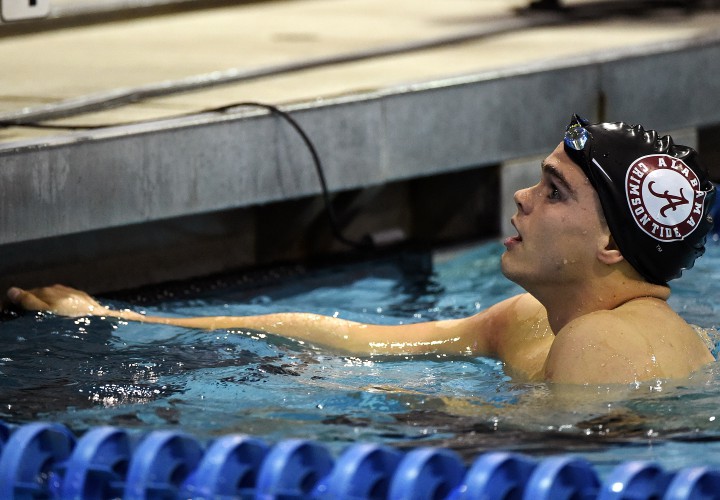 Photo Courtesy: Mike Comer/ProSwimVisuals.com
It was a good day for Anton McKee.
The Alabama junior notched a NCAA 'A' time standard in the 200-yard breaststroke. McKee won the event with a time of 1:53.00.
Saturday's finals began with the 1650-yard freestyle. Arkansas' Aiden Lister took home the women's crown with a time of 16:29.23. She won by over six seconds. In the men's event, South Carolina's Akaram Mahmoud won by over 15 seconds. The sophomore posted a time of 14:48.52.
Alabama's Emma Saunders took home the win in the 200-yard backstroke. The senior posted a time of 1:53.88. In the men's race, Alabama's Christopher Reid barely defeated teammate Connor Oslin. Reid posted a time of 1:41.82, just three-hundredths of a second ahead of Oslin.
Arkansas' Maddie Monroe brought home the women's 100-yard freestyle title. The senior posted a time of 48.73. Kristian Gkolomeev of Alabama won the men's event with a time of 42.85.
Lina Rathsack of UNLV won the women's 200-yard breaststroke. The junior posted a time of 2:11.84.
Hannah Musser of Alabama took home the 200-yard butterfly title. She posted a time of 1:58.91, winning the event by only five-hundredths of a second. Ben Southern treated the home crowd to a victory in the men's event. The Georgia Tech junior posted a time of 1:45.84.
The meet concluded with the men's and women's 400-yard freestyle relays. Arkansas won the women's event. The Razorback team of Monroe, Nina Drolc, Natalie Burnett and Anna Mayfield posted a time of 3:17.52. Alabama took home the men's title with a time of 2:53.83. Their team consisted of Alex Gray, Crews Wellford, Robert Howard and Gkolomeev.
Alabama won the meet on the men's side. The Crimson Tide finished with 1,360.5 points. South Carolina, the second place team, had 1,107. Georgia Tech, the home team, finished third.
Arkansas was victorious on the women's side. The Razorbacks scored 1,112 points, holding off Alabama's 1,022.5. Florida Gulf Coast finished third.