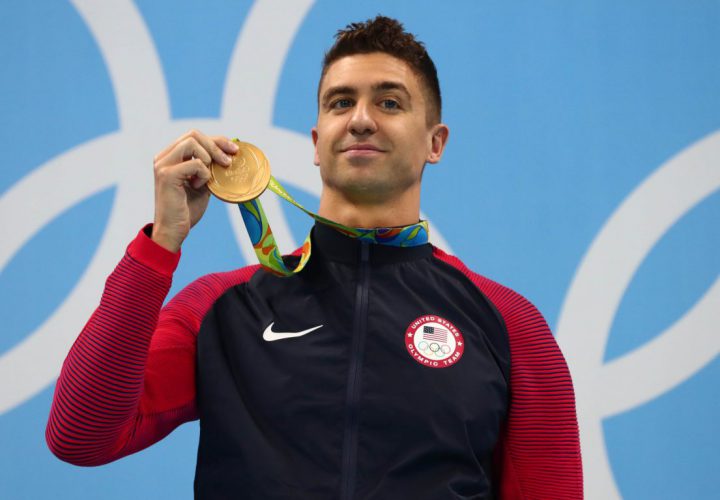 Photo Courtesy: Rob Schumacher-USA TODAY Sports
The 2017 Raia Rapida challenge prides itself on fast swimming from sports icons around the globe. By adding women to the mix, they hoped to stir up the action this year.
But it was not only the female competitors that made the event more interesting this time around- three-time Olympic Gold medalist Anthony Ervin did so as well.
According to a Tweet from Alex Pussieldi, a Brazilian swimming comentator, Ervin knelt for the Americans' National Anthem prior to the start of competition:
Fotos de Satiro Sodré. @AnthonyErvin pic.twitter.com/SR8b3mx9XB

— Coach Alex Pussieldi (@alexpussieldi) October 15, 2017
His actions follow those of many professional athletes from a range of sports over the last month. The protests started in an NFL pre-season game last year, when San Francisco 49ers quarterback Colin Kaepernick sat down during the Anthem. "This is bigger than football," he said in 2016.
Kaepernick said he was protesting the wrongdoings of black people in America, while more issues have come up since his original action.
Ervin Tweeted the following after the competition:
My point is to save lives, and understand the imbalance. We all have our area. I'm a swimmer.

— Anthony Ervin (@AnthonyErvin) October 16, 2017
Ervin has been known to make statements about similar issues in the past. He is part black, Native American, Italian and Jewish. In 2016, he explained his experience as a black athlete in a predominantly-white sport. And when it comes to voicing his opinions and beliefs, Ervin has not been one to keep to himself:
"I'm always torn between trying to at least being able to steer what the public perception is of my public image is versus who I know I am in my personal space," Ervin said. "I don't know what people think…and I've relinquished trying to understand what my public image is. Nothing about it has aggravated me to the point of being sick."
The annual Raia Rapida event did not show anything different from Ervin. While his team (Hellen Moffit, Chuck Katis, and Kendyl Stewart) may have taken second in the swimming rankings, only time will tell if his decision to kneel during the National Anthem will make a significant impact on this issue in the sport of swimming.
Team USA and the NFL contributed to this report.