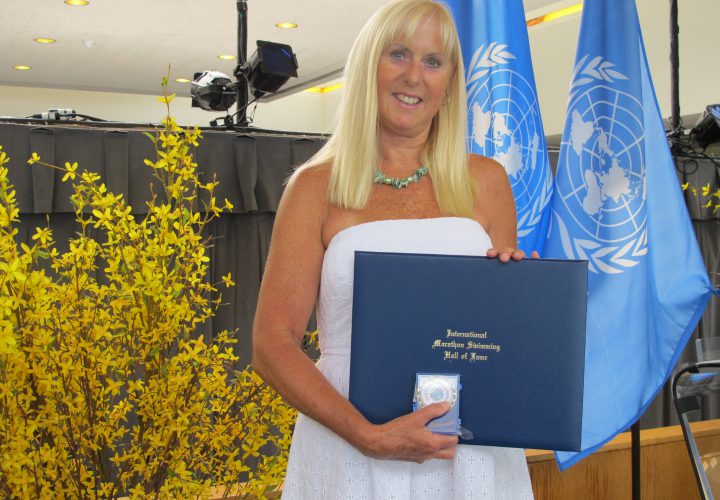 Photo Courtesy: Anne Cleveland
According to the San Diego Union-Tribune, Anne Cleveland, International Swimming Hall of Fame member, has died at the age of 61 after a battle with pancreatic cancer on June 29.
A native of La Jolla, Cal., Cleveland spent most of her life in and around the water. As a young teenager, she trained with the local YMCA swim team and later the La Jolla High School boys' swim team, where she earned an 'A' in boys' PE. But Cleveland was always drawn to the Pacific Ocean.
"It was quiet, peaceful and pretty out there," Cleveland once said.

In 1996 at the age of 40, she discovered the English Channel Crossing swims. Six years later, she completed her first crossing, but wondered what it would be like to swim back.
In 2004, she attempted and completed the challenge despite 21-knot winds, choppy conditions and a strong current off of France. She finished in 28 hours and 6 minutes.
Her feat made her the eighth woman, fifth American and 17th person in history to have completed the double crossing. At the time, her 48 years of age made her the oldest to complete the swim. She was fundraising for the Moore's Cancer Center at the time. 
"When I wanted to quit during the grueling swim, I told myself that individuals fighting cancer do not have the option to quit. So I kept going," Cleveland said.
Thirteen years later, Cleveland unfortunately lost her own battle with cancer, but her legacy and what she has accomplished in the sport of marathon swimming will live on.
Aside from being inducted into the ISHOF in 2011, Cleveland was awarded the San Diego Hall of Champions Star of the Month Award and was honored by the Foundation for Women.  She was also awarded the Gertrude Ederle Award for the Most Meritorious Swim by a Woman in 2004.
Outside the pool, Cleveland is known to mentor many open water swimmers and people outside the sport as well. She has given many goal-oriented motivational speeches to different groups.
She passed with family and friends beside her, fighting until the end, much like her English Channel double crossing.
"She is the most determined, motivated, self-driven, strong person that I've known in a long time," friend Kathryn Murphy said.
"She was so determined to fight this pancreatic cancer. She gave every ounce of her body up to the last breath. But she was ready to go. Last week, she said, 'I want to go home.' Being at her bedside was nothing but a pleasure, knowing she fought as hard as she could. She accomplished what she wanted, then was ready to call it a day."
The San Diego Union-Tribune and Melissa Berkay contributed to this report.