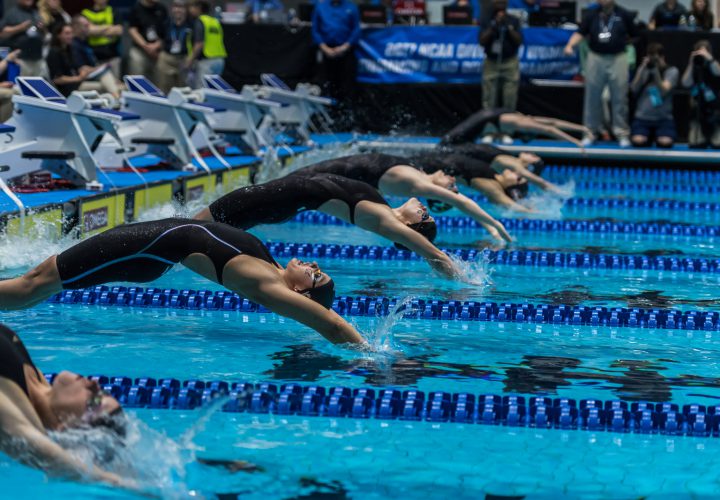 Photo Courtesy: Peter H. Bick
By Kevin Donnelly, Swimming World College Intern.
Two weeks ago, I took a look at the incoming class of college freshmen men's times swum for their club or high school teams this season, and compared them to what it took to place 16th or better at the 2017 DI NCAA Championships. With the women's NCAA championships just around the corner, it is time to do the same for the women!
Using times from this season from USA Swimming's database, as well as CollegeSwimming's list of 2018 recruits, I looked up the times it took to place 16th or better in prelims (or in the timed finals, for the 1650 free) at the 2017 Women's Division I NCAA Championships, and compared them to the list of current times swam this season by high school seniors. The table below depicts how many female high school seniors have already been faster than what it took to score at NCAAs last season, per event.
| Event | Number of Potential Scorers |
| --- | --- |
| 50 Free | 0 |
| 100 Free | 1 |
| 200 Free | 2 |
| 500 Free | 3 |
| 1650 Free | 1 |
| 100 Back | 1 |
| 200 Back | 1 |
| 100 Breast | 1 |
| 200 Breast | 2 |
| 100 Fly | 2 |
| 200 Fly | 2 |
| 200 IM | 2 |
| 400 IM | 2 |
Analysis:
It is clear to see that, while it is still extremely challenging, it is more common to see women achieve times under what it took to score at NCAAs while still in high school than men. A total of twenty times swam by high school seniors were faster than the 16th-place times from 2017's NCAA Championships meet, as opposed to just seven for the men.
The most common event where high school seniors are faster than the NCAA scoring time is in the 500 free, where three women have been under the 4:39.97 that both Texas's Lauren Case and Air Force's Genevieve Miller swam in prelims (Miller would go on to win the swim-off between the two). The only event that does not feature any seniors under the 16th-place time is the 50 free. Amy Bilquist of Cal and Anika Apostalon of Southern Cal tied for 16th at 22.00 in 2017, and the only high schooler in the country to swim under that time is Gretchen Walsh, a 15-year-old freshman who swam a 21.85 at the Southern Premier Meet in Nashville last weekend.
Three seniors each have three events in which they have swam faster than last season's 16th-place time. Vanessa Pearl, who is verbally committed to swim for Florida in the fall, has been under the 16th-place time in the 200 breast, 200 IM, and 400 IM this season. Julia Cook, a future Texas Longhorn, has swum her three times in the 100 free, 200 free, and 100 back. And Zoe Bartel, who is committed to the Stanford Cardinal, has been under the times in the 100 breast, 200 breast, and 200 IM.
All commentaries are the opinion of the author and do not necessarily reflect the views of Swimming World Magazine nor its staff.