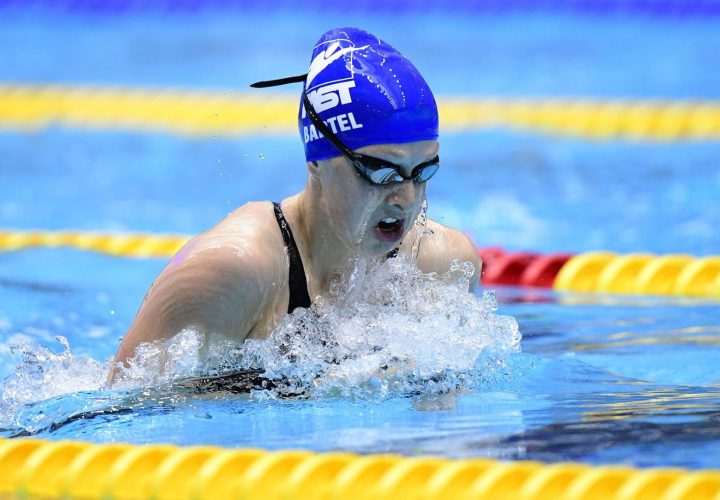 Photo Courtesy: Marc Lebryk-USA TODAY Sports
Agon is the proud sponsor of all high school coverage (recruiting, results, state championships, etc.) on SwimmingWorld.com. For more information about Agon, visit their website AgonSwim.com.
To report a college commitment, email HS@swimmingworld.com. Join Swimming World's Watch List
NEW COMMIT: Colorado-native and U.S. National finalist Zoe Bartel is headed west in the fall of 2018 to join Greg Meehan and the Stanford Cardinal. Bartel announced her verbal commitment Wednesday night on her Instagram page.
Bartel is a native of Fort Collins, Colo., and she represents Fort Collins Area Swim Team and Fossil Ridge High School.
She just competed last week at the U.S. National Championships in Indianapolis, where she finished eighth in the 100 breast in 1:08.00. She also won the B-final of the 200 breast in 2:27.26, took second in the 50 breast B-final (31.45) and won the C-final in the 200 IM (2:15.37).
In short course yards, Bartel's lifetime best times include a 2:07.73 in the 200 breast, the current 15-16 NAG record in the event. She also has been 59.04 in the 100 breast and 1:58.27 in the 200 IM. She also threw in a quick 53.42 100 back at Winter Junior Nationals last December.
Bartel's 100 time would have qualified her for the championship final at this year's NCAA championships, while her 200 breast time would have placed tenth in prelims, so she is likely to be a big factor right away for the Cardinal.
Breaststroke was arguably Stanford's biggest area of weakness this past season, but with Bartel and Allie Raab both committing within the last 48 hours for the class of 2022, those events will suddenly become major strengths when the duo arrives on the Farm.