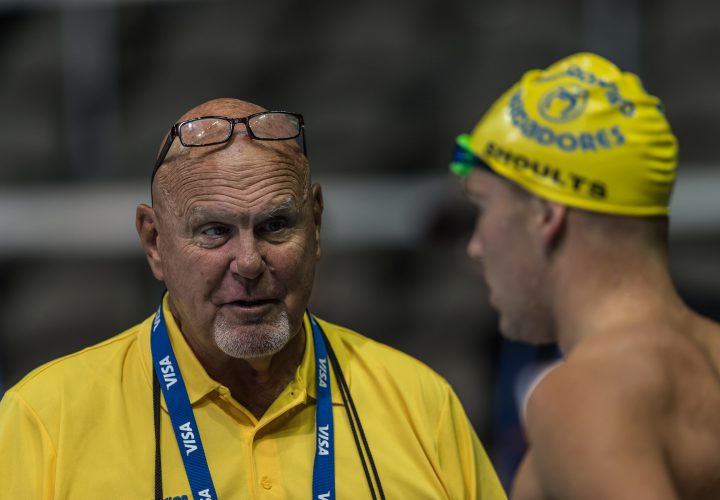 Commentary by By Chuck Warner
It may seem odd to be writing about roses the first week of winter, but on December 31, a very special Rose will be officially retiring from coaching the sport he loves.
Bill Rose, the 74-year old head coach of the Mission Viejo Nadadores, has been an unwavering standard bearer for a culture of commitment to excellence on the American Swimming Team for one half century. During his tenure leading athletes at the University of Pacific, DeAnza Swim Club, Arizona State and the Mission Viejo Nadadores, Coach Rose has cheerfully enlisted swimmers in a joyous commitment to an arduous training routine that provided a pounding heart beat to American distance swimming at times when a pulse was otherwise hard to detect.
When the 'distance explosion' was taking place in America in the 1970s, it was derailed—to a large degree—when President Carter announced the USA would boycott the 1980 Olympics. The distance swimmers were the first to stop working that year and some struggled to ever resume.  A large degree of air was drained from what had been a ballooning battle to train to become the best 400/1500-meter freestyler in America and in the world, but not so in Bill Rose's program.
The coach with the shaved head, who begot the look to his star swimmer, Mike Bruner, stood firmly for a demanding training schedule. While the boycott undercut the commitment of the biggest names in American distance swimming, Rose and Bruner doubled down on the joy of work and the love of swimming fast–for lots of minutes and lots of hours. It was in that year that Rose concocted Bruner's 10,000-yards for time, in which each 100 averaged under one minute.
While Bruner possessed no exceptional physical gifts, his 'talent' for working long and hard in a program Rose designed gave him a ladder to climb to the top of the sport. The outcome at the 1980 "Trials" included Mike Bruner's exceptional performance of winning the 400-meter and 1500 freestyles, and finishing second in the 800 and 200 butterfly.
During the late 1980s and the entire 1990s, American men's distance swimming became extinct on the Olympic awards podium. But in 2004, for the first time in two decades, the USA had a contender to win Olympic gold in a distance race when the 'Rose trained' school boy Larsen Jensen, surged into international competition. Then the head coach at Mission Viejo, Rose guided Jensen to a surprising challenge of Australian distance legend Grant Hackett, when Jensen lowered the American record eleven seconds in the 1500-meters (14:45.29) in earning the Olympic silver medal, missing gold by less than two seconds.
When the International Olympic Committee adopted open water swimming into the Olympics, Rose helped transform several successful pool swimmers into open water champions including Ashley Twitchel, Chloe Sutton and the late, great Fran Crippen.
Just like his large logbooks that carefully organize his challenging week-long recipes for success in swimming's toughest races, Coach Rose has helped keep alive a simple formula that has been the hallmark of American swimming success: "Work works."
An artful motivator, this is the coach that jolted Mike Bruner from failure early at the 1976 US Trials to making the team in an 'off event' (200 butterfly). Four weeks later, Bruner initiated the American onslaught of medals in the Montreal Games by winning the event, and the first gold medal, in world record time.
We should not allow this man to exit the sport quietly. Perhaps a fitting tribute would be American swim coaches shaving their heads for the month of January?
That's not likely to happen, but if we learn the lesson from Coach Rose's stellar career then it is more likely that some coaches, and some swimmers, will embrace the joy in work and these words from the poet Dylan Thomas that characterize Bill Rose's sustained coaching efforts even into his seventies:
Do not go gentle into that good night,

Old age should burn and rave at close of day;

Rage, rage against the dying of the light.
Though wise men at their end know dark is right,

Because their words had forked no lightening they

Do not go gentle into that good night.
Thank you, Bill Rose, for what you've stood for and all the moments you and your swimmers have given us. Your stoic image, extending your arms over a shiny head signaling assurance to your athlete in the pool, is one that many of us associate with American swimming success. We stand, cheer you and have often felt a sense of pride in American distance swimming because of your work. While your career beacons to the entire swimming world a vow of resolute commitment, to those in the USA we also take pride that you are, and shall always be, an American Rose.