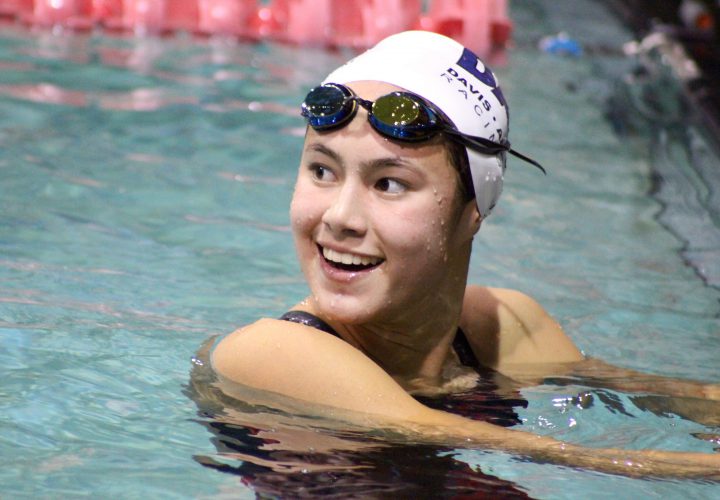 Photo Courtesy: Taylor Brien
Speedo Sectional Series is proudly sponsored by Speedo. Visit SpeedoUsa.com for more information on our sponsor.
The 2017 Speedo Sectionals in Carlsbad concluded with Bryce Mefford picking up another two individual victories. Amalie Fackenthal and Brad Gonzales also added to their medal collection.
Amalie Fackenthal of Davis Aquatics and Anicka Delgado of GSC posted the top two times in finals of the women's 100 free, delivering the only sub-50 second swims of the night. Fackenthal touched first with a 49.63, followed closely by Delgado's 49.86. Elise Garcia of SCAL finished third overall with a 50.28.
Sierra Marlin's Bryce Mefford turned in a 43.67 for first in the men's 100 free, finishing ahead of the competition by close to a second and a half. PLS' Jonah Cooper touched second overall with a 45.01, while SDY's Brandon Crabtree was third with a 45.39.
Mefford collected his second win of the night with a 1:42.33 finish in the men's 200 back. Cooper picked up his second silver of the night with a 1:45.50, while Davis Aquatic's Gianluca Urlando was third with a 1:48.86.
RMDA's Taylor Ault out-lasted the competition in the women's 1650 free, touching with a sizzling time of 16:11.01. Liberty Williams, swimming unattached, grabbed second overall with a 16:33.31, followed by FAST's Cathryn Salladin's 16:41.52.
Alexandra Crisera of Beach Cities delivered the top time in the women's 200 back, stopping the clock at a final time of 1:57.66. SMST's Jennifer Lathrop turned in a second place time of 1:58.08, just ahead of Davis Aquatic's Zoe Cosgrove's 1:59.53.
RMDA's Brad Gonzales continued his distance success with a dominating 8:56.01 finish in the men's 1000 free. Matt Hales, swimming unattached, grabbed second with a time of 9:19.98, just ahead of PS's Alexander Santana and his time of 9:30.39.
Brea Aquatics delivered a 1-2 punch in the women's 200 breast as teammates Kelsey Lloyd and Mikki Thompson delivered final times of 2:13.93 and 2:14.54. STAS' Kristina Murphy touched third with a final time of 2:15.19.
Bradley Prolo, swimming unattached, flirted with a sub-two minute swim in the men's 200 breast, stopping the clock at a final 2:00.30. Sierra Marlin's Ben Dillard grabbed second overall with a 2:02.81, narrowly ahead of Beach Citi's Ike Shirakata's 2:02.86.
Davis Aquatics Racing Team's Amalie Fackenthal (50.48), Zoe Cosgrove (51.75), Kailee Nabeta (51.87), Katelyn Yule (51.23) touched first in the women's 400 free relay with a combined time of 3:25.33. Beach Cities Swimming finished second overall with a 3:27.17, while Brea Aquatics was third with a 3:28.09.
The relay team of Finn O'Haimhirgin (47.17), Colby Mefford (46.44), Luke Peters (47.54), and Bryce Mefford (44.13) posted a combined time of 3:05.28 in the men's 400 free relay to claim victory for the Sierra Marlins Swim Team. Rancho San Dieguito posted a second place finish of 3:06.75, followed by Ccat Swimming and their time of 3:08.27.
All results can be found on Meet Mobile – SI 2017 Speedo Sectional Carlsbad