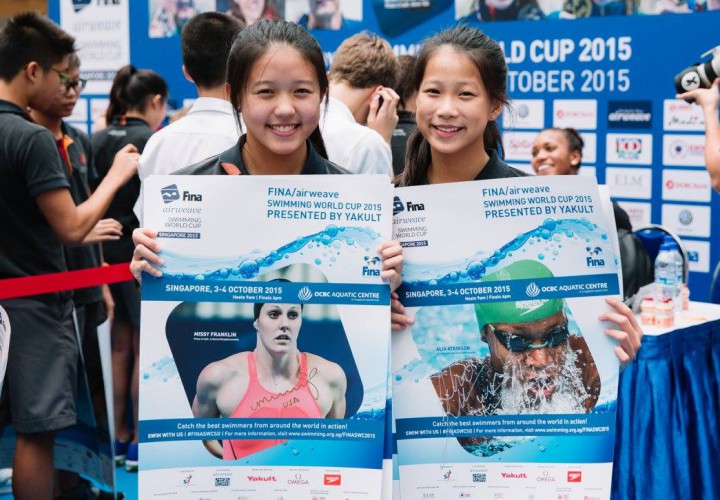 Photo Courtesy: Singapore Swimming Association
Organizer at the 2015 FINA World Cup Singapore have decided to cancel both the women's 800-meter free and men's 1500-meter free as well as make a few other adjustments due to some air quality issues in the city.
According to FINA:
"If the air quality breaches the very unhealthy levels an hour before the heats, the day's event will be delayed for an hour and if the Pollutants Standard Index (PSI) remains above 200, the session will be cancelled. This is in accordance with the National Environment Agency's advisory which recommends that healthy persons avoid prolonged or strenuous outdoor physical exertion if PSI levels exceeds 200."
Four-time Olympic gold medalist Missy Franklin doesn't seem too concerned as she spoke with the media earlier today.
"I completely trust the Government of Singapore and FINA to put the interest of their athletes first, and that's what exactly they've been doing," Franklin said. "They've been doing a wonderful job and we're going to do the best that we can to work around it. This is actually the stop I have been looking forward to the most and honestly – I am just excited to race, to get to meet the people, experience the culture and take it all in."
Here are the full changes meet hosts have put in place:
1. Heats will start at 10am.
2. 2 events, men's 1500m and women's 800m, have been cancelled. Hence, the best timings from Beijing and Hong Kong will be used (editor's note: only for those registered to compete in Singapore).
3. For events with 26 entries and above, the heats will be in the morning and finals will be in the evening.
4. For events with 25 entries and below, a TIMED FINALS will be held. Of which, the 10 fastest swimmers will swim in the evening finals and the other 15 will be swimming in the morning heats.
This means that Masato Sakai (15:28.04-Hong Kong), David Verraszto (16:07.29-Hong Kong) and Omar Pinzon (16:51.00-Beijing) will collect the cash prizes and podium points for the men's 1500-meter free, and Katinka Hosszu (8:40.58-Beijing), and Zsuzsanna Jakabos (8:40.81-Beijing) are in line for the women's 800-meter free winnings as the only two swimmers who are registered to swim in Singapore this weekend.
Cameron van der Burgh, the men's points leader, also is not concerned.
"It hasn't affected the preparation at all," van der Burgh said. "We just came in straight last night from Beijing so there's nothing much you can change. Everyone's in the same condition and facing the problem, we're all in it together."
Alia Atkinson, another World Cup veteran, sees the haze as just another variable to deal with en route to success.
"It's another factor that's in the sport," Atkinson said. "You have many things that will happen – your suit might tear, your cap might tear. There's many different circumstances outside of your control that will happen in a race."