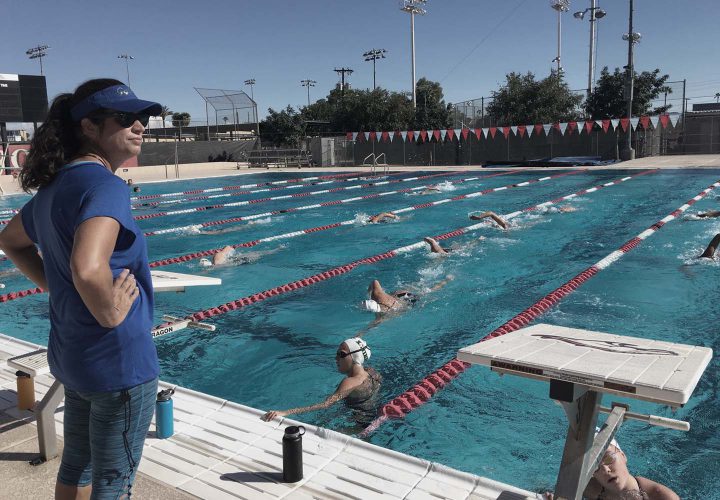 Photo Courtesy: Mark Rankin
Agon is the proud sponsor of all high school coverage (recruiting, results, state championships, etc.) on SwimmingWorld.com. For more information about Agon, visit their website?AgonSwim.com.?National Records for High School Are Pending Application Verification.? Click Here to Learn More
By David Rieder.
Mia Rankin, a 14-year-old freshman at all-girls Xavier College Prep, was racing for a state title. In the 500 free final at the Arizona Division I girls' state meet, she was neck-and-neck with Chandler High School's Destiny Kling.
Watching closely on deck was Mia's father Mark Rankin, who had taken over coaching duties at Xavier just one month earlier under the most tragic of circumstances.
"Turn for turn the whole freaking way," Mark said. "Mia had her around the 400, but (the other) girl kept coming."
After Rankin had a slight advantage with just 100 yards to go, Kling made her run on the second-to-last 50 and took the lead—by just two hundredths—heading into the last two lengths. Rankin could not run her down. Kling finished in 4:55.75, Rankin in 4:55.93.
Rankin was annoyed she hadn't won, but she had swum the race of her life, dropping 12 seconds from her best time. The whole way, she was thinking of only one thing—actually, one person.
"Her."
The "Her" was Maureen "Mo" Rankin, Mia's mother and Mark's wife, who had passed away seven weeks earlier after a battle with bladder cancer. Mo had been in her second season as Xavier's head coach.
Mia had been swimming for her time and for her team—which was in the hunt for a state championship—but also for something bigger. So were the 18 other girls racing in Xavier caps that Saturday afternoon in Mesa.
---
Just this summer, Mo Rankin thought her cancer was gone. She had been first diagnosed in December 2016, and after chemotherapy, doctors gave her a clean bill of health by the summer. But when she did not feel well again in late July, she went in for more tests. The cancer had returned.
As the high school season began in early August, Mo was on deck regularly at Xavier's practices. The school had hired her full-time to work in the finance department, but treatment—radiation and immunotherapy—diminished her ability to function.
"The therapy kind of hit her pretty hard," Mark said. "She was mostly there on deck, but she had to get away from her day job. This was early August. She was maintaining for a little while, coaching the workouts, but she was starting to really not feel good at all—having trouble getting out of bed, really sore."
As August turned to September and Mo became weaker, she ended up sending workouts to her assistant, Jen James, to relay to the girls on the team. But on Sept. 19, as Mo's condition worsened, Mark was forced to take her into the hospital.
She would never make it out. Mo Rankin died early Monday morning, Sept. 25, leaving behind Mark, Mia and an 11-year-old son, Luke.
At that point, her high school team was without a coach. Mark, who like Mo had previously coached age group, senior and masters at Phoenix Swim Club, took over Mo's duties of sending in workouts shortly before her death. "Mo and I are similar coaches," Mark said.
Right around the time she died, Mark started coming to as many of the meets—particularly weekend invitationals—as he could, and he even dropped by some practices while maintaining his full-time job in sales. But Xavier athletic director Lynn Winsor wanted Mark to assume more regular coaching duties.
"Sister Lynn was being very cool. 'Can you come on?' 'No, but I'll help as much as I can.' Coach Jen was like, 'Yeah, we can make this work. Let's not bring anyone else in.' I started getting there when I could," Mark explained.
With two weeks to go before State meet, Mark blocked off his afternoons to coach at Xavier. After acquainting himself with the girls on the team, he realized that this group had potential to accomplish something special, and he wanted to see it through
"I knew we had a good chance of winning State this year," Mark said. "We kept beating all these teams that were whooping on us last year. We had a hell of a freshman group."
The once-dominant Xavier Gators had won 26 State titles in their history, including 14 in a row from 1999 to 2012. But they had not won since, and in Mo's first year coaching, the team had finished fourth at the Division I girls' State meet.
"We kept planting it in their heads: 'You guys are looking good. We're beating these teams,'" Mark said. "I wasn't for sure, but I knew we were going to be right in it. It just slowly, clearly kind of became more obvious that we were definitely in the hunt."
---
When Mo started feeling sick again in July, she and her family had been in Oregon while Mia swam in her first-ever senior Sectionals. Just 13 at the time and representing Phoenix Swim Club, she dropped five seconds in her 200 breast and six in the 400 IM to earn her first cuts for Winter Junior Nationals.
"She's just very driven. She thinks she's going to be there. She thinks she's got a hell of a shot," Mark said. "Yeah, she thinks she's going to be an Olympian and has had that belief for a couple years now. I remember having that belief, but I never talked about it like that."
Mark's twin brother Matt had just missed making the U.S. Olympic team in 1988—he was fourth in both the 200 IM and 400 IM at Olympic Trials, missing the top two in the 400 IM by just 55 hundredths—and Mo was a nine-time all-American at the University of Arizona. Elite-level swimming runs in the family.
And after she lost her mother, swimming was Mia's refuge.
She woke up on a Monday morning to find Mark had come home from the hospital to deliver the news. At 3:30 that afternoon, she was at Phoenix Swim Club for practice.
"Swimming makes me feel better. All my friends were there," Mia said, before recalling that it had been an especially hard practice that afternoon. "It's easier to not think about (what happened) when I'm swimming because I'm too busy focusing on, 'This hurts.'"
"I think she just doesn't want anything to interfere with what she wants to accomplish, even something like that," Mark added.
The club put up a poster reading "We love you, Coach Mo," and swimmers who knew her could write messages on sticky notes and paste them onto the board. Within a day, there were more than 100 notes.
Being surrounded by tributes to a lost parent could easily be too much for a grieving teenager to take, and indeed, Mia's brother Luke still has trouble going to school or to practice without being painfully reminded of what happened. But for Mia, getting back to a sport where she had so much connection with her mother was comforting.
"It was a reminder, but it was also a good reminder. Every time I think about racing, I think about her and how she would want me to go fast, and it helped a lot," Mia said.
At State meet, Mia would swim the 200 IM and the 500 free—her mom's event.
"Her mom had been state champion four years in a row in the 500," Mark said. "I'm pretty sure she was aware of that. I didn't talk about it—I think she and her mom talked about it."
But Mia's connection to swimming is far thicker than just blood, as Mark saw first-hand during a pre-meet warm-up at Xavier's pool the day of the State meet prelims.
"I just remember her smiling and laying on the lane line, talking with her buddies in that warm-up," Mark said. "Not talking to me, kind of talking to the girls around her. 'I love swimming. I love swimming.'"
---
The team showed up at State wearing wristbands honoring their head coach. They read: "XCP Swim and Dive" on one side and "#NoMoCancer" on the other. As they fought for a State title, they did it for her.
Entering the finals session, Mark was optimistic but cautiously so. In prelims, the team had set itself to finish considerably—but not comfortably—ahead of Chandler High School in the standings.
"Another coach was like, 'The Chandler coach has already conceded it to you,'" Mark said. "I was like, 'How can you say that? What if you get a 40-point relay DQ?'"
Well, nothing of the sort happened. The girls won the 200 medley relay to open the meet, and then in the second individual event, Xavier senior Katie McCoy won the 200 IM while Mia finished third. After Mia's stellar swim in the 500 free, Xavier picked up another win in the 200 free relay. Mark started doing the math.
"We had two breaststrokers—they had one. We had two backstrokers—they had one," Mark said. "And I knew we were going to get first or second in the relay."
McCoy then won her second event of the day in the 100 back, and fellow senior Mary Roediger, who had earlier finished third in the 50 free, added a runner-up finish in the 100 breast. Xavier could not complete the relay sweep, coming up nine hundredths behind Chandler in the 400 free relay, but it didn't matter.
Xavier scored 321 points, 58 more than runner-up Chandler High School. They were State champions.
Mark knew what was coming, but the announcement of the Xavier girls as state champions was still surreal.
"Lots of emotions coming over because it wasn't for me—it was, you know, kind of for her," Mark said, referring to Mo. He choked up but kept talking as he cried.
"It hit home pretty good. My parents were there, and my sister had come down to see Mia race. It wasn't about me at all. I was so ecstatic that I got to be a part of it, but it was her team. I was just ecstatic that I got to finish it off for her."
Mark found the girls who had swum on the final relay, including Mia. The letdown of being out-touched quickly melted away.
"Pretty amazing feeling," Mark said. "Just the smiles told it all. And the tears—lots of tears. Happy tears, but, you know. Yeah. Pretty amazing moment."
During the meet, the coaches had received flyers to vote for the top male and female performers of the meet and for coach of the year. Mark wanted to vote for James—Mo's assistant—but she balked.
"She's like, 'Mo said last year we can never vote for ourselves.' I said, 'I don't know anyone else, and there's no one else I would want to vote for,'" Mark recalled.
Mark forgot about the voting for the rest of the meet, and he's still not sure if James even turned in Xavier's ballot. But after team scores were announced, he was called up to accept coach of the year.
"They called him up, and that's when I started crying, and then everyone started crying," Mia said. "We were all just crying."
Mark accepted the award with a heavy heart.
"I felt like it was for her. It wasn't for me," Mark said. "I just was glad I got to help and keep the girls together and in a good place. It was great. Totally unexpected. I didn't really feel like it was mine. It was the team's. It was Mo's.
"It ended up at the right house," he added, cracking a smile.
Mark is interested in coming back to Xavier as the coach for the full season next year, and he's already started looking ahead to how the team will shape up after seniors graduate and new freshman come in. Xavier will get a challenge from Chaparral, a Division II powerhouse moving up to Division I.
"They're going to be worried," Mark said. "I've already started looking at what we have and what they have. We might not win, but it's going to be a battle."
But whatever Mark decides about his coaching future, he will always cherish the time that, under the most tragic of circumstances, he took over his wife's team and finished her job of leading a group of girls to a state championship.
"I was blessed to be a part of that," Mark said. "Very blessed. Those girls won't forget that. They'll always remember that year."