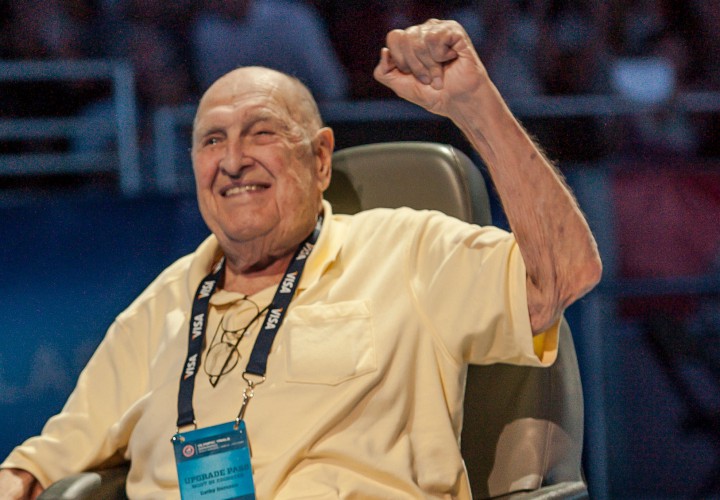 Photo Courtesy: Peter H. Bick
Adolph Kiefer, the legendary backstroker who won gold in the 100 back at the 1936 Olympics before going on to a successful career in the U.S. Navy and in business, has passed away at his home in Wadsworth, Illinois. He was 98 years old.
Kiefer became the first man to break the one-minute mark in the 100-yard backstroke while competing as a 16-year-old in the Illinois High School Championships of 1935. He swam the distance in 59.8 seconds. His 1936 Illinois state championship backstroke time of 58.5 seconds was the Illinois state high-school record until 1960. On April 6, 1940 Kiefer set another record, swimming the 100-yard backstroke in 57.9 seconds.
Kiefer broke twenty-three records after breaking the one-minute backstroke mark. Kiefer went on to set a world record for 100-meter backstroke of 1:04.8 on January 18, 1936, at Brennan Pools in Detroit, Michigan.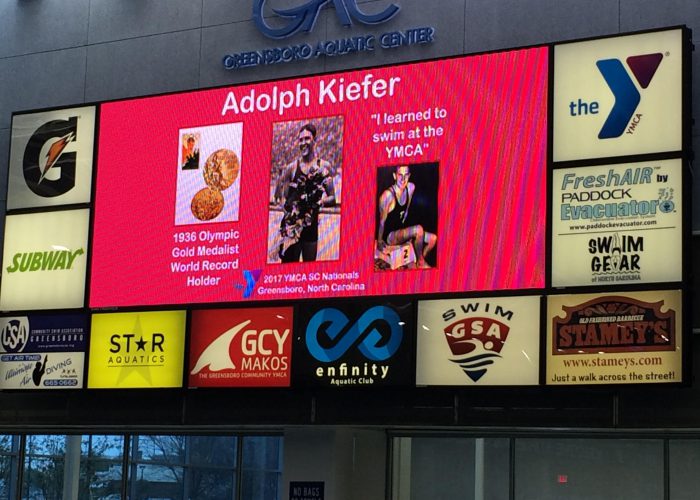 Kiefer served in the U.S. Navy during World War II, eventually reaching the rank of Lieutenant and introducing "victory backstroke" as a means of teaching soldiers how to swim. Kiefer's "victory backstroke" led him to outline an intensive learn-to-swim program, with a heavy focus on water survival with the requirement that sailors must receive 21 hours of water survival training. In Bainbridge, Maine, Kiefer oversaw the training of more than 13,000 naval swimming instructors, who, in turn, taught more than two million recruits how to swim and survive a sinking ship.
After establishing his learn-to-swim programs at Bainbridge, Kiefer established the company Adolph Kiefer & Associates, based out of Chicago. He would run the business until 2014.
Adolph Kiefer Through The Years:
This slideshow requires JavaScript.
Among his later accomplishments, Kiefer developed the first nylon swimwear in the 1940s and in the 1960s, which quickly replaced the wool suits worn by many swimmers. He was awarded a patent for the first non-turbulent lane lines, inspired by Yale's legendary coach Bob Kiphuth. In addition to creating the first nylon suits and non-turbulent lane lines, Kiefer also became the first to distribute Duraflex Diving Boards for his friend Ray Rude. Duraflex is now the only competitive diving board used world-wide.
Over the years, Adolf Kiefer & Company became the official supplier to the USA Olympic Team and the Olympic Games. Kiefer continued to donate his time and money to help young children learn how to swim, even supplying pools in neighborhoods, throughout his early 90s.
He was an Honor Swimming member of the inaugural class inducted into the International Swimming Hall of Fame in 1965.
In 2007, USA Swimming presented Kiefer with a gold medal from the 1936 Olympic Games, to replace the one that had been stolen shortly after he returned from Berlin 71 years ago. The medal was specially cast from the original mold for the occasion by the International Olympic Museum in Lausanne, Switzerland.
He was nominated for a U.S. Medal of Freedom. Born June 27, 1918, he was the oldest living U.S. Olympic gold medalist in any sport and the only living gold medalist from the 1936 Olympic Games.
"There will never be another like Adolph Kiefer," says Bruce Wigo, President of the International Swimming Hall of Fame. "Not only was he a great swimmer and businessman, but he was a great human being, husband and father whose memory will live on as a model and inspiration for future generations of swimmers and non-swimmers alike."
Watch this Morning Swim Show With Kiefer From 2014

Brent Rutemiller, Taylor Brien, and the International Swimming Hall of Fame contributed to this report.