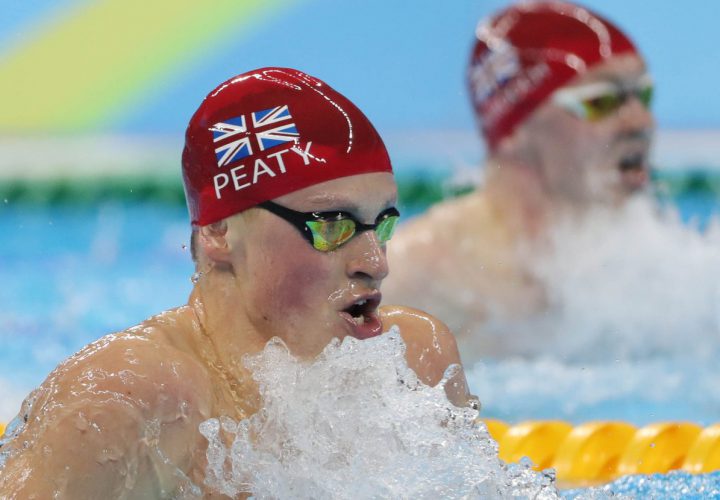 Photo Courtesy: Erich Schlegel-USA TODAY Sports
The 2017 British Swimming Championships are underway, taking place at the Ponds Forge International Sports Center from April 18-April 23. The event will determine who will claim the World Championships roster spots for the upcoming games in Budapest.
Prelims sessions begin at 5:00 am, EST while finals will begin at 1:30 pm EST.
Adam Peaty did not waste any time, clocking a 58.56 in this morning's 100 breaststroke prelims. This betters his worldwide top time of 58.86 set at the 2017 Arena Pro Swim Series Indianapolis. Last month, the World-Record Holder and Olympic Gold Medalist split his race 27.25 – 31.61. At Ponds Forge, he was 27.18 – 31.38, splitting faster on both ends.
He will have the top seed, followed by five swimmers all fighting for the next spot after swimming a 1:00 in this morning's prelims. Ross Murdoch (1:00.13), Craig Benson (1:00.16), Charlie Attwood (1:00.39), Andrew Willis (1:00.95) and James Wilby (1:00.96) will all be in the hunt. Attwood posted the fastest 21 and under time, while Lewis Fraser swam the fastest 18 and under 100 breast in 1:04.01.
The men's events also included the 400 freestyle and 50 backstroke. Rio Olympian Stephen Milne led the way in the distance event, with the world's ninth-fastest time so far this year. He swam a 3:47.85 just ahead of Max Litchfield (3:48.38). Timothy Shuttleworth swam the fastest 21 and under 400 free and the third-fastest overall in 3:49.19. Nicholas Grainger raced to a 3:49.76 followed by James Guy in 3:49.96. Jay Elliott (3:50.10), Daniel Jervis (3:51.61) and Samuel Budd (3:52.55) will round out the A final. Harrison Coulter had the fastest 18 and under time with a 3:55.73.
Joel Elwood took the top seed in the 50 back, just a few tenths outside the world rankings. His swim of 25.54 edged out Luke Greenbank (25.86) and Chris Walker-Hebborn (25.88). Charlie Boldison was also under 26 in 25.91 followed by Daniel Cross in 26.11. Craig McNally (26.18), Henry Chesterman (26.23) and Nicholas Pyle (26.30) will also compete in the A final.
In the women's 50 breaststroke, Sarah Vasey took the top seed for tonight's final swimming a 30.57. She was followed closely by Imogen Clark in 30.71. These swims place the women third and fifth, respectively, in the world rankings. Corrie Scott took the third seed in 31.35 while Jocelyn Ulyett was fourth in 31.50. Beth Aitchison (31.78), Kara Hanlon (31.88), Molly Renshaw (31.97) and Kathryn Johnstone (32.18) will round out the A final. Clark was the fastest swimmer of all 21 and under participants.
The British women have similar dominance in the 400 IM, where Olympian Hannah Miley posted the eleventh-fastest time in the world this year in 4:38.64. She currently holds the tenth-fastest time as well, just one one-hundredth faster. Also cracking the top 15 is Rosie Rudin, who raced to the fourteenth-fastest time of 4:39.81. This was also the fastest swim for all those 21 years of age or younger. Abbie Wood (4:41.13) and Aimee Willmott (4:41.62) will add more depth to the field followed by Constance Dean (4:48.33), Emily Siebrecht (4:49.21), Lucy McKenzie (4:49.64) and Orla Adams (4:50.21). Emily Large had the fastest 18 and under swim in 4:51.42.
A trio of women broke the 2:00 barrier in the 200 freestyle, led by Eleanor Faulkner in 1:59.59. Kathryn Greenslade (1:59.70) and Lucy Hope (1:59.90) claimed the next two spots. Jessica Jackson (2:00.50) and Jazmin Carlin (2:00.99) swam to forth and fifth places. Freya Anderson (2:01.02), Georgia Coates (2:01.28) and Camilla Hattersley (2:01.70) placed sixth through eighth. Always need to keep an eye on distance Olympic-medalist Carlin, despite this being one of her shorter races.