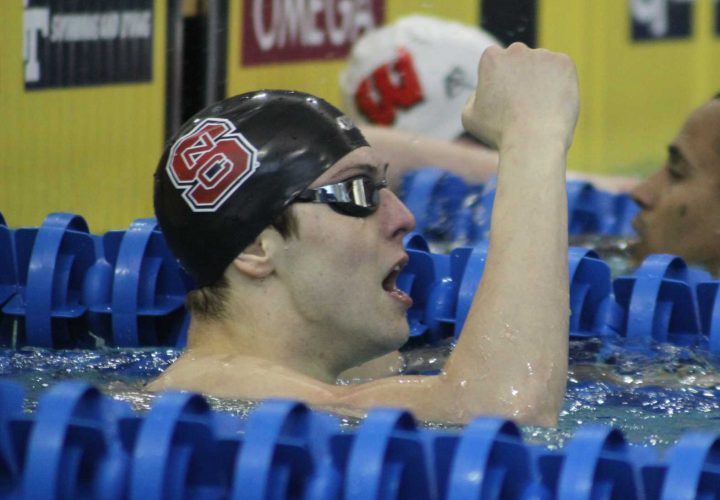 Photo Courtesy: Andy Ringgold / Aringo Photos
This weekend, Virginia Tech and Duke squared off as part of a four-team quad meet in Christiansburg, North Carolina faced its second tough opponent in three weeks, and both defending ACC champion squads made their debuts.
Wisconsin at NC State
The Wolfpack rolled over the Badgers in both the women's and men's in Raleigh, sweeping the eight relays and winning all but five individual events over the course of the weekend. Olympian Ryan Held competed for the first time since Rio, winning the 50 free (19.47) and 100 free (43.74). Teammates Anton Ipsen (500 & 1650 free, 400 IM), Derek Hren (100 & 200 breast) and Soren Dahl (200 IM, 200 free, 100 fly) all won multiple events.
NC State won the meet by a whopping margin of 224 to 121, and the team again looks like the class of the conference and a real contender for a top-five finish at the NCAA level. Northwestern comes to town this week before the Wolfpack travel to Austin, Texas, for a showdown with the Longhorns.
Hannah Moore stood out for the NC State women against Wisconsin. She won the 1650 free in 16:00.23 and the 500 free in 4:41.84, in both races easily defeating Wisconsin sophomore and Olympian Cierra Runge. Moore also won the 200 fly (2:01.09) and 400 IM (4:14.37). Alexia Zevnik picked up two wins for the Wolfpack in the 200 IM (2:00.11) and 200 back (1:55.73), and freshman Ky-Lee Perry impressed with a 49.18 winning time in the 100 free, and she figured in as a contributor on three first-place relays. The women defeated the Badgers 200-149.
Pitt at Virginia
Another Olympian made a season debut as Leah Smith returned to competition in Charlottesville. Like Held, Smith was competing for the first time since Rio, and she also turned in a pair of impressive performances. She swam a 9:23.79 in the 1000 free and 4:39.25 in the 500 free, both pool records. Smith has won both the 500 and 1650 at the NCAA level each of the past two seasons, although she will a rather challenging road to titles this year with Katie Ledecky on deck. Smith becomes just the fourth swimmer to go under 4:40 in the 500 this season, joining Ledecky, Rose Bi and Mallory Comerford.
Versatile Jen Marrkand won the 200 free (1:47.74), 200 back (1:57.86) and 400 IM (4:17.29) against Pitt, and Laura Simon, Kaitlyn Jones and Ellen Thomas picked up two victories apiece as the Cavaliers cruised to a 187-108 victory. Virginia's men have not been as strong as the women the past several years, but they easily dispatched the Panthers (186.5-108.5) with four men each winning two events: Austin Quinn (200 free & 200 back), Alex Albracht (100 & 200 breast), Zach Fong (100 & 200 fly) and Sam Magnan (500 & 1000 free) led the way.
North Carolina at Tennessee
The Tar Heels could not keep pace with the Volunteers in Knoxville, falling by scores of 205-167 (women's) and 216-156 (men's).
But Hellen Moffitt was her usual dominant self, winning the 200 back (1:58.72), 100 back (53.22) and 100 fly (53.06) over the two-day meet. Her win over Tennessee's Kira Toussaint in the 100 back came in one of the best races of the meet. UNC sprinter Caroline Baldwin picked up wins in both the 50 (22.93) and 100 free (50.36), and diver Elissa Dawson finished first on the three-meter board.
It's been an extremely impressive start to the season for UNC senior transfer Jorden Merrilees. He won the 500 free (4:26.14), 200 back (1:47.08), 100 back (48.56) and 200 free (1:37.75) in Knoxville while also leading off both UNC medley relays, which ended up finishing second. Jack Nyquist also provided some nice moments for the Tar Heels as he won both one-meter and three-meter diving.
Xavier at Louisville
The Louisville women were in action for the third-straight weekend, and understandably, a few of their bigger names got a rest. Andrea Cottrell, Mallory Comerford, Alina Kendzior and others competed in reduced slates of events, often exhibition. Maggie Jahns ended up taking advantage and having a big afternoon, winning the 1000 free (10:10.83), 200 fly (2:06.61) and 200 back (2:06.90). Rachel Grooms won the 100 (50.81) and 200 free (1:52.33).
Last week's SMU Invite was women-only, so the Cardinal men used the Xavier meet to warm up for a big showdown with Tennessee this coming weekend. Grigory Tarasevich posted impressive swims in both the 100 (46.00) and 200 back (1:43.69), and Matias Lindenbauer won the 200 free in 1:37.99. Freshman Jarrett Jones swam lights-out with wins in the 1000 free (9:29.64) and 500 free (4:31.79) in his home debut.
Louisville's women defeated Xavier 198-62, and the men won 210-65.
Notre Dame at Georgia Tech
It took a strong day two effort that included two relay wins and a 1-2-3-4 sweep in the men's 50 free, but the Fighting Irish defeated Georgia Tech by a thin 181-172 margin. Daniel Speers won that 50 free in 20.22 and was part of three relay victories, helping his team overcome monster efforts from Yellow Jackets sophomore Rodrigo Correia, who won the 200 IM, 100 free, 200 IM and 100 back, and junior Moises Loschi, who was victorious in both breaststroke events as well as the 1000 free.
Notre Dame crushed the GT women by a score of 274-79. For the Irish women, Molly Treble won both the 500 and 1000 free, Abbie Dolan swept the 100 and 200 free and contributed to a trio of relay wins, and Meaghan O'Donnell swept the breaststrokes.