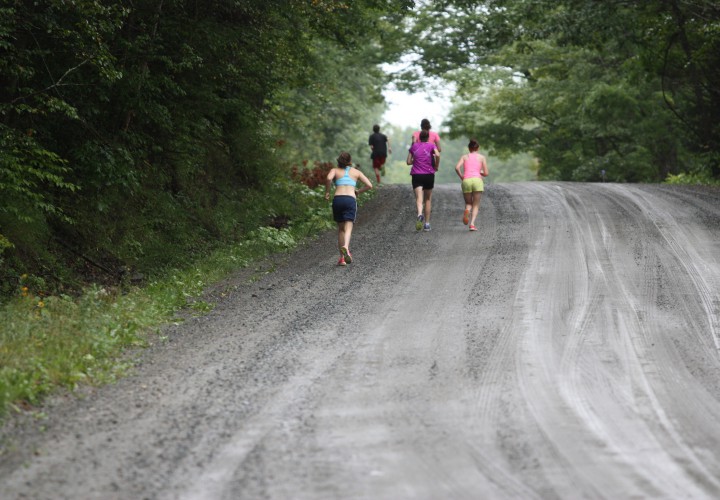 Photo Courtesy: Darren Dale
By Siobhan Dale, Swimming World College Intern 
In swimming, teammates are often defined as those wearing the same caps as us. We are connected by our colors, our matching suits, and our experiences. Yet, sharing experiences isn't limited to an examination of what parka you are wearing. If I were asked to point out my teammates at any meet, I wouldn't just acknowledge the individuals on deck. Rather, I would motion quite proudly to those in the stands as well. And I would identify one individual in particular– my brother.
I have been on a team with two of my three siblings. I swam for two years with my sister McKenna, now a junior in high school. I played basketball with McKenna and my youngest sister, Kaleigh, during my senior year. I haven't once stepped out onto a court or on a pool deck with my brother, Hunter.
In swimming, our teammates are connected to us by so much more than just a sport. They are the people we dance with behind the blocks before a race, we talk to for the endless hours of a swim meet, and we suffer with in the early mornings. With so many moments that make someone a teammate, it's hard to define what a teammate actually is. Yet, although we may never be able to quite describe what makes a person a teammate, we know unequivocally when they are one.
I may never have won a state meet with my brother high-fiving me on deck, but I did win one with him screaming me on in the stands. On the video my dad taped of the race, Hunter's voice is the loudest.
I may never have listened to my warm-up music with my brother using one earphone, sitting next to me on deck, but I did turn the volume all the way up on the car speakers to a meet. Out of all my siblings Hunter is the only one who listens to country music and who can sing along to Garth Brooks with me.
I may never have swam a single practice with my brother in my lane, but I did struggle many, many times running various trails with him. Hunter, who is the captain of his middle school cross-country team, is a fantastic runner. I am nothing short of horrible. Hunter would run to the designated end point of our trail, and then turn around and run back so that he could finish the rest of the run with me.
Hunter has sat through what feel like never-ending meets. He has been there for every single championship meet I have ever swum in. When I came home from states, arriving at after my parents and siblings, Hunter had made a sign reading, "Congrats Siobhan! I am so proud of you!" and hung it on our door.
Regardless of whether or not we were ever on a team together, I would say that Hunter is probably the best teammate I've ever had.
Teammates aren't just the people we first hug when we get out of the pool. They are the people who wait an hour after the race just to see us. They are the people we cry to long after the meet is done, and the ones willing to watch videos of races time and time again. They are the people who will stand with us after every other matching shirt has gone home.
Any swimmer who has been fortunate enough to swim with a close-knit, amazing group will tell you that their teammates are like family. I'm lucky that the reverse is true as well. My family are my teammates. I'm sure my sisters will tell you the same. Hunter is, and has always been, our best friend, our supporter, our inspiration, and above all, our teammate. To him my message is simple – thank you.