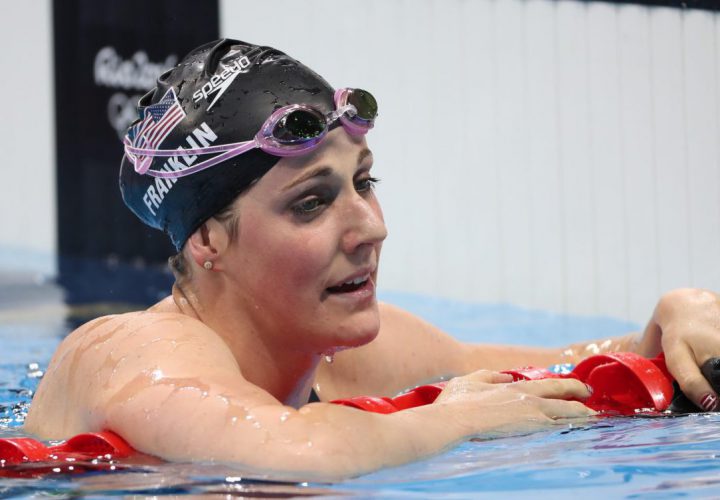 Photo Courtesy: Erich Schlegel-USA TODAY Sports
By Caitlin Daday, Swimming World College Intern
Whether it is training camp or you are just having one of those weeks, everyone goes through a tough patch of training every now and then. More often than not, the most difficult part of getting through it is more mental than physical.
Having a good mental state during a difficult week is what will make you succeed and allow you to get the most out of the training. So, here are a few things that are important to keep in mind when you are going through a tough time in order to keep up a good mental attitude:
1. It is making you better.
When you are beat down and are feeling crummy, it seems like the end of the world. Sometimes you feel like you cannot keep going any longer. But at the end of the day, what you are doing is what will make you swim faster at the end of the season.
The key is to remember that when you feel bad in the 'here and now,' it is going to help you in the long run. Sometimes that idea is not the most comforting when you are hurting and swimming slow, but the end of the season is why you are doing it. With that in mind, at least you know it is worth it.
2. You can do something special even when you hurt.
Often the idea that you can still swim fast when you are hurting seems far-fetched. How can you actually swim fast if you can barely rotate your arms or kick your legs?
The truth is that if you have your mind in a good place, you can surprise yourself even when you feel like you have been hit by a truck. 'Something special' may not always mean the fastest you have ever done before, but sometimes just exceeding your expectations is a great feeling when your body may not be 100%. If you keep that possibility open, you can do anything.
3. You can always find something to work on.
Everyone has days where their times are just not good, but that does not mean the practice has gone to waste. Even when you are swimming slow, there is always something technique-wise that you could be working on.
If you are able to pick something to work on, such as turns or your stroke, the shift in focus can help take your mind off your times and turn you away from dwelling on the negative thoughts that slow you down even further. Sometimes refocusing can even make you swim faster. But if it does not, at least you know you are getting something out of the set rather than wasting everyone's time.
4. Everyone is in the same boat.
One of the best things about being part of a team is that everyone goes through everything together. That means that when you are hurting, they are hurting too. And not only are they also hurting, but your coach realizes that too—he or she is the one who caused all the pain in the first place.
Feeling sorry for yourself will only make you worse, but realizing that the rest of your teammates are just as beat up as you are can help make you better. Even when you feel bad, you can still race each other and make the most out of it. Maybe the speed does not come as easy, or at all, but it is still more practice for the end of the season.
5. It is just swimming.
I will be the first person to admit that I put way too much stock into swimming. But while swimming can seem like your entire life, at the end of the day it is still just a sport.
When you are going through a rough patch of training, then, it becomes all too easy to exaggerate what a few bad practices will do to your swimming career. Maybe they will impact your swims down the road, but it is certainly not worth getting worked up about. Writing this feels almost hypocritical because this idea can be so hard to actually practice, but it still needs to be said. Swimming is not life or death–it is just swimming–and as such, a few bad practices are far from the worst thing that could ever happen.