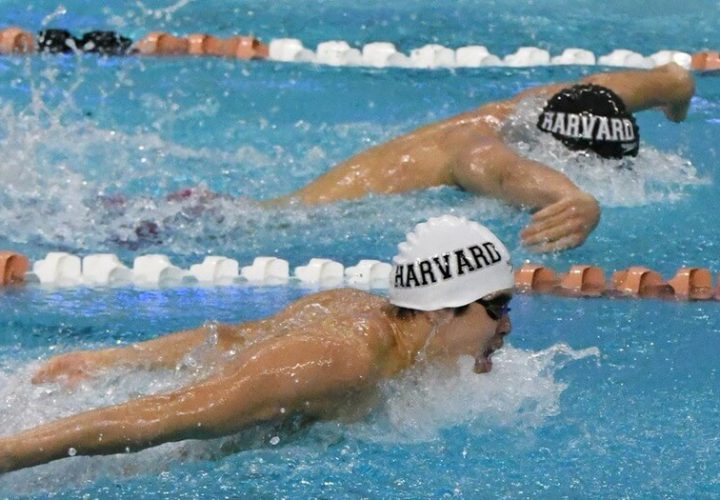 Photo Courtesy: Harvard Athletics
The 2017 Men's Ivy League Swimming and Diving Championships will be held February 22-25 at Harvard's Blodgett Pool.
Princeton, the defending champion, will not be at this meet. Harvard, who last won this meet two years ago, is the heavy favorite to take home the Ivy League title this year after finishing a close second in 2016.
2017 Men's Ivy League Championships Psych Sheets – Results
Meet information can be found here.
5 Swimmers to Watch:
1. Kei Hyogo
Last year, Yale's Kei Hyogo finished second in both the 500 and 1650 and fourth in the 400 IM. He's currently the top seed in four different events and the second seed in two. The junior won't be able to swim all six events he's entered in, but with former Penn standout Chris Swanson gone due to graduation, Hyogo will be vying for the spot at the top of the podium in whatever events he chooses.
2. Dean Farris
Freshman Dean Farris will surely make an impact at his first Ivy League Championships. The Harvard rookie is the top seed in three events and also enters the meet with a number two and number three seed. His time in the 200 free is well over a second ahead of the competition as he's only a half second off the meet record. He'll also be a crucial component for the Crimson's relays.
3. Alex Evdokimov
The current meet record holder in the 100 breast, Alex Evdokimov enters the meet with the number one seed time that's already faster than the mark he set last year. The Cornell junior is also the current record holder in the 200 breast. Watch as he aims to three-peat in both events, lowering his records yet again.
4. Aaron Greenberg
Aaron Greenberg, who did not swim in the 2015-2016 season, enters as the top seed in the 50 free and the second seed in the 100 free. In the 50 free, he leads only three men who have already broke then 20-second barrier. The junior has consistently been one of Yale's top sprinters and will play a key role on the Bulldogs' relays.
5. Brennan Novak
Harvard's Brennan Novak leads the 500 free by nearly four seconds with a time that's two seconds faster than his eighth-place finish last year. The sophomore also enters the meet as the fourth seed in both the 1000 and 1650. Look for this rising distance star to have a successful—and fast—championship meet.
2016 Ivy League Men's Championships: Full – Results