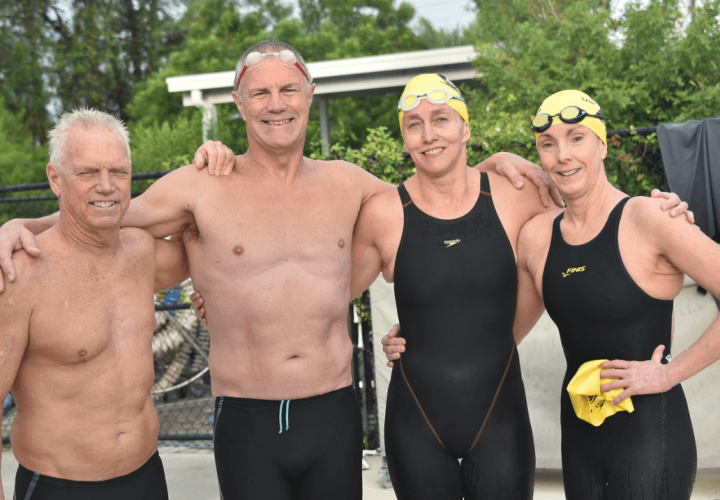 Photo Courtesy: Rick Walker
By Dr. G. John Mullen, DPT, CSCS – President COR – Sports Training and Physical Therapy
A few years back, I had the opportunity to compete at Masters Nationals in Santa Clara, CA. I had been training, a blistering 3 hours a week split up into ~3-4 practices. I was ready for a great Masters race, hoping to compete for the title, thinking to be a former Division I swimmer lead me to victory. This wasn't the case. Little did I know, I would have a competitor smash the Masters World Record with an amazing 18-second 50-yard freestyle! We could debate whether Nathan Adrian should compete in the Masters competition and if his time should be valid, but even if Adrian didn't compete, I would have still been beaten by about 8 other competitive Masters swimmers. As the Masters World Championships recently concluded, it is interesting to ask:
When did Masters Swimming get so fast?
Now, my personal story is purely anecdotal, but a recent study found significant progression in all Masters Swimming age-groups in the 100-m free (Akkari 2015). In this study, older age groups demonstrated greater improvements in swimming times over the years examined. In general, older athletes and women had greater slopes of improvement in performance during that time.
The study concluded:
"[w]e observed significant improvements in the performance of Masters athletes from 1975 to present day in most age groups. The slopes of sprint performance increase were greater than those of young elite athletes. We hypothesized that with the ever increasing participation of older athletes, the level of competition would rise, acting as an additional catalyst for improvements in athletic performance that might not be present in that of elite competition where participation has already been extremely high. It is indisputable that the popularity of and participation in Masters athletic events have increased steadily. Evidence of increased participation of older athletes is well documented in endurance events."
This study clearly suggests more participants causes greater improvement. However, I think there are other reasons for the overall improvement in Masters Swimmers. Here are 5 Reasons why Masters Swimming Keeps Getting Faster!
5 Reasons why Masters Swimming Keeps Getting Faster!
More Participants: Like the study concluded, Masters athlete participation is increasing. Clearly, the more swimmers within a sport increase the likelihood of improved competition. The more participants within the sport increase the popularity and results in already elite (former college and Olympic swimmers) returning to the sport. This increases the performance of masters swimmers and helps them get faster. Think of all the former Olympians involved in Masters swimming, Rowdy Gaines, Matt Biondi, and much more are still setting records!
Greater Competition: More participants, greater competition, more competition, faster swimming. I think this is a simple formula, which all in the sports community understand. This alteration has to lead to improved swimming for masters swimmers. Does anyone really think to have only one great swimmer facilities greatness? Like Magic vs. Bird, competitions sparks performance.
Improved Nutrition: Poor nutrition is something many swimmers, especially masters swimmers had problems with. Think of all the people who thought, well I'm swimming later today, why do I need to worry about what I eat? Sure, this may be the case for those managing their calories, but for performance consideration, Masters swimmers are finding out how pre- and post-workout nutrition enhance performance. Also, think of the show Mad Men and the lifestyle they lead, booze at work, smoking in the office, neither of these fosters swimming.
Improved Dryland: Many masters swimmers didn't perform dryland previously. Now, I get the majority of emails and purchases of dryland for swimmers from Masters Swimmers. This is why I had a seminar at COR regarding Dryland for Masters swimmers. This community is realizing the importance of strength and how aging negatively influences muscle, making strength training imperative for performance improvements.
Improved Training: Swimming is transitioning from slow steady swimming to higher intensity swimming. Masters swimmers used to simply swim for 30 minutes or an hour straight. Now, Masters swimmers are improving their training, performing shorter distances, greater sprints, and other avenues. This swimming training likely transfer more to pool events, helping increase performance.
Why do you think Masters swimming is getting faster? Or do you think I'm just a sore loser for getting based at a Masters meet without training hard enough 🙂
Reference:
Akkari A, Machin D, Tanaka H.

Greater progression of athletic performance in older Masters athletes

. Age Ageing. 2015 Jul;44(4):683-6. doi: 10.1093/ageing/afv023. Epub 2015 Mar 8.
All commentaries are the opinion of the author and do not necessarily reflect the views of Swimming World Magazine nor its staff. All swimming and dryland training and instruction should be performed under the supervision of a qualified coach or instructor, and in circumstances that ensure the safety of participants.