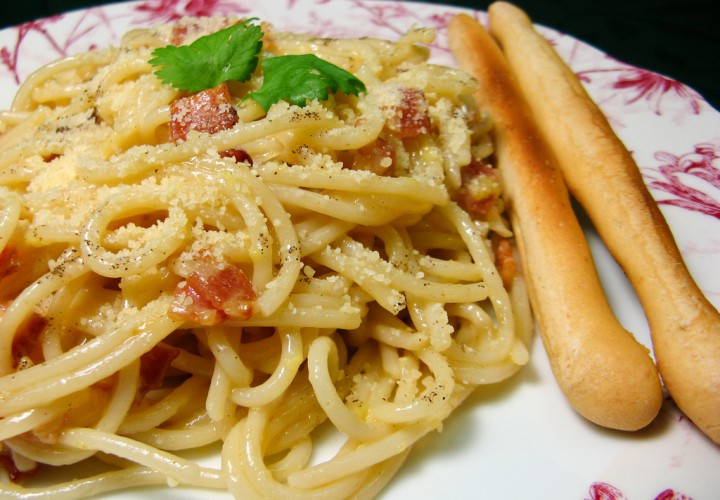 Photo Courtesy: dbgg1979, Flickr
By Tasija Karosas, Swimming World College Intern
When you hear "carbo-load" what is the first thing that comes to mind?  Pasta and bread, right?  I asked a group of swimmers this same question and ten out of ten answered, pasta and bread!  Although pasta and other grains are a GREAT source of carbohydrates, there are many other foods that contain the macronutrient carbohydrate.
About 50 to 65 percent of the food we eat should be carbohydrates.  This is because they are our main source of energy.  If you want to fuel yourself to train and perform your best each day, it is important to understand what food groups contain carbohydrates and how each of these contribute to your energy levels.
1. Grains
As you may know, grains are an awesome source of carbohydrates.  Grains are complex carbs that contain two main components, starch and fiber.  Starch is stored in our body and is used for long-term energy.  Fiber plays a very important part in our digestive system.  During a rigorous training schedule, grains should take up one-third of your plate.  It is also important to remember to make at least half your grains WHOLE!
Examples of Grains:
Pasta
Quinoa
Rice
Oatmeal
Bread
2. Fruits
Yes, fruits are considered carbohydrates!  But fruits are sugars, right?  Well sugars are the simplest versions of carbohydrates.  When some people hear sugar they think, "sugar becomes fat."  Fruit, however, is natural sugar which your body loves.  The sugar found in fruit is easy to break down and use for quick energy.  I would suggest adding at least one serving of fruit per meal to your plate during an intense training schedule.  Fruit can also be a great source of carbohydrates on race day.  In addition, dried fruit is also as beneficial as fresh!  Just make sure you watch your serving size, as the calories can add up fast.
Examples of Fruit:
Berries
Apples
Banana
Kiwi
Oranges
3. Vegetables
Vegetables are loaded with starch and fiber.  Like grains, starchy vegetables provide long-term energy.  While some vegetables are high in carbohydrates, other provide a very minimal amount.  I recommend that AT LEAST one third to one half of your plate be filled with vegetables while you are in heavy training.
Two things to remember:  if you have a starchy vegetable on your plate, decrease the amount of grains AND always vary your veggies!
Example of High Carb Vegetables:
Corn
Potatoes (in all forms)
Squash
Peas
Parsnip
Examples of Low Carb Vegetables:
Bell Peppers
Broccoli
Onions
Spinach
Tomatoes
4. Nuts and Seeds
It is your lucky day if you are a peanut butter lover, as nuts are a GREAT source of carbohydrates.  Usually we associate nuts and seeds with protein and fat, but they are also starchy carbs.  Most people do not eat nuts or seeds during their daily meals and therefore there is not a recommended amount.  A handful of nuts or seeds for a snack, however, will keep your energy stores high.  Going into your workout with high-energy stores will lead to a much more productive and beneficial practice.
Examples of Nuts and Seeds:
Almonds
Peanuts
Cashews
Flaxseed
Pumpkin seeds
Sunflower Seeds
5. Legumes
Legumes are an awesome food source that contains a high amount of starch and fiber.  In addition,  legumes contain many essential micronutrients.  Although there are no recommended servings for legumes, it is suggested that you add or partially substitute legumes with grains.
Examples of Legumes:
Black Beans
Kidney Beans
Lentils
Soybeans
Chickpeas
As athletes, being fueled is one of the most important factors in your ability to train and race.  Understanding how each food group contributes to your energy needs can benefit your performance drastically.  If you follow these recommendations and remember to incorporate all types of carbohydrates into your diet, you will be on the road to success.