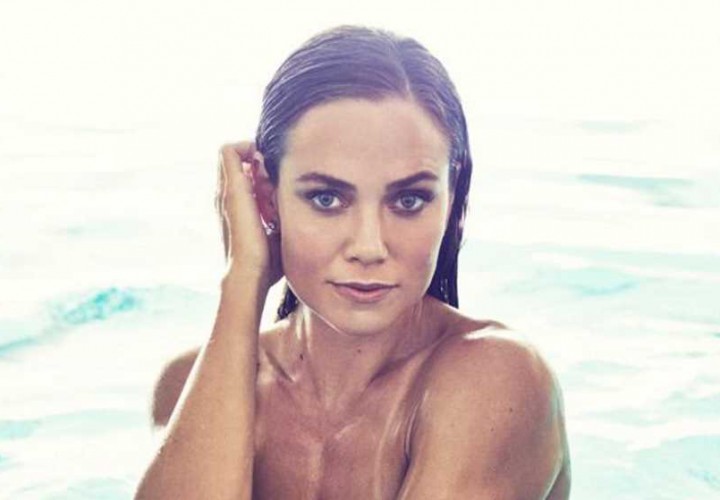 Photo Courtesy: Williams + Hirakawa/ESPN The Magazine
By Diana Pimer, Swimming World Staff Writer
Originally posted July 20, 2015
By now, most of us have seen and admired ESPN's "Body Issue" with swimming's leading lady gracing the pages. If you haven't seen the special edition featuring Natalie Coughlin and numerous other athletes, it is worth a look.
The great thing about ESPN's "Body Issue" is that is tastefully shows what propels athletes to success- their bodies. It also shows how elite athletes come in all different shapes and sizes. The magazine is inspirational, realistic, and meaningful all at the same time.
I don't think I have ever met a swimmer who does not idolize Coughlin. She is the best possible representation of USA swimming: grit, grace and pride. Her incredible ability to believe in herself and her teammates is what has made her every young swimmer's icon.
Not only do we strive to be like her, but I'd bet most people would like to look like her too. However, the fact of the matter is, we don't all look like Natalie Coughlin.
Interestingly enough, the morning after the "Body Issue" came out, one of my very young swimmers came to me at swim practice and told me, in short, that she was not happy with her weight and that she didn't think she should swim.
This shocked me. Our conversation bothered me the entire rest of the day because I knew anything I told her may not be enough to bring back her confidence.
What was most challenging for me, was realizing how young the swimmer was. I don't think I picked up on people's differences until I was at least at the end of middle school. Naïve, maybe, but I think this is just how I was raised, and what they taught us in the town I grew up in.
We learned about it in history class, but I didn't see black people or white for example, or tall or short people. People were just people. At such a young age, I think this is how it should be.
In terms of body image, I don't think I was concerned about how I looked until my junior year of high school. Still, my high school swim team was made of a great, diverse group of girls. We all got along great, never talked badly about each other, because we were just swimmers.
When I was 10, my friends and I weren't concerned about how we looked. As long as we got our nachos after the swim meet and our relay got first place, we were happy.
Whether or not there is a huge difference in social norms between 2005 and 2015, or I just didn't pick up on these things when I was a little swimmer, body image is a huge part of swimming, no matter what gender or age.
Other than maybe gymnastics or beach volleyball, there isn't a sport that shows more of your body than swimming. And at least most of those leotards have sleeves. I used to long for the meets where we could wear knee skins, because it hid the part of my body I was most self-conscious about.
Thoughts like this rack the brains of swimmers of all kinds. And while some may not understand it, or may just ignore it, it is the truth. These are not thoughts that should be ignored.
I am not a psychiatrist, a nutritionist, or a doctor of any sort, but here are what swimmers and coaches should know about swimming and self-image (from a swimmer's perspective):
1. There are no weight classes in swimming.
First and foremost, you do not have to be skin and bones to swim fast. Everybody's body compositions are different. Especially if you are a shorter swimmer, the weight has to go somewhere. If you weigh 140 pounds and are 5'5″ and your teammate weighs the same but is 5'8″, you are not going to look the same, and there is nothing wrong with that. Maybe his or her wingspan is a bit longer than yours, but that doesn't mean they are faster than you. A fast swimmer is a confident swimmer. Whatever your body looks like, embrace it. What truly matters is what happens when you hit the water.
2. Swim to "practice," not to "work out."
One things that is hard for swimmers (especially college swimmers) to understand is that you are swimming to train, not to lose weight. Now not every competitive swimmers want to be an Olympian or national champion; some people do swim for weight loss. But if you are a competitive swimmer, you want to be training at your race weight.
Losing serious amount of weight in the middle or end of the season can affect your stroke, and therefore your performance. I have always believed females either become breaststrokers or lose all breaststroke ability when they hit puberty. Your body changes, and significant body changes affect your stroke. The ideal time to work on losing weight (if this is something you want to do) is in the off season. Now this is easier said than done, since swimmers don't really have an off season. But chances are, you don't even need to lose any.
3. Agree to disagree.
Whether you are a swimmer or a coach, there are two things you can say that will not help out a self-conscious person. For example, if someone says "I'm fat," saying "Oh yeah, me too!" is not going to make either of you feel better. Life is not a competition about who feels worse on a particular day. But doing the opposite can have the same negative effect.
Sometimes it's the person you would least expect it from that makes a negative comment about themselves. Saying, "Oh shut up, you're so skinny" is not going to help them either. They are not looking for a compliment or trying to draw attention to themselves, that's not why they said it.
You don't know everyone's personal life, or what someone else said to them that made them think that way. I'm not sure of the exact response they are looking for, everyone is different. But I know personally, I would rather have someone ask me why I'm not feeling confident, and talk about it, rather than quickly agreeing or disagreeing with me.
4. Sometimes, there's nothing you can do.
More so for coaches, sometimes, there is nothing you can do about these problems. With some swimmers, you won't even know they have a self worth issue, some will be to intimidated to tell you, and some coaches will just not feel comfortable assessing situations like this. And there's nothing wrong with that. Self image is a sensitive subject.
And this holds true for men, women, and swimmers of all heights and sizes. Some swimmers may want to be bigger than they are, when physiologically, their body isn't done growing yet. It is important to create a welcoming and comfortable environment on the pool deck. Happy swimmers are fast swimmers, and happy swimmers are usually the confident ones.
Body image and swimming is an important thing to think about as a coach and swimmer, apparently, no matter what your age is. I think it is ideal for coaches to encourage healthy eating and making the right choices. But if your swimmer knows you are confident in them, then they will feel better about themselves.
We are not here to fix all of every swimmer's issues. We are here to fix their freestyle. But the words a coach or teammate says can positively or negatively affect athletes.
An extra "you look strong today" or "you have been looking fast in the water" can go a long way. One coach and teammate at a time, we can work past the body issue, and re-create confident swimmers that want to be in the pool, in a bathing suit, having fun- no matter how old they are.