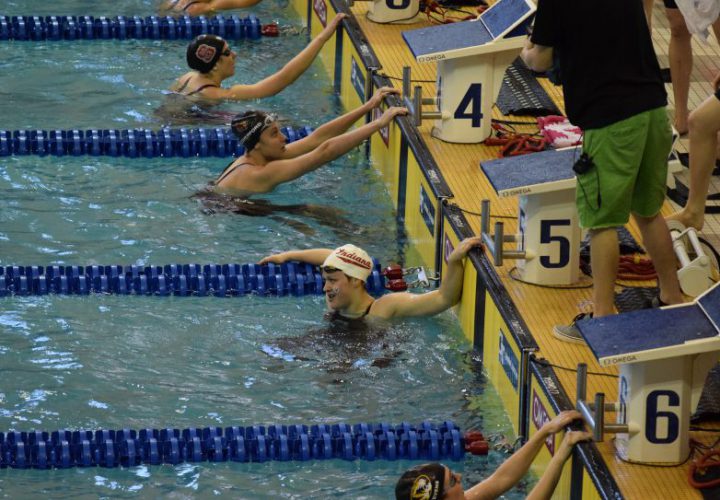 Photo Courtesy: Annie Grevers
By Caitlin Daday, Swimming World College Intern
It happens. Sometimes the season does not go the way we want. Not just a meet or a few weeks, but sometimes the whole season is just off.
Let's be honest, it is really tough when you do not swim well. You put in all that work, and essentially get no return. It is not fun. Having just experienced this myself, I know how hard it is. It may be "just swimming," but the disappointment hits all of us hard.
With a bit of reflection, however, it becomes easier to move past it. You may need to take a step back and reset, but fortunately there are a number of ways to get back on track after a tough season. These four things, among others, are what have helped me the most in rebounding after tough seasons:
1. There is no one out on the operating table.
It may seem obvious, but at the same time it can be easy to forget that swimming is not life-and-death. Sometimes it feels like it is the most important thing in the world, but at the end of the day it is not. Yes, swimming is important, but not nearly to that extent.
I know personally how hard this can be to realize. You put in all that work, so obviously your performance is very important to you. When you find yourself getting caught up, you have to remember that even though swimming is important to your life right now, your doing bad in a season is not nearly at the level of the worst things out there.
2. It was only one season.
Fortunately, one bad season does not ruin your entire swimming career. It is easy to get the idea in your head that you are not as good as you once were, but that is not true. Regardless of what you did this year, your best times are still yours–they are not going anywhere.
In every aspect of life, you are going to face ups and downs. While this season may have been bad, the next one is right around the corner. What's done is done, and what comes next is something entirely new. You still have a chance to come back and be better than ever.
3. It happens to everyone.
Sometimes it can be hard to accept the fact that you are no longer the age grouper that drops time every time you touch water. As nice as that would be, it is just not realistic. But the good thing is you are not alone. Every athlete, at some point in their career, hits a bump in the road. The size of those bumps may differ from person to person, but everybody faces them.
A large part of the challenge is how you deal with it. While it happens to everyone, it is not a license to dwell and constantly feel sorry for yourself. I admit, it is easy to feel sorry for yourself, but in the end, being able to move past it and reset yourself feels so much better.
4. You are not defined by swimming alone.
As a 21 year old college swimmer, swimming is seemingly what defines me. When people ask what I do, I say I am a swimmer. My room, both at school and at home, is decorated with pictures and awards all from swimming. Rare is the moment when I leave the house not wearing something swimming related.
At the same time though, there is so much more to each of us as a person. We are not just swimmers, but we are writers and engineers and friends and sisters and brothers and just about everything else there can be. Each and every one of us has something we are good at aside from swimming. So when swimming goes wrong, there are tons of other things that can go right. Bad performances in the pool in no way determine you as a person.
All commentaries are the opinion of the author and do not necessarily reflect the views of Swimming World Magazine nor its staff.