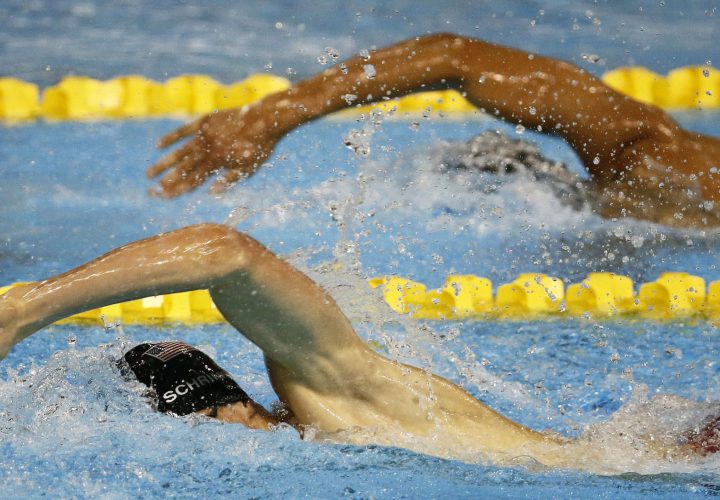 Photo Courtesy: Rob Schumacher/USA Today Sports Images
By Jacob Riley, Swimming World College Intern.
Freestyle is a complicated stroke because it's the resting stroke that everybody seems to do differently. Some people look like they're flailing with pizzaz, some people look so elegant that there is no way they're going fast, and some people just find a way to move through the water quickly. Whichever way you look at it, there are many good ways to do freestyle. Here's four quick ways to improve yours.
1. Elongate Your Stroke
This is one of the simplest ways to improve, yet it's one of the most difficult. A lot of people do not swim to their maximum potential because they do not take long strokes. The longer the stroke means the more water you pull. The more water you pull means the faster you go.
2. "Find Your Anchor and Set it."
When swimming freestyle you need to find a set point in your stroke where you want to pull from. Usually you want this point to be out front so you pull the most amount of water that you can. You want to find this specific point in your stroke, and you want to just pull as hard as you can from that point. This will help you maximize your efficiency.
3. Keep within your power zone when pulling
There's a set path your strokes should follow in order to keep maximum power. This path lies just along where your shoulder blade is. If you take your stroke too far in towards your head, you end up losing power. You also lose power if you take your stroke too far out to the side, away from your body.
4. Keep a high turnover rate (Especially sprinters)
Some of these things are hard to instill, but once they are almost perfected a high turnover rate needs to be kept. This cannot be sacrificed for power however. The high turnover rate will allow you to be as powerful as possible, and continue to keep your turnover speed.
If you can keep high power and continue to keep high turnover, your freestyle will improve and these tips will help it get there!
All swimming and dryland training and instruction should be performed under the supervision of a qualified coach or instructor, and in circumstances that ensure the safety of participants.