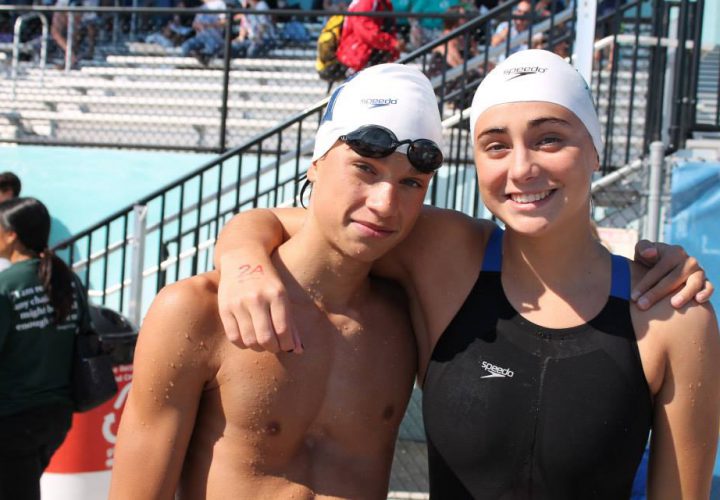 Photo Courtesy: Samm Rosenberg
Commentary by Niki Urquidi, Swimming World College Intern.
Chlorine sensitivity and allergies are more common in competitive swimmers than you would think, as chlorine itself is a natural irritant. Because swimming is one of the most difficult forms of exercise, having an added discomfort can become increasingly frustrating for adolescent and adult swimmers alike. But before you walk away from the pool for good, here are some easy ways to identify and combat skin, eye, and respiratory discomfort caused by the chlorine environment.
1. Rinse your skin after each practice.
Skin reactions to chlorine are uncomfortable and unpredictable, but fortunately, not unavoidable. They often appear as red, itchy rashes, hives, or sometimes even flare-ups of eczema. A simple way to keep skin clear and healthy is to rinse off immediately after each practice in non-chlorinated water. Make sure to scrub thoroughly, as chlorine can leave behind a film that continues to eat away at your skin, even after leaving the pool.
Additionally, it is always helpful to apply moisturizing lotion to clean skin to avoid dry, irritated patches. Hives can simply be relieved by rubbing Benadryl allergy relief cream on the affected area.
Eczema is a more serious skin problem that can be affected by prolonged chlorine exposure. While a very small amount of chlorine can act to eliminate bacteria relating to eczema, research has shown that in most cases, chlorine has an abrasive, drying effect that worsens the condition. The most important thing to remember is to keep your skin clean and hydrated whenever you're out of the pool.
If problems persist, there are interesting products targeted towards dry skin caused by chlorine that employ vitamin C, a natural and safe antioxidant. If you are interested in one of these products, check out SwimSpray!
2. Rinse your eyes with cool water or saline drops.
Sensitive eyes are easily irritated by chlorine and can cause a lot of discomfort for swimmers. Even with goggles, swimmers can be affected by the chlorine particles in the air, especially in indoor pool environments. For some relief, simply rinse your eyes with cool, fresh water to combat nightly irritation that usually results from a two-hour afternoon practice.
For more severe cases, applying saline drops to the eyes immediately after practice (or when irritation begins during practice) can drastically decrease pain and itchiness. Keeping these eye drops in your swim bag is always a good idea, especially when going to swim meets where you're exposed to harsh chemicals for a longer time period.
3. Get tested and treated for respiratory problems.
Respiratory sensitivity to chlorine can lead to the development of other lung problems, including asthma. If you think you may be experiencing a respiratory sensitivity to chlorine, consider the following symptoms:
Consistent cough that seems to worsen at night after swimming

Runny nose

Shortness of breath

Wheezing

Chest tightness or pain
If you are experiencing any of these issues, it is important to consult with an allergist. The alternative solution would be to take a break from high-intensity training in chlorine; however, this is usually not an option for swimmers. Discussing solutions with your doctor may be the way to go. There are very simple treatments, including allergy medications or inhalers, that will help to reduce inflammation in the lungs and get your breathing back to normal.
The main source of respiratory discomfort comes from chloramines. Chloramines occur when chlorine from the pool reacts with ammonia, a naturally occurring chemical present in urine, oils, and most disinfectants. The resulting mixture usually hovers just above the surface of the water, making it impossible to avoid when a swimmer takes a breath.
It can be easy to feel discouraged or hopeless when considering one's chlorine sensitivity. Many swimmers eventually come to the conclusion that these discomforts are just part of the sport, but this is far from true. Taking extra precautions can keep you from experiencing the irritating effects of our chlorinated habitat.
While swimming trains your body and keeps you healthy, it can still be a cause of skin, eye, and lung irritants that affect you both in and out of the pool. Take precautions, talk to your doctor and do all you can to investigate what products work best for you. After all, a healthy swimmer is a happy swimmer!
Commentary: All research was conducted by the author and does not necessarily reflect the views of Swimming World Magazine nor its staff.
---
Associated Links
---