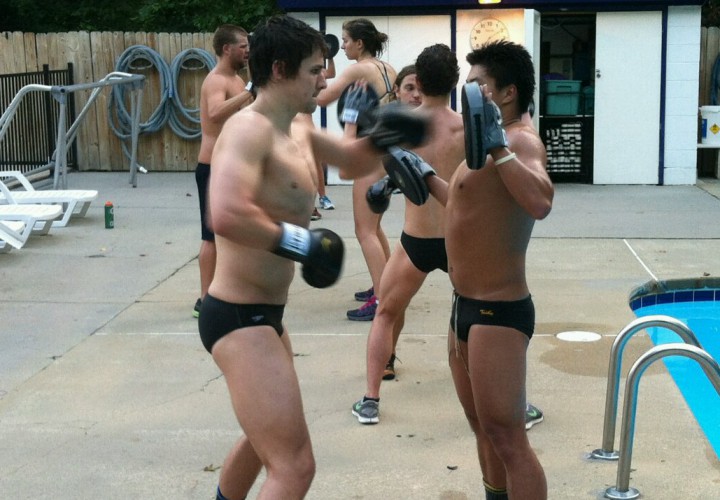 Photo Courtesy: Josh Huger
By Chris Balbo, Swimming World College Intern.
Every college swimmer knows October is the grinding month. Midterms are piling up and yardage is racking up as the temperature is going down. Intervals are dropping with endless weekends of dual meets just around the corner. If you aren't unbelievably sore, tired, and sleep deprived, you aren't working hard enough. Spirits are low, but the best give 100 percent of what they have. You can see the fatigue across the pool for everyone: distance, middle distance and last, but not least, sprint. The endless cycle of lift, swim, study, swim, eat, sleep, repeat, repeat, repeat. All aspects of college life are in perpetual breakdown, body, mind and GPA.
How do you survive this month of sore muscles, low spirits, and daunting academics? There is no simple answer to that question. But here are three strategies to try:
1. Rely on your coaches.
In this time of hard practices, it is a must to trust your coaches. All coaches have a plan for the season. Part of the plan is making October as productive and intense as possible. Most weekends will be spent on the road for dual meet season, making each workout more important than the last. Trust the training, trust the coaches, trust yourself. It may be hard to see the fruits of your labor initially but all in all, the grind is worth the reward in February. Just think, pain now, glory later.
2. Manage your time well.
During midterms, don't sweat the little things. One "bad" practice does not out-weigh weeks of tough training. The same goes for class: one "bad" grade will not kill your GPA. Be proactive, and use your study time wisely. Get ahead during the week. Do not procrastinate and leave all work for the weekends. If you must, use bus travel time wisely to get some weekend work out of the way. Use mandatory athletic study hall hours to your advantage. You might as well get some work done!
3. Recovery, recovery, recovery.
Drink a protein shake, hydrate, get a good night's sleep, and foam roll. These activities are essential to a successful October. Most teams are on the road for the weekend, meaning weekday sleep becomes critical to recovery. Hydration promotes recovery for fatigue as do healthy, nutritious meals. If you have athletic trainers, use them to your advantage. Their job is to take care of athletic recovery, so use them as a resource.
Following these tips does not mean you will avoid the inevitability of hitting rock bottom. It is likely practice morale may suffer from the academic, athletic, and personal stressors of being a college student-athlete. However, these tips relieve some of the mental and physical burdens of swimming. But the most important part of October is remembering why you love the sport of swimming, why you continue to swim through all the pain, and pushing past your own physical and mental barriers. At the end of the season, the hours of grueling training will be well worth the reward.
All commentaries are the opinion of the author and do not necessarily reflect the views of Swimming World Magazine nor its staff.