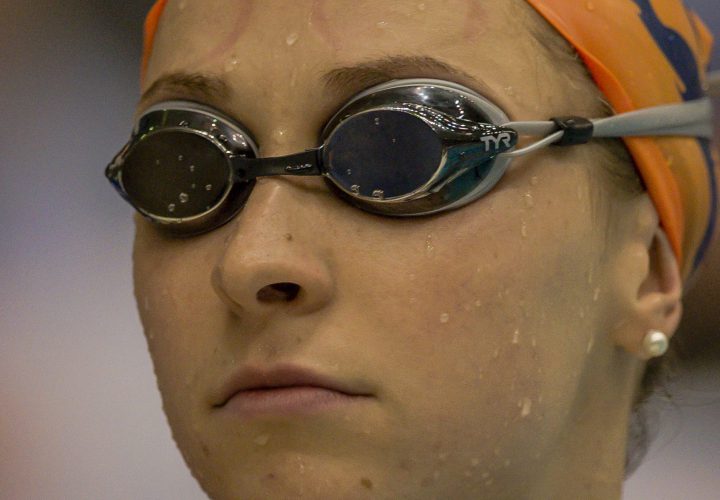 Photo Courtesy: Peter H. Bick
Ariana Kukors, the 2012 U.S. Olympian who this week came forward with news that her longtime coach Sean Hutchison had sexually abused her, has now released a full narrative of her relationship with Hutchison.
Hutchison has denied allegations of abuse, insisting that their relationship was consensual and happened after Kukors was an adult. In her post, Kukors appeared to rebut Hutchison's denials.
First, Kukors explained how she began swimming with Hutchison when she was 13, how he initiated the process of "grooming" her for a relationship when he insisted that all swimmers shake hands with him after practice and how he developed personal relationships with his athletes. The two began texting when a 15-year-old Kukors got her first cell phone.
Kukors vividly described an incident when, in her mind, Hutchison first acted inappropriately. After practice one day, she wrote, the coach inquired about her undergarments, and that progressed to incidents of kissing and touching when Kukors was still underage.
When Kukors reached college age, the two reached a disagreement over her plans for her NCAA career. Kukors explained how Hutchison used Kukors' Olympic dreams as a means to encourage her to remain in his program.
"I began my senior year of high school as one of the top recruits in the country, which meant I had my pick of schools from which to choose," Kukors wrote. "I took recruiting trips to USC, University of Arizona, and University of Georgia, but Sean was not amused.

"He told me if I went off to college, I should kiss my dreams of becoming an Olympian goodbye. But he had a solution; I could go to the University of Washington down the street, and continue to train with him. I just had to sign my letter of intent."
Kukors then explained how she began lying to her family and friends about their relationship, the nature of which became even more physical after she turned 18.
Later on, after Kukors broke her first world record and won her first World title in the 200 IM in the summer of 2009, she moved to continue training with Hutchison in Southern California. The two began spending nights at each other's apartments like a "real couple," she wrote.
In late 2010, when it was first reported that Hutchison had a relationship with a swimmer, Kukors was on her way to meet Hutchison in Georgia. Kukors provided the text of an email Hutchison sent her in 2015 about what she calls an "emotionally-charged day. The email included the line, "You made me believe in soulmates."
In the ensuing USA Swimming investigation about the relationship, Kukors admitted that she lied about its existence.
"In January of 2011, USA Swimming investigated the claims made against Sean and myself. The extent of my part in the investigation was me spending a few minutes on the phone with a private investigator. 19 questions I counted. I was scared. I lied. I had never felt more alone in all my life."
Hutchison left coaching after that, but Kukors continued training, and she qualified for her first and only Olympic team in 2012. But she described Hutchison as far from supportive during that time, including an email he sent her one week after she qualified.
She added that Hutchison insisted she leave London immediately after the Games ended, implying that he was jealous.
"Checking in with him constantly, sending him naked pictures every single day as he required of me, and trying not to have too much fun, for fear of him yelling at me. After 8 days, the swimming portion of the Olympics concluded and Sean made sure I was on the first flight home the following day, less than halfway through the Games. There would be no closing ceremony for me and certainly no further bonding with my Olympic teammates. In Sean's eyes, I had been selfish enough, and it was time to come home."
Kukors then returned home and moved in with Hutchison for a year, and at one point her younger sister Mattie also moved in with the two. Eventually, she decided to leave him.
Kukors continued by explaining how two men she met after Hutchison, including her now-husband, Matthew Smith. The first man, who she does not name, helped "show me that I was worthy of affection." She added, "Looking back on it now, I will forever be grateful of the role that man played in saving me from Sean."
After she and Smith began dating, Kukors described one incident where she broke down in tears, telling Smith "why he shouldn't want me."
"I told him of the abuse, the lies, and the truth. I told him that Sean and I were still in contact, and that I was damaged beyond belief. I asked him not to want me; I wasn't worthy of such a good man. Matt wiped away my tears and held me while I cried. And rather than step back, he stepped up. When things are the most painful and I am showing him the ugliest parts of myself and my past, he loves me harder."

Read Kukors' full account on her website by clicking here.