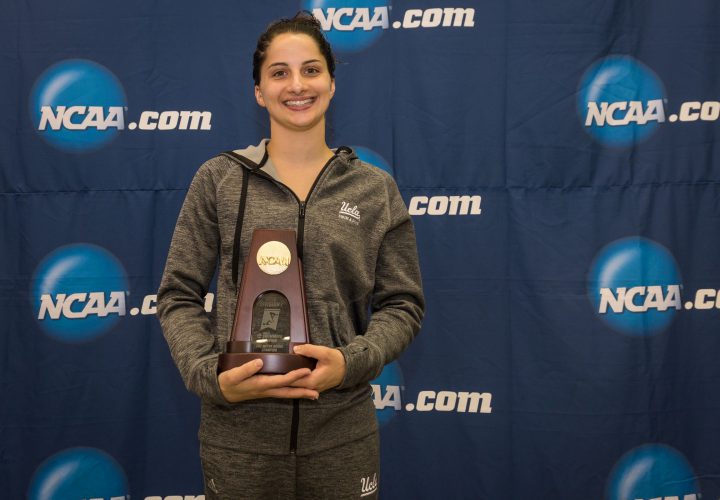 UCLA's Eloise Belanger.
Photo Courtesy: Reagan Lunn/Georgia Tech Athletics
There were just a couple of Pac-12 events this weekend, and the biggest moments came from the UCLA diving invitational.
For the second day in a row, Eloise Belanger posted a win at the Bruin Diving Invitational. Belanger posted a total score of 650.25 to pick up her second win with just Sunday's Platform to go.
After scoring no higher than 51.00 on any of her first four dives, Belanger posted the highest-scoring dive of the day with a 69.00 on her 5152B to move her up the leaderboard. She added a 60.00 on her final dive of the prelim and finished in second place (323.05) behind Mia Paulsen of Stanford (326.60). Ciara Monahan came in third with a 307.05 in the prelim. Her highest scoring dives of the round were her 205C third attempt (56.00) and her 5152B fifth attempt (58.50).
On Friday, Belanger won the 1-meter. She posted a total score of 636.00, including a 324.30 showing over her six final-round dives. Stanford's Kassidy Cook finished second, tallying a score of 584.40.
In the men's 3-meter, USC's Dashiell Enos won the 3-meter competition with a two-round score of 758.85, 18.30 ahead of second-place Johan Sandell of Hawaii.
Arizona State tops Washington State
The Arizona State women cruised easily to victory with a 177-83 Pac-12 win at Washington State in their first dual meet since early November.
After starting the meet with a win in the 200 medley relay, the ASU women won six of seven events prior to the first break including 1-2-3 sweeps in the 1000 free, 100 breast, and 50 free.
The Sun Devils won all five events between the first and second break, including a 1-2-3 sweep in the 200 breast as well as going 1-2 in the 500 free.
Chloe Isleta won her third event on the day in the final individual event, the 200 IM, just ahead of teammates Marlies Ross and Nora Deleske. Isleta's 200 IM also set a new Gibb Pool record previously set by Washington State's Addisynn Bursch in 2016.
Kendall Dawson also won multiple events (500 free, 1000 free) and, all-told, the team showed their depth with eight different Sun Devils winning events on the day.
Washington State's Jasmine Margetts won the 200 fly with a season-best time of 2:01.18,