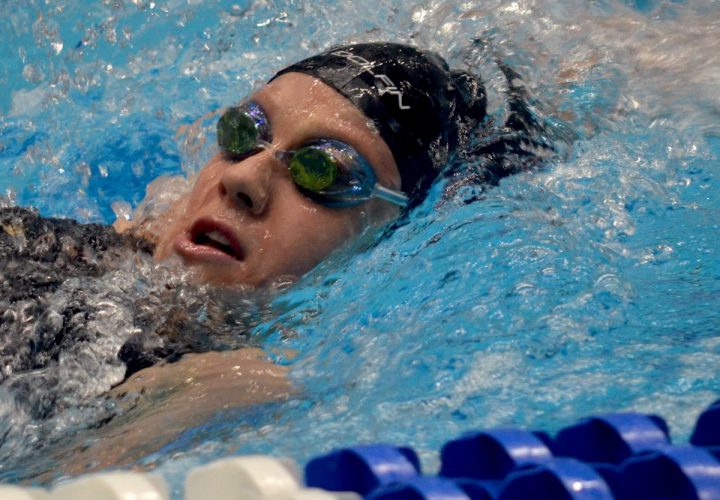 Stanford's Ella Eastin.
Photo Courtesy: Dan D'Addona
NCAA DI editorial coverage is proudly sponsored by Adidas. Visit adidasswimming.com for more information on our sponsor. For all the latest coverage, check out our event coverage page.

CLICK FOR FULL RESULTS
By Dan D'Addona.
The Stanford women's swim team cruised to a big lead after the first two days of the NCAA Division I women's championships.
Records were broken and relays were won.
With a 77-point lead over Cal coming into Friday, Stanford sophomore Ella Eastin set the tone from the night's first race that the Cardinal weren't done with their dominance in Indianapolis.
Eastin won the 400-yard IM in an American-record time of 3:57.57, knocking off teammate Katie Ledecky's mark set at the Pac-12 Championships. Now Stanford leads by 119.5 points.
"It is special. Breaking an American record is pretty cool. To know that it was one that was Katie's from a couple of weeks ago is something I am proud of knowing how incredible of a swimmer she is," Eastin said. "It was a goal for me, at some point in my career, break that record, but I didn't necessarily expect to do that tonight."
Especially after swimming a 4:03.47 during Friday's preliminaries and getting touched out by Cal's Kathleen Baker for the 200 IM title on Thursday night.
"I was not in the best mood coming into the finals, knowing my body was really tired and not having a super comfortable prelim swim, but I think a lot of words of encouragement I got from my coaches and my teammates really helped me push myself along," Eastin said. "
The rest of the field gave her quite a push, too, as Texas A&M's Sydney Pickrem also went faster than 4 minutes, finishing runner-up in 3:59.36.
"It felt like the hard work for the season has paid off, but to break a barrier like 4 minutes is definitely more rewarding than just going a best time," Pickrem said. "I was pretty excited."
Eastin and Pickrem held off Texas senior Madisyn Cox (4:00.97), and A&M's Bethany Galat (4:01.06).
"Winning for my team is something that I take a lot of pride in. That is a lot of the reason I was upset last night. I knew getting my hand on the wall first was something I really wanted to do," Eastin said. "I felt really pushed in the first 200, knowing I did need to be ahead. Once I caught my stride, I think I was pretty confident and didn't really look back. But I knew that people were going to be coming for me until the very last second. It was easy to be motivated.
"I knew going into it I was going to have to be ahead at the breaststroke, knowing we had some strong breaststrokers. Going out quick but smooth is how Greg (Meehan) and I talk about it."
Pickrem swam a best-time and the eighth-fastest in history.
"I don't really swim the same way they do, so I have to have my own strategy and not panic, because I have done that in the past," Pickrem said.
Eastin's time was the second-fastest ever behind Hungary's Katinka Hosszu (USC), who went 3:56.54 in 2012.
"Last year, I think I wanted to prove myself to everybody, although a lot of that was for my team. I definitely wanted to make a statement coming out as a freshman. This year, I was making sure I was doing everything I wanted to, therefore benefiting my team," Eastin said. "Katinka swim really fast when she did that. It might not happen any time soon, or ever, but that is the next thing to push for."