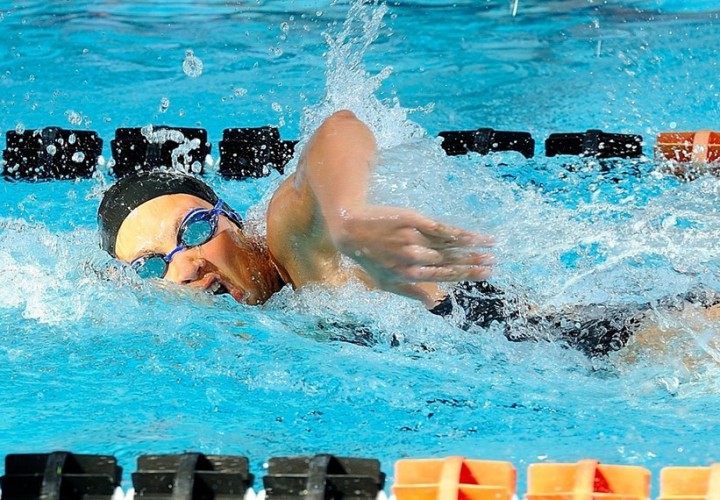 Davidson senior Elise Lankiewicz kicked off the night with her second set of meet, conference, and pool records in as many days. Her time of 4:43.49 broke her own records set last year.
Likewise, George Mason's Sydney Fisher broke the conference, meet, and pool records in the 50 freestyle for the second time in one day, after having done so this morning. Her time of 22.51 dominated the event, and she finished .7 ahead of the next closest finisher–in a 50.
The men's 50 was just exciting, with Joseph Mercurio and Zepher Begnell tying for first. Both men are seniors, with Mercurio representing Fordham and Begnell from George Mason. Their time was 20.26.
Women's 500 Freestyle
Lankiewicz won the 500 handily, over six seconds ahead of her next closest competitor. Richmond's Annie Lane came in second behind her with a time of 4:49.51.
Third place went to Mina Glenesk of St. Louis with a time of 4:52.88.
Men's 500 Freestyle
George Washington freshman Moritz Fath began his first conference championship in winning fashion. With a time of 4:25.01, he took first place. Fath finished just ahead of St. Louis's Ryan McCoy, who swam to a time of 4:25.73.
Another freshman, Fordham's Joseph Vizza, came in third. His time was 4:26.02.
Women's 200 IM
The women's 200 IM came down to the finish, with Richmond's Morgan Soulia getting her hand on the wall first. Soulia's time was 2:00.33, just half a second ahead of second place finisher Meriz Werenski. Werenski, a senior from Massachusetts, finished with a time of 2:00.97.
Duquesne's Lexi Santer came in third, just after Werenski. She swam to a time of 2:01.02.
Men's 200 IM
The men's 200 IM was exciting to the end as well. Top three finishers Michael White Jr., Cameron Fadley, and Fabian Bergman all finished within .44 of each other.
White Jr., a senior from St. Bonaventure, got the win in a time of 1:47.30. La Salle's Fadley placed second in 1:47.73, just out touching his teammate Bergman, who finished in 1:47.74.
Women's 50 Freestyle
Following Fisher for second place was Davidson's Erica Clancy. Clancy finished with a time of 23.24. She just out touched Massachusetts's Ansley Baker. Baker came in third at 23.27.
Men's 50 Freestyle
While Mercurio and Begnell shared the top spot on the podium, Taylor Willenbring finished in third place. Willenbring represents Davidson, and he swam to a time of 20.50.
Women's 200 Freestyle Relay
The Davidson women swam to first place in the women's 200 freestyle relay. The team of Kassie Shannon, Maggie Farrell, Lankiewicz, and Clancy swam to a time of 1:31.87 for the win.
Second place went to the Duquesne women's team of Kristen McKnight, Emily Thirion, Carson Gross, and Shelly Heim with a time of 1:32.77. The Fordham women–Tara Brunner, Sammy McDonald, Mia Bullock, and Theresa Mullen–finished third in 1:33.40.
Men's 200 Freestyle Relay
The night ended with the George Washington men dominantly taking the 200 freestyle relay. The team of Gustav Hokfelt, Andrea Bolognesi, Adam Drury, and Alex Auster finished first with a time of 1:20.19.
The Massachusetts's team of Owen Wright, Ryan Pedrick, Kyle Stefanides, and Kellen Gray placed second in 1:21.06. They finished just ahead of Fordham's Travis Monahan, Mercurio, Kevin Berry, and Vizza, who touched at 1:21.23.
At the end of night two, the Duquesne women lead with 209 points. The University of Massachusetts is in first on the men's side with 204 points.