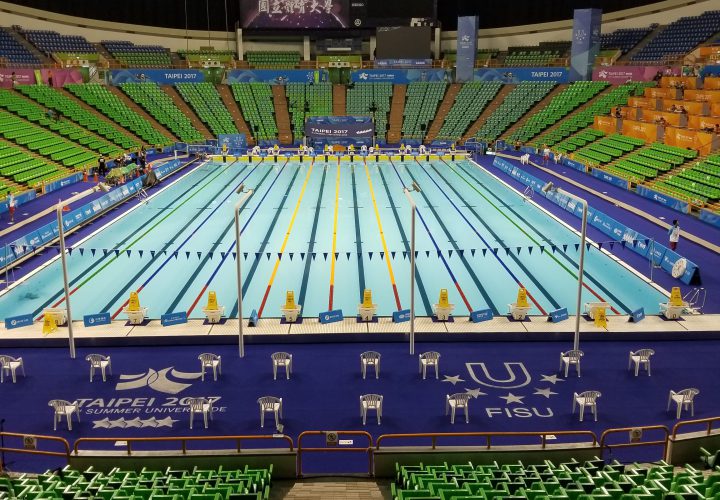 Night Six of the World University Games in Taipei will feature seven finals and four semifinals between men and women.
Germany's Sarah Koehler and Italy's Simona Quadarella will provide the race to watch tonight in the women's 800 freestyle. The two are the gold and silver medalists from the 1500 earlier in the meet, where the race went back and forth throughout. Siobhan Haughey will look to claim another gold in the 200 freestyle, while Americans Ali DeLoof and Hannah Stevens will swim to defend their top two seeds in the 50 backstroke.
In men's action, Ukraine's Andrii Khloptsov leads the men's 100 fly, while a battle for gold in the 200 back will then take place. 200 IM Champion Kosuke Hagino of Japan will need to fight off Lithuania's Danas Rapsys and American duo Austin Katz and Robert Owen. With only three podium spots, this one is about to get interesting. Ilya Shymanovich of Belarus will then face a strong 50 breast final, but is likely to scare the meet record in this event for the golf.
Follow along below for event-by-event coverage:
Schedule of Events:
Women's 800 Free (Final)
Women's 50 Breaststroke (Semifinal)
Men's 100 Butterfly (Final)
Women's 200 Freestyle (Final)
Men's 50 Freestyle (Semifinal)
Women's 50 Backstroke (Final)
Men's 200 Backstroke (Final)
Women's 200 Butterfly (Semifinal)
Men's 50 Breaststroke (Final)
Women's 50 Freestyle (Semifinal)
Men's 800 Free Relay (Final)
Women's 800 Freestyle
Despite being in the second position for the first 550 meters, Quadarella pulled ahead in the last 200 meters of this race for a meet record-breaking performance of 8:20.54. Germany's Koehler was also under the previous mark, coming in for the silver in 8:21.67. The swims bump the women up to fourth and fifth in the overall world rankings this year, moving them up from ninth and twelfth, respectively. Koehler used the same bold race strategy she did in the 1500, but could not hold off a confident and calm Quadarella on the back end.
Joanna Evans of the Bahamas earned her first medal at these games by taking the bronze in 8:31.18, leaving her just outside the top 20 in the worldwide rankings. She had to fight off a trio of swimmers at 8:32 for the bronze between Australia's Kiah Melverton (8:32.46), Great Britain's Camilla Hattersley (8:32.34) and Liechtenstein's Julia Hassler (8:32.86).
A pair of Americans rounded out the heat as Hannah Moore finished seventh in 8:36.64 and Kaersten Meitz was eighth in 8:40.30.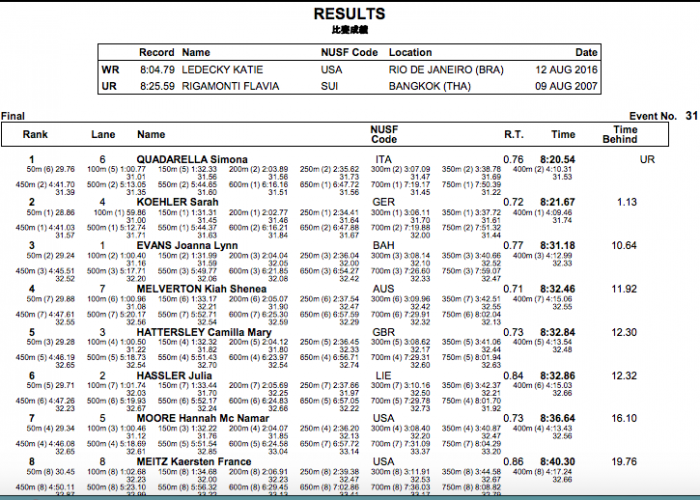 Women's 50 Breaststroke
USA's Andrea Cottrell held onto her top seed in this event, breaking 31 in 30.82. She was the only swimmer to do so, as Australia's Leiston Pickett won the first semi in 31.16 for the second seed. Cottrell's teammate Miranda Tucker snuck in for the eighth seed in 31.87, just .01 seconds ahead of Japan's double-breaststroke Champion Kanako Watanbe. The final will run without the Japanese breaststroke superstar.
Ukrain's Mariia Liver was third in 31.37, followed by Sweden's Jessica Eriksson in 31.61. Germany's Jessica Seiger was a close fifth in 31.66. Poland's Dominika Sztandera was sixth in 31.78 while Korea's Hyejin Kim was seventh in 31.82.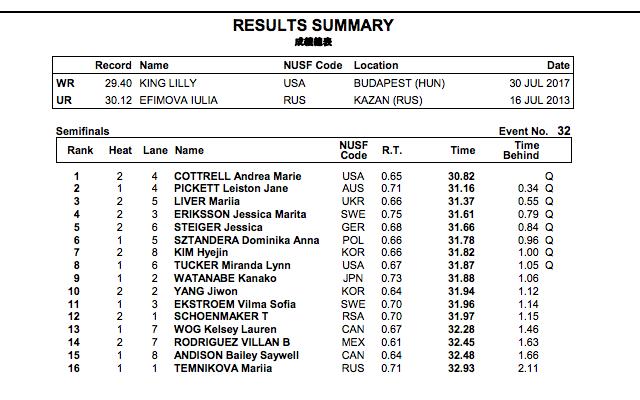 Men's 100 Butterfly
Russia's Aleksandr Sadovnikov snagged the 100 fly title out of lane 8 after coming home in a quick 27.37. HIs efforts were able to out-race Ukraine's Andrii Khloptsov who finished in 51.91. Brazil's Henrique De Souza Martins was first at the 50 in a blazing 23.80, but came home in 28.16 to earn the bronze in 51.96.
Poland's Konrad Czerniak was fourth in 52.00 and was followed by Japan's Yuki Kobori (52.09), Hungary's Bence Pulai (52.56), Brazil's Vinicius Moreira Lanza (52.59) and Ukraine's Oleksii Ivanov (52.60).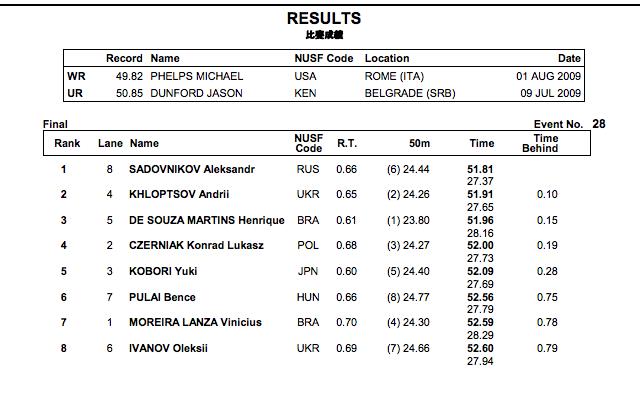 Women's 200 Freestyle
Siobhan Haughey of Hong Kong won her second gold of the week in the 200 free, setting a meet record in the process. Her 56.66 opening 100 put her in great contention for the win, despite USA's Katie Drabot having a faster back half. Drabot finished in 1:57.61 for the silver, while teammate Claire Rasmus was fifth in 1:58.74.
Russia's Arina Openysheva earned the bronze in 1:58.53. Her teammate Anastasia Guzhenkov was seventh in 1:59.44. Brazil's Manuella Duarte Lyrio was fourth in 1:58.64 and Canada's Katerine Savard finished sixth in 1:59.21. Less than 15 minutes after her bronze medal performance in the 800, Bahamas' Joanna Evans rounded out the heat in 2:00.70.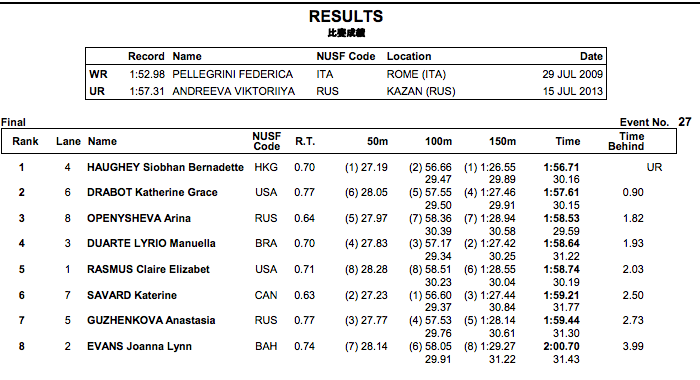 Men's 50 Freestyle
Similarly to the 50 breast, Ukraine sprinter Andrii Govorov missed out on the 50 free final here in Taipei. His time of 22.34 was just outside the eighth position earned by Poland's Konrad Czerniak in 22.32. USA's Ryan Held narrowly qualified as well, coming in at seventh in 22.24.
Brazil's Italo Amaral Duarte Garof claimed the top seed in 21.93, while Finland's Ari Liukkonen also dipped under in 21.99 for the second seed. Japan's Katsumi Nakamura was third in 22.01.
Italy's Lorenzo Zazzeri (22.07), Great Britain's David Cumberlidge (22.21) and Russia's Aleksei Brianskii (22.23) took the fourth through fifth seeds for the final.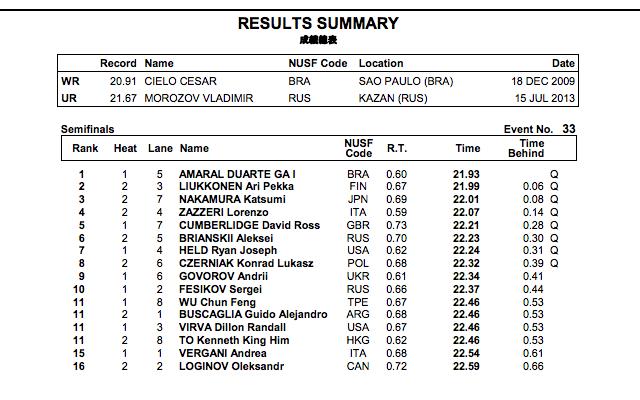 Women's 50 Backstroke
Netherlands' Kira Toussaint and USA's Ali DeLoof put on a show in the women's 50 back, as the women tied for gold in 28.07. Teammate Hannah Stevens gave the Americans another podium spot by taking the bronze medal in 28.14, just ahead of fourth-place finisher Marria Kameneva of Russia.
Poland's Maria Tchorz narrowly touched out Australia's double backstroke Champion Sian Whittaker 28.32 to 28.35. Korea's Hanbyeol Park was seventh in 28.63 and Russia's Irina Prikhodko was eighth in 28.86.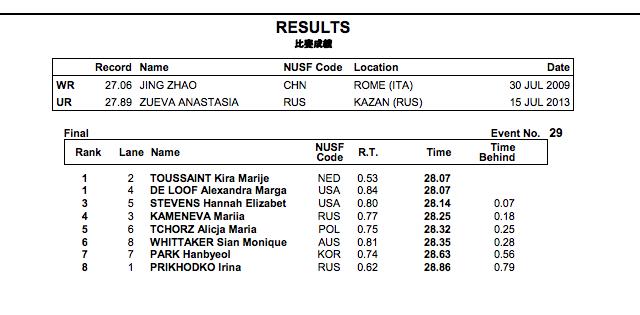 Men's 200 Backstroke
In a tight 200 backstroke, Lithuania's Danas Rapsys stole the gold medal in 1:56.62. Russia's Roman Larin had the lead thorugh the 150 meter mark, but could not withstand a 28.87 final fifty from Rapsys. Larin earned the bronze medal in 1:57.29, as USA's Austin Katz earned the silver in 1:56.70. Second throughout the whole race, Katz' 29.15 final split gave him the edge over Larin.
Japan's Kosuke Hagino, an original favorite in this event, ran out of room even though he has the fastest closing split of 28.71. His opening 58.62 100 split simply put him way out of pack heading into the back half of the race.
Larin's teammate Andrei Shabasov was fifth in 1:58.16, followed by South Africa's Martin Binedell in 1:58.17, USA's Robert Owen in 1:58.52 and Italy's Christopher Ciccarese in 2:00.52.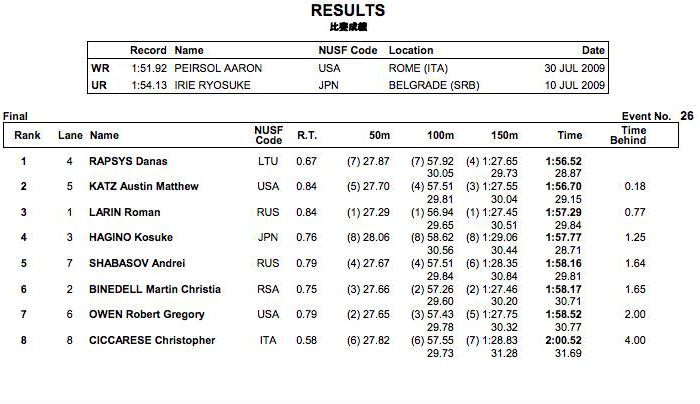 Women's 200 Butterfly
USA's Ella Eastin led five top eight qualifiers out of heat two in the 200 fly. Her 2:09.20 was put together similarly as her semifinals swim, but she should still have something left in the tank for final based on her 33.59-34.09 last two fifties. Turkey's Nida Ustundag qualified third out of the same heat in 2:11.28 followed by Italy's Aurora Petronio in 2:11.70.
Switzerland's Martina Van Berkel won the first semi in 2:10.94, and was followed by Australia's Laura Taylor who earned the overall fifth seed in 2:11.79.
Great Britain's Isobel Grant (2:11.88), Korea's Jinyoung Park (2:11.90) and Poland's Klaudia Nazieblo (2:11.95) rounded out the top eight qualifiers.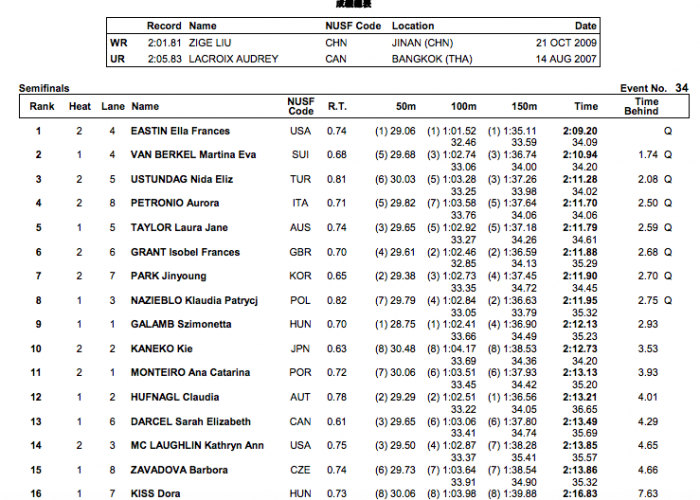 Men's 50 Breast
Ilya Shymanovich held onto his top seed in this event through and through, capping off the series with a gold in the final. His time of 27.39 was off his best, but was enough to top the podium this time around. Sweden's Erik Skagius earned the silver in 27.49 while Fabian Schwingenschloeg claimed the bronze in 27.63.
USA's Andrew Wilson could not quite make the sweep in the breaststrokes, finishing fourth in the 50 in 27.64, just .01 seconds off the podium. Kazakhstan's Dmitriy Balandin found himself in a similar position, missing the podium in 27.65, another .01 behind, for fifth.
Ireland's Darragh Greene (27.76) and Brazil teammates Felipe Kage Monni (27.81) and Raphael De Oliveira Rodrigu (27.93) rounded out the heat.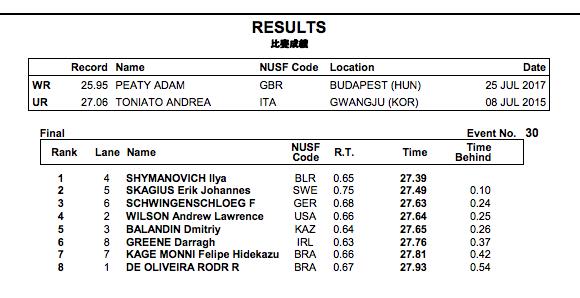 Women's 50 Freestyle
Semifinal two of the women's 50 free proved supreme as the top three qualifiers came from this heat. Mariia Kameneva was the lone swimmer under 25, coming in for the top seed at 24.82. USA's Caroline Baldwin was next in 25.15, and was followed by Brazil's Graciele Herrmann in 25.18.
USA's Katrina Konopka won the first heat in 25.24, leading the next three qualifiers for the final. Italy's Lucrezia Raco was fifth in 25.32 while Brazil's Alessandra Harrion Marchio was sixth in 25.36.
Japanese pair Chihiro Igarashi and Kaho Okano were seventh and eighth in 25.38 and 25.39, respectively.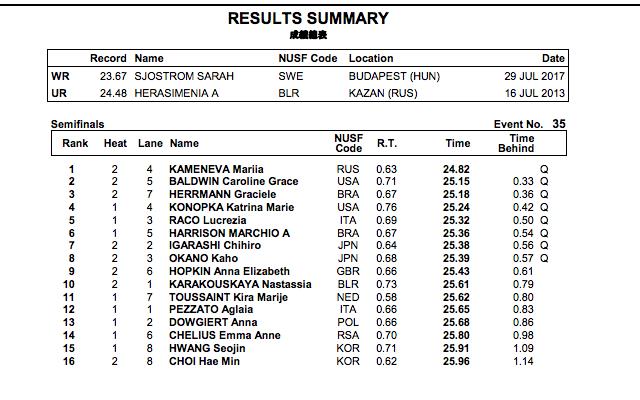 Men's 800 Freestyle Relay
Japan's Katsuhiro Matsumoto, Reo Sakata, Yuki Kobori and Kosuke Hagino took the gold medal in the 800 free relay with an overall time of 7:08.45. Just out of the 200 back, Hagino had the fastest split of the group in 1:46.83. Russia's Mikhail Vekovishchev had the fastest split in the field, anchoring his team to bronze in 1:46.81.
The American team of Mitch D'Arrigo, Maxime Rooney, Grant Shoults and Jonathan Roberts earned the silver in 7:12.19, and were in the mix for gold through the 650 mark. But Hagino's closing speed was no match for the Americans, Russians or the rest of the field.