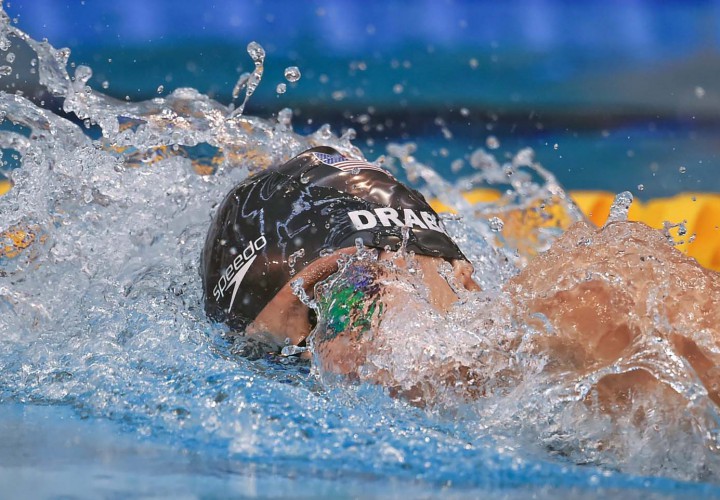 Photo Courtesy: Stephen McCarthy / SPORTSFILE
Day five of the 2017 World University Games in Taipei featured three preliminary events for both men and women.
Japan's Kosuke Hagino maintained his top seed in the 200 back and will look to set himself up for a second win of the week in tomorrow's semifinals. The American duo of Katie Drabot and Claire Rasmus then earned the top two spots in the 200 freestyle for the USA.
Russia's Aleksandr Sadovnikov was able to out-swim Henrique De Souza Martina of Brazil to win the the men's 100 fly prelims while Belarus' Ilya Shymanovich held on tight to his top seed in the 50 breast.
Ali DeLoof and Hannah Stevens, also of the USA, finished first and fourth in the 50 backstroke rankings while Italy's Simona Quadarella and Sarah Koehler of Germany cruised into the 800 final to provide another spectacular distance showdown tomorrow night.
Schedule of Events:
Men's 200 Backstroke
Women's 200 Freestyle
Men's 100 Butterfly
Women's 50 Backstroke
Men's 50 Breaststroke
Women's 800 Freestyle
Men's 200 Backstroke
Hagino did not waste any time getting to the top this time around, as he claimed the top seed for the 200 back semis in 1:58.83. He charged home in 29.48 to swim past the American duo of Robert Owen (1:58.96) and Austin Katz (1:59.64). Owen had the fastest opening 100 in 57.65.
Danas Rapsys of Lithuania came home even faster than Hagino in 28.81, cruising his way into the fifth seed at 2:00.25. Russia's Martin Binedell finished slightly ahead of him in 1:59.98. Belarus' Mikita Tsmyh (2:00.46), Korea's Juho Lee (2:00.50) and Canada's Robert Hill (2:00.78) also qualified in the top eight while it took a 2:02.19 from Russia's Andrei Shabasov to move forward in this event.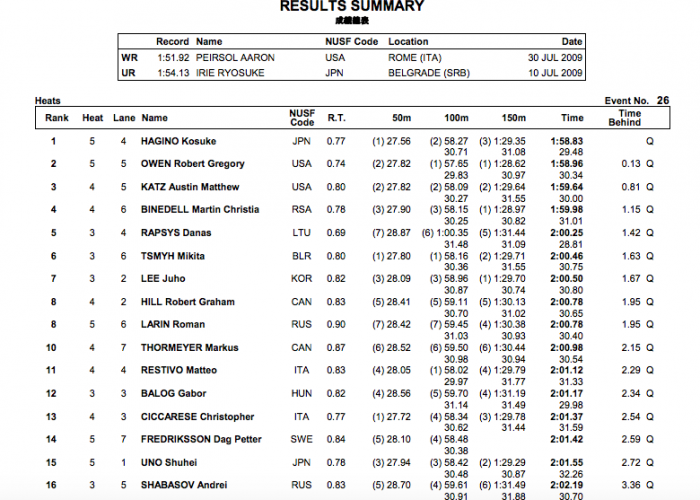 Women's 200 Freestyle
The American women posted the top two times in the 200 free prelims as the only two swimmers to break the 2:00 barrier. Katie Drabot took the top spot in 1:59.37 followed by Claire Rasmus in 1:59.93. The remaining swimmers created a handful of close battles, including a necessary swim-off for the final qualifying spot. Italy's Linda Capoli and New Zealand's Carina Doyle both swam a 2:02.00 for sixteenth.
Joanna Evans of the Bahamas took the third seed in 2:00.04 followed by Chihiro Igarashi of Japan (2:00.05) and Canada's Katerine Savard (2:00.24) all out of heat six. Teammate Kennedy Goss was then sixth in 2:00.41, once again followed narrowly by Great Britain's Kathryn Greenslade in 2:00.42. Haughey, the top seed headed into the prelims, cruised to the eighth seed in a relaxed 2:00.61.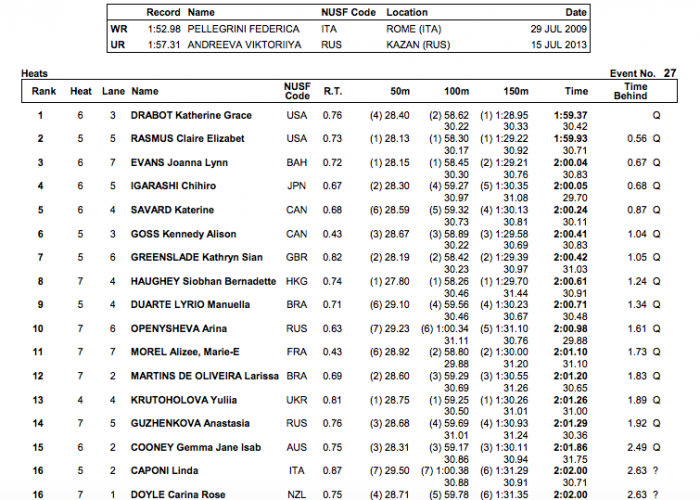 Men's 100 Butterfly
Both Russia and Ukraine placed two swimmers a piece into the semifinals of the men's 100 fly. Russia's Aleksandr Sadovnikov swam the fastest race of the morning heats in 52.43, out the fastest in 24.02. Teammate Aleksandr Kudashev tied for thirteenth with USA's Zach Harting in 53.29.
Ukraine's Andrii Khloptsov was third in 52.52, as teammate Oleksii Ivanov was fifth in 52.80. De Souza Martins split the top men at 52.51 for the second seed. Hungary's Bence Pulai had the best second fifty in 27.79 to come in fourth with a 52.62.
Japan's Yuki Kobori was sixth in 52.85, USA's Justin Lynch took seventh in 52.89 and Poland's Michal Poprawa was eighth in 53.00. Turkey's Kaan Ayar took the final spot in the semifinals in 53.40.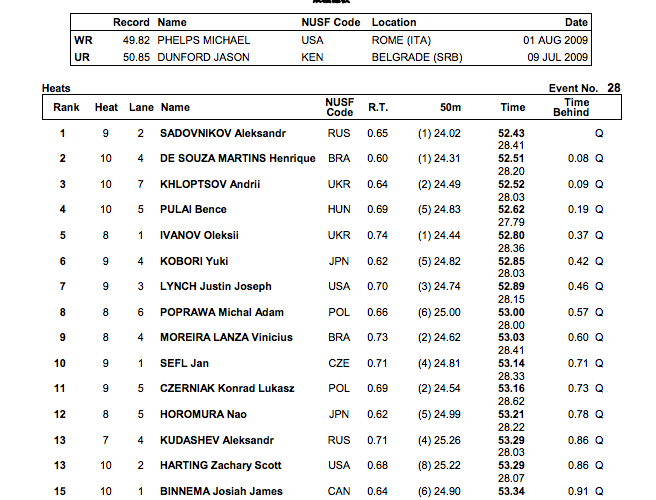 Women's 50 Backstroke
USA's Ali Deloof continued the American women's dominance on day five by taking the top seed in the 50 back at 28.20. Teammate Hannah Stevens was fourth in 28.58. She was beaten in heat six by Russia's Mariia Kameneva (28.31) while DeLoof out-swam Poland's Alicja Tchorz in heat five (28.45).
Netherlands' Kira Toussaint was fifth in 28.66 and was followed by Italy's Carlotta Zofkova (28.78), Japan's Anna Konishi and Australia's Sian Whittaker, both in 28.79. Korea's Sumin Ko rounded out the qualifiers in 29.29.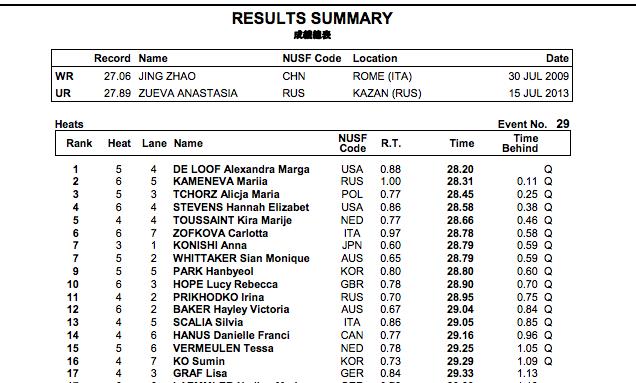 Men's 50 Breaststroke
Shymanovich was able to maintain his top seed in the 50 breast by winning heat nine in 27.42. He was followed by Germany's Fabian Schwingenschloeg, who took the fourth spot in 27.62. Italy's Andrea Toniato won heat eight for the second seed in 27.54 while USA's Andrew Wilson claimed heat seven for the third position in 27.57.
Brazil's Felipe Kage Monni (27.66), Kazhakstan's Dmitriy Balandin (27.81), Ireland's Darragh Greene (27.87) and Brazil's Raphael De Oliveira Rodrigu (27.95) rounded out the top eight.
Additionally, USA's Jacob Montague and Poland's Marcin Stolarski will provide the second swim-off of the night after tying for the sixteenth spot in 28.24.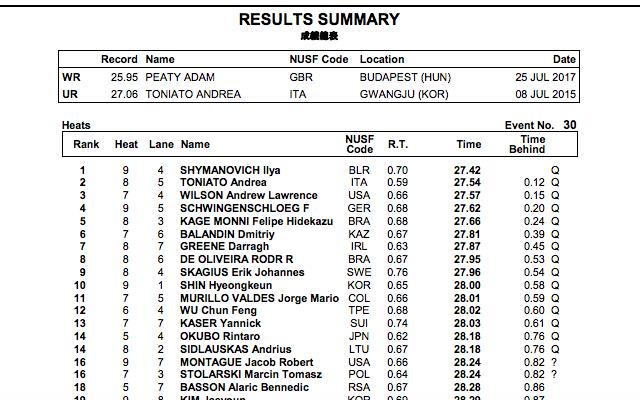 Women's 800 Freestyle
Germany's Sarah Koehler led the top three finishers in the 800 out of heat four. Her 8:32.0 was enough to hold off USA's Hannah Moore who finished in 8:33.00. Great Britain's Camilla Hattersley was next in 8:35.19. All three women raced near-even splits, but it was clear that Koehler has a lot more left in the tank for the final based on how she came home in the last 100 meters.
Quadarella earned the fourth seed in 8:35.70 and was followed by Liechtenstein's Julia Hassler in 8:36.01 and Australia's Kiah Melverton in 8:36.21. Evans of the Bahamas was not far behind in 8:36.89, while USA's Kaersten Meitz won a close battle for the eighth and final spot in the finals with a time of 8:37.54.