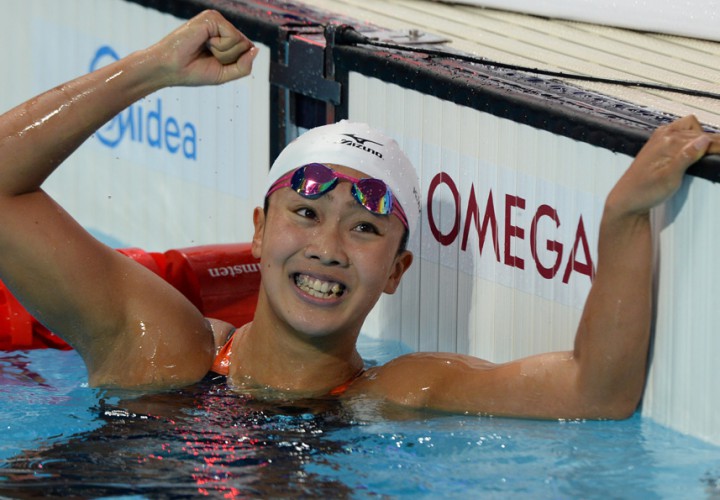 Photo Courtesy: R-Sport / MIA Rossiya Segodnya
Night five in Taipei will feature four finals and five semifinals to continue the 2017 World University Games.
Italy's Gregorio Paltrinieri started off the night with a victory in the 800 freestyle in meet record fashion. In a shorter distance, USA's Ryan Held fought off a charging Kacper Majchrzak of Poland in a tight 100 freestyle battle.
In women's action, Japanese Kanako Watanabe doubled up on breaststroke gold medals by winning tonight's 200. The last final of the night featured a big upset as USA's Hellen Moffitt out-touched Italy's Elena Di Liddo in the women's 100 fly.
Schedule of Events:
Men's 800 Freestyle (Final)
Women's 200 Freestyle (Semifinal)
Men's 100 Butterfly (Semifinal)
Women's 200 Breaststroke (Final)
Men's 100 Freestyle (Final)
Women's 50 Backstroke (Semifinal)
Men's 200 Backstroke (Semifinal)
Women's 100 Butterfly (Final)
Men's 50 Breaststroke (Semiinal)
Men's 800 Freestyle
As predicted, Paltrinieri claimed gold in this event in meet record fashion. His 7:45.76 was enough to break the previous meet record set in 2009. But the win did not come as easily as it did in the 1500, as Ukraine's Mykhailo Romanchuk was within striking distance of the Italian throughout the entire race. He finished in 7:46.28, just about half a second behind the leader. The swim puts him fifth in the world rankings this year. Countryman Sergii Frolov earned the bronze in 7:51.06 out of lane one. This was good enough to make the top ten rankings as well.
USA's Grant Shoults led the rest of the pack, finishing fourth in 7:53.83. His strong back half allowed him to surge past Jay Steven John Lelliott of Great Britain (7:55.36) and Gergely Gyurta of Hungary (7:58.22). Japan's Shingo Nakaya (8:00.69) and France's Levy Bouchaut (8:00.82) rounded out the heat.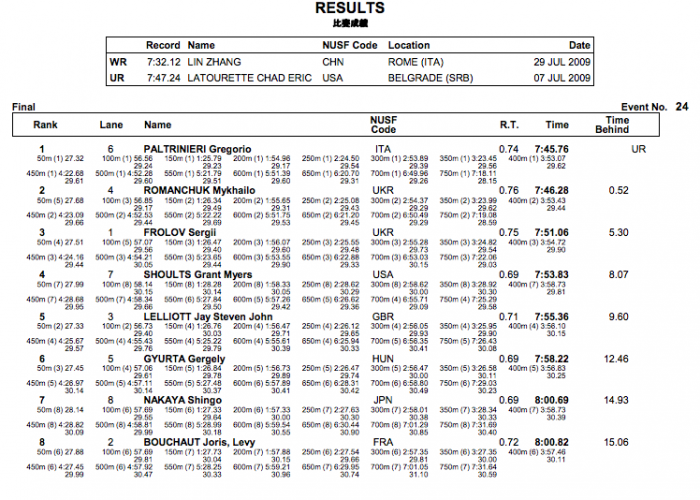 Women's 200 Freestyle
Siobhan Haughey of Hong Kong (1:58.71) and Anastasia Guzhenkova of Russia (1:58.87) led the way in this event out of heat one. Brazil's Manuella Duarte Lyrio was the only swimmer out under 58 in 57.88 but did not have the back half to hold off the women out of heat one. Duarte Lyrio led a quartet of swimmers out of heat two to qualify for the finals.
USA's Katie Drabot (1:59.11), Bahamas' Joanna Evans (1:59.19) and Canada's Katerine Savard (1:59.44) all qualified behind Duarte Lyrio. Claire Rasmus of the USA (1:59.47) and Arina Openysheva of Russia (1:59.93) also qualified out of the first heat.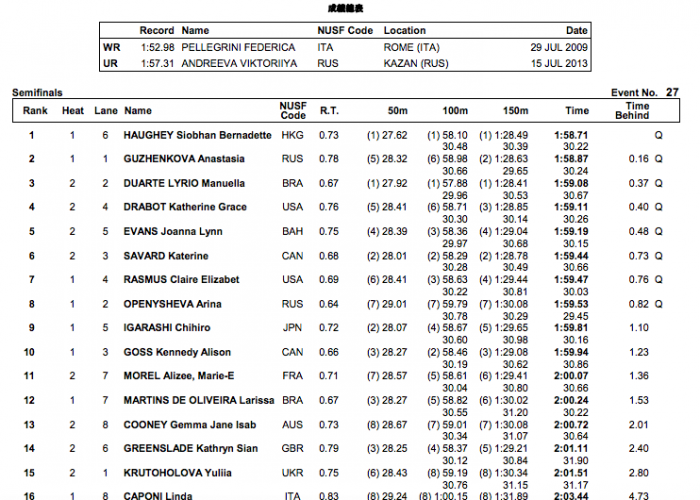 Men's 100 Butterfly
Ukraine's Andrii Khloptsov kept his country's momentum going from the 800 by claiming the top spot in the men's 100 fly qualifier. He came home faster than anyone else in the field at 27.49. De Souza Martins was not far behind in 52.16, while Japan's Yuki Kobori narrowly won the third seed in 52.33 over Ukraine's Oleksii Ivanov in 52.35.
Poland's Konrad Czerniak (52.40), Hungary's Bence Pulai (52.57), Brazil's Vinicius Moreira Lanza (52.62) and Russia's Aleksandr Sadovnikov (52.63) also made it into tomorrow night's final.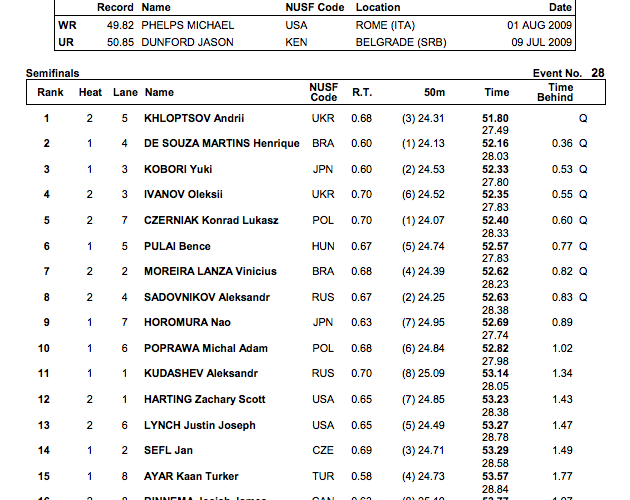 Women's 200 Breaststroke
While USA's Kayla Brumbaum led the race through the first 150 meters, it was Japan's Kanako Watanabe that ended up with the gold medal in the 200 breast. This is Watanabe's second breaststroke gold medal of the week as she won the 100 as well. Her winning time of 2:24.15 was enough to sneak past Brumbaum who finished fourth in 2:24.91, but she also had to hold off South Africa's Tatjana Schoenmaker (2:24.61) and Russia's Mariia Temnikov (2:24.73) along the way as well.
Temnikova blasted the final 50 in 36.93, the fastest in the field. Schoenmaker was consisten throughout, and also came home in a quick 37.07.
Korea's Jiwon Yang finished not far behind in 2:25.88, and was followed by Aoki (2:27.75), Jessica Steiger (Germany-2:28.31) and Sofia Andreeva (Russia- 2:30.01).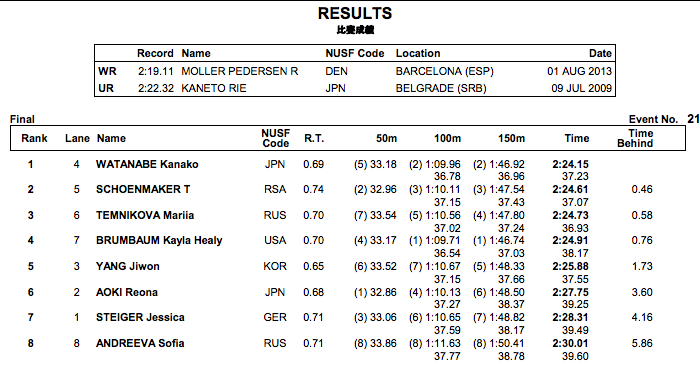 Men's 100 Freestyle
Ryan Held then started an American streak of victories by taking the 100 free title in 48.36. The time puts him just inside the top 20 in the world rankings. His opening speed helped him as always, as Poland's Kacper Majchrzak almost ran him down in the back 50 but ran out of room in the end. Majchrzak earned a close silver medal in 48.38. Japan's Katsumi Nakamura stole the bronze in 48.63, coming faster than either of the top two finishers in 25.03.
Brazil's Gabriel Da Silva Santos faded to fourth after being second at the turn, finishing in 48.84. USA's Maxime Rooney was next in 49.16, followed by Brazil's Spajari Silva (49.17), Russia's Nikita Korolev (49.27) and Ukraine's Serhii Shevtsov (49.68).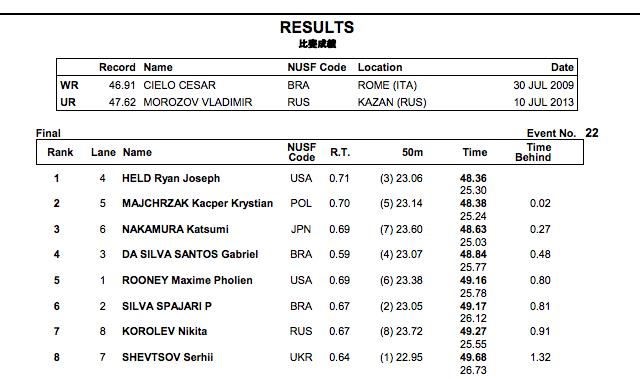 Women's 50 Backstroke
USA's Hannah Stevens then won the first semifinal of the 50 back in 28.11, and was only bested by teammate Ali DeLoof in the following heat. DeLoof finished in 28.09 for the top seed, giving the Americans three victories in a row. Both women will look to dip under 28 in the final, but their efforts securely gave them the middle two lanes in the final.
Russia also had a pair of women qualify, as Mariia Kameneva (28.30) was third and Irina Prikhodko (28.68) was seventh. Poland's Alicja Tchorz (28.39), Netherlands' Kira Toussaint (28.49) and Australia's Sian Whittaker (28.69) will also compete in the final.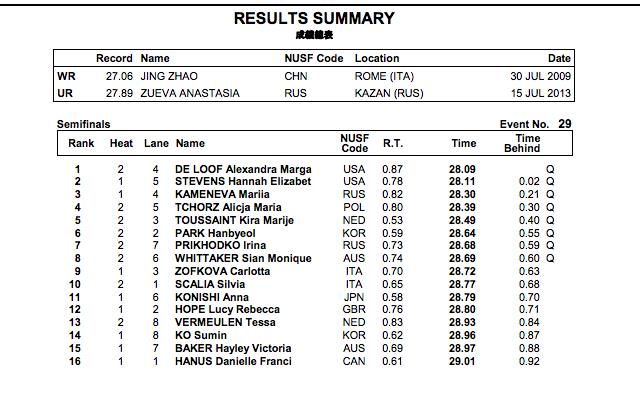 Men's 200 Backstroke
Robert Owen kept the streak alive for one more heat as the American won the first 200 back semifinal in 1:58.32. He led four swimmers in the final out of heat one. Martin Binedell of South Africa (1:58.37) and Russian duo Andrei Shabasov (1:59.40) and Roman Larin (1:59.84) also qualified in the top eight.
But the top three seeds came out of the second heat, as Lithuania's Danas Rapsys set the pace in 1:57.47. USA's Austin Katz held his own along the way, finishing just behind in 1:57.69. The American was only .08 behind the leader at the 150. Japan's Hagino was also in the mix, taking the third spot in 1:58.28. Italy's Christopher Ciccarese qualified in the eighth spot, also out of heat two.
It is likely that Hagino backed off in this semi, as he has gone 1:56.39 already this year and has been on the upswing since his 200 IM victory here in Taipei. Rapsys appears to be in the best contention for an upset, although either American may find themselves on the podium tomorrow night as well.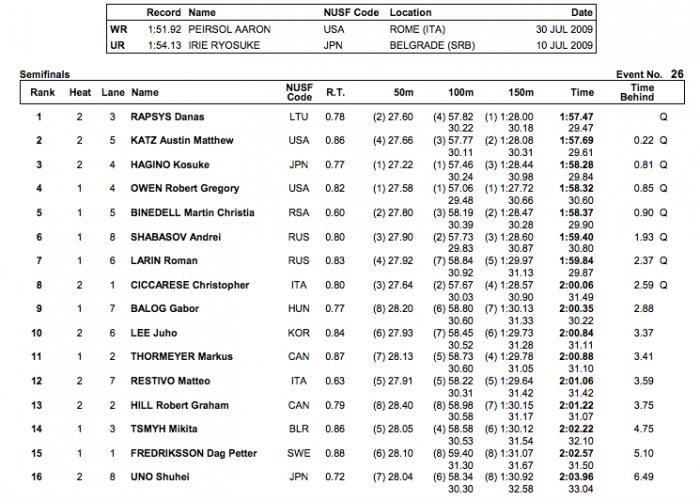 Women's 100 Butterfly
Although not the fastest final, the women's 100 butterfly provided close battles for the gold and bronze medals. USA's Hellen Moffitt provided a huge upset, as Elena Di Liddo of Italy came in as the heavy favorite through the semifinals. Moffitt's second 50 of 31.48 was enough to give her the upper edge this time around to win the gold. Di Liddo finished in a close second in 58.90. Great Britain's Rachael Kelly earned the bronze in 58.90, while the Netherlands' Kinge Zandringa was close behind for fourth in 58.92.
USA's Katie McLaughlin (59.33), Brazil's Daiene Marcal Dias (59.50), Japan's Yukina Hirayama (59.62) and Germany's Aliena Schmidtke (1:00.37) placed fifth through eighth.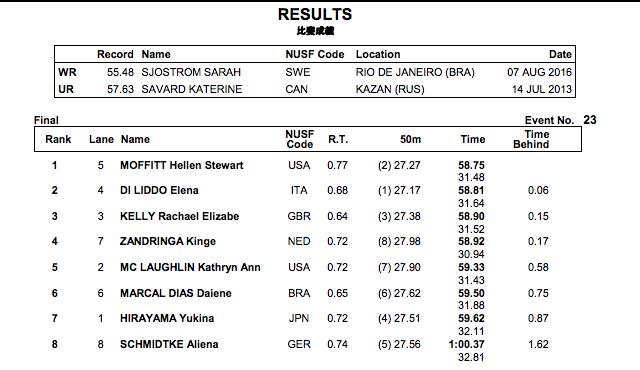 Men's 50 Breaststroke
To close out the morning, Ilya Shymanovich of Belarus maintained his reign at the top of the 50 breast, coming in at 27.46. Sweden's Erik Skagius was not far behind in 27.58. Kazakhstan's Dmitriy Balandin won the first semi in 27.61, with Germany's Fabian Schwingenschloeg following closely in 27.62.
Rounding out tomorrow night's final will be Andrew Wilson (USA-27.65), Felipe Kage Monni (Brazil-27.69), Raphael De Oliveira Rodr (27.77) and Darragh Greene (Ireland-27.85).