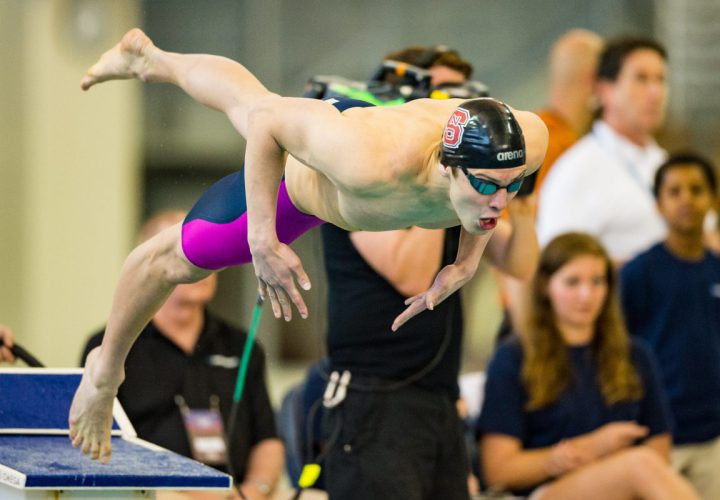 Photo Courtesy: Jacob Kupferman
Day four of the 2017 World University Games in Taipei featured three women's preliminaries and two men's.
Japanese duo Kanako Watanbe and Reona Aoki came in as the top two seeds in the 200 breaststroke and will look to repeat their dominant performance in the 100 breast from last night. But it was USA's Kayla Brumbaum who got to the wall first in the preliminaries. Teammate Hellen Moffitt took second in the 100 fly while Italy's Elena Di Liddo took top honors. The morning closed with two heats of the 800 free relay led by the United States and Russia.
In men's action, Ryan Held of the USA led twelve heats of a tight 100 freestyle battle. On the other hand, Italy's Gregorio Paltrinieri  cruised his way into the 800 freestyle final.
Schedule of Events:
Women's 200 Breaststroke
Men's 100 Freestyle
Women's 100 Butterfly
Men's 800 Freestyle
Women's 800 Freestyle Relay
Women's 200 Breaststroke
USA's Kayla Brumbaum took control of the 200 breast prelims out of heat three for the top seed at 2:27.79. South Africa's Tatjana Schoenmaker won the fourth and final heat for the second seed of 2:28.40 and Korea's Jiwan Yang was close behind in 2:28.43. Russia had two swimmers place in the top 8 per Mariia Temnikova (2:29.34 – fifth) and Sofia Andreeva (2:30.41-eighth).
Germany's Jessica Steiger (2:29.32), Mexico's Byanca Rodriguez Villan (2:29.42) and Japan's Reona Aoki (2:29.95) rounded out the top eight qualifiers. Second-seeded Watanbe finished eleventh in a cruising 2:30.87 and South Africa's Emily Visagie (2:32.89) took sixteenth place.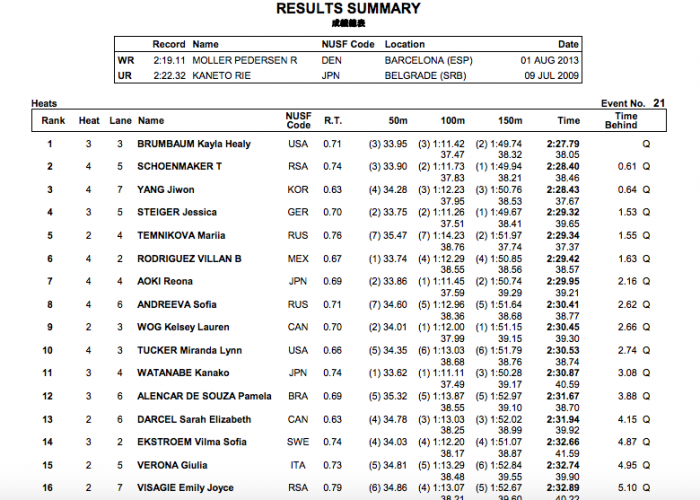 Men's 100 Freestyle
USA's Ryan Held snatched the top seed in the men's 100 free in 48.67. Not the fastest at the 50, Held came home in 24.99, the fastest in the field by over half a second. Teammate Maxime Rooney was ninth in 49.55. Brazil also placed two swimmers into the semifinals as Pedro Silva Spajari took third in 48.93 and Da Silva Santos was fifth in 49.46.
Ukraine's Serhii Shevtsov took second place in 48.92, while Hong Kong's Kenneth To was fourth in 49.39. Japan's Katsuhiro Matsumoto (49.47) and Katsumi Nakamura (49.51) round out the top eight qualifiers. Italy's Ivano Vendrame took the last qualifying spot in 50.04.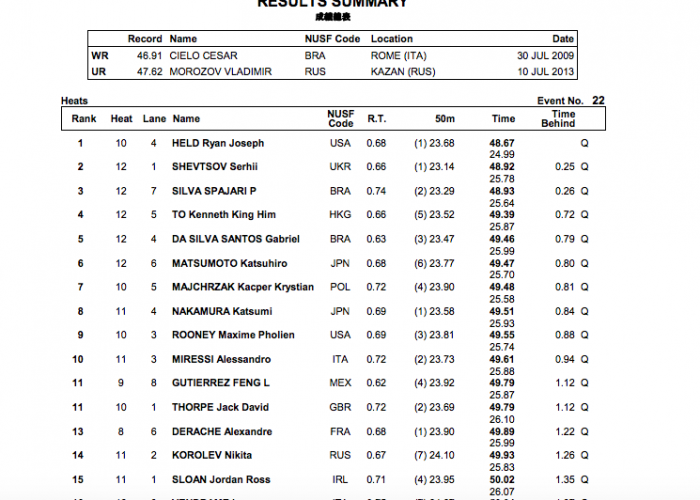 Women's 100 Butterfly
Italy and the USA took the top two spots in the 100 fly, and each had a second swimmer qualify for the semifinals as well. Elena Di Liddo set the pace in 58.67 followed by Hellen Moffitt in 58.93. Teammate Katie McLaughlin was seventh in 59.80 while Italy's Claudia Tarzia took twelfth in 1:00.40.
Great Britain's Rachael Kelly was third in 59.06 while Brazil's Daiene Marcal Dias was next in 59.53. Teammate Lopes Ferreira finished eighth in 59.95. Japan's Yukina Hirayama (59.55) and the Netherlands' Kinge Zandringa (59.67) placed fifth and sixth, respectively. Canada's Katerine Savard came in tenth (1:00.24) while Switzerland's Martina van Berkel was sixteenth in 1:00.70.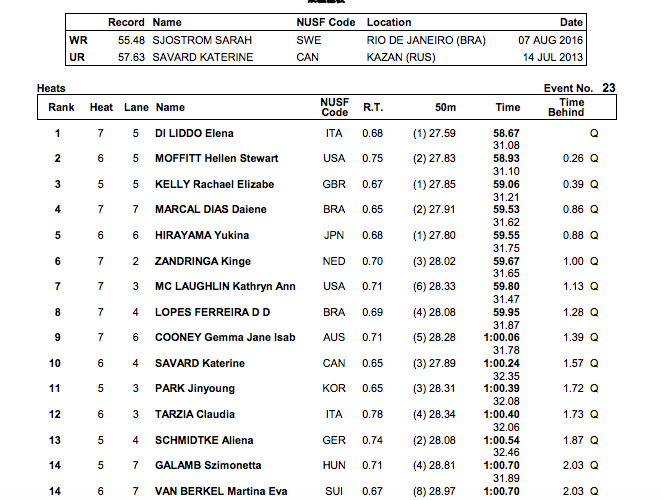 Men's 800 Freestyle
Similarly to the 1500 freestyle, top-seeded Paltrinieri swam a controlled race through the entire 800 to come out with the fourth overall seed for finals. His time of 7:57.98 was just behind Great Britain's Jay Steven John Lelliott who finished in 7:57.95. Again, Gergely Gyurta was narrowly ahead of Lelliott by .07, while Ukraine's Mykhailo Romanchuk took the top seed in 7:56.51. Lelliott was the fastest at the 400, but all the men swam similar splits throughout the last two heats of prelims.
Ukraine also placed Sergii Frolov in the top eight (7:59.65), while Levy Bouchat (7:58.36), USA's Grant Shoults (7:59.44) and Japan's Shingo Nakaya (7:59.83) also all swam under the 8:00 barrier. It is evident that Paltrinieri will be out for the gold in the final, but the remaining podium spots will be up for grabs in the men's distance race once again.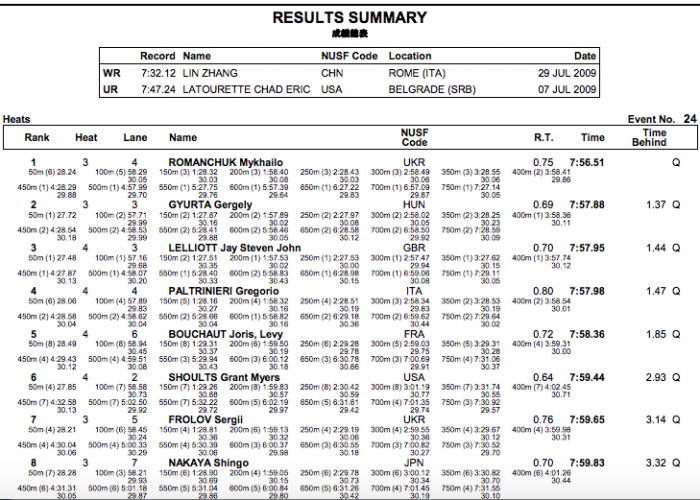 Women's 800 Freestyle Relay
Started with a leadoff from Kaersten Meitz, Team USA led the prelims of the 800 free relay through its entirety. Meitz was joined by Allyson McHugh, Asia Seidt and Brooke Forde to combine for the top seed in 8:02.04. Despite some quick splits among the other competing teams, the Americans were able to post the fastest time headed into finals.
Russia was second in 8:03.62, followed by Japan in 8:03.62. Canada's fourth-place team (8:04.37) was led by Danica Ludlow who split the fastest 200 of any competitor in the race at 1:58.83. She was one of four swimmers to break 2:00 and and the lone women to break 1:59.
Australia (8:04.52), Great Britain (8:04.64), Italy (8:05.02) and Brazil (8:07.66) will also compete in the final.