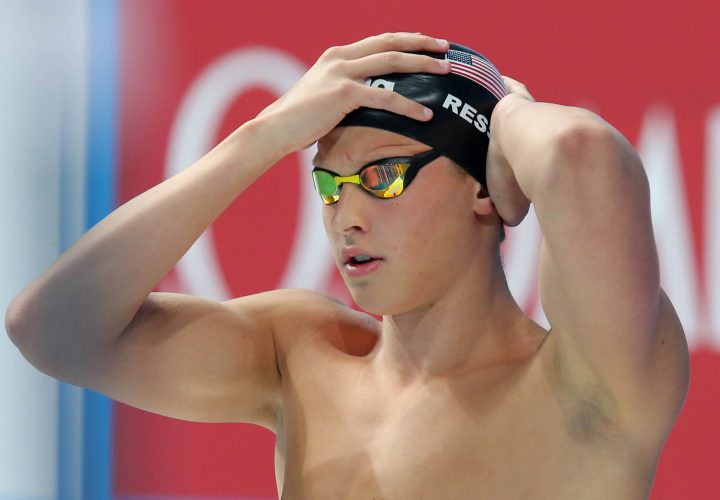 Night 2 of the 2017 World University Games featured five finals and four semifinals in Taipei.
The American men posted two gold-medal swims as Justin Ress won the 100 back and Andrew Wilson tied for the win in the 100 breast with Belarus' Dmitriy Balandin. Ukraine's Andrii Govorov posted the third win in the men's events by blasting a 22.90 for the meet record in the 50 butterfly.
In women's action, Germany's Aliena Schmidtke stole the show in the 50 butterfly, and Australia's Sian Whittaker swam a quick back half to win the 200 backstroke.
Schedule of Events:
Men's 50 Butterfly (Final)
Women's 100 Freestyle (Semifinal)
Men's 100 Backstroke (Final)
Women's 50 Butterfly (Final)
Men's 100 Breaststroke (Final)
Women's 100 Breaststroke (Semifinal)
Men's 200 IM (Semifinal)
Women's 200 Backstroke (Final)
Men's 200 Freestyle (Semifinal)
Men's 50 Butterfly
Andrii Govorov of the Ukraine blasted a 22.90 to win the 50 butterfly. This was just about one tenth slower than what he posted at the World Championships. His efforts broke the meet record set in 2009. Russia's Andrey Zhilkin took runner-up honors in 23.40, the fourteenth-fastest time in the World this year. Henrique De Souza Martins of Brazil and Andrii Khloptsov of Ukraine rounded out the podium with a tie at 23.54.
Women's 100 Free
Hong Kong's Siobhan Haughey had the fastest semi swim in this event out of heat 2. Her 54.52 distanced herself from the rest of the field as USA's Caroline Baldwin took the next spot in 54.95 and Brazil's Larissa Martins de Oliveira was third in 55.04. Baldwin was the quickest on the opening 50 but Haughey used her strong back half to out-spit the field. She had the fastest second fifty in the field.
Russia's Mariia Kameneva and USA's Veronica Burchill (55.07) were also in the mix as was Canada's Katerine Savard at 55.27. Italy's Aglaia Pezzato (55.41) and Russia's Arina Openysheva (55.42) will also compete in the final.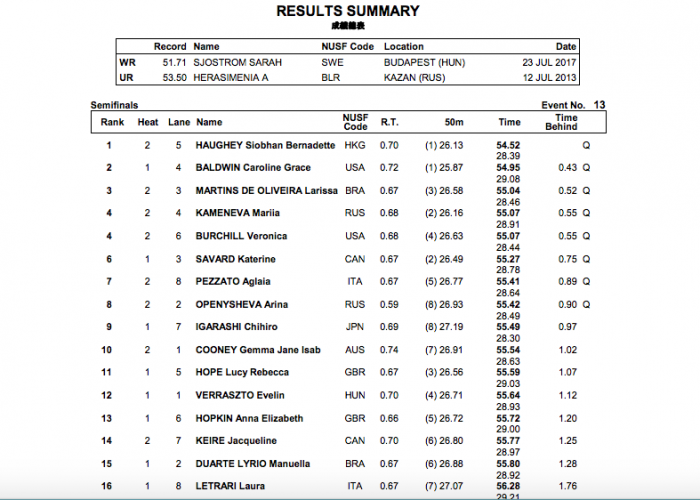 Men's 100 Backstroke
USA's Justin Ress won gold in the 100 back with a 53.29, just two one-hundredths off his eighth-ranked swim from USA Nationals in June. Ress dominated the field as the only swimmer out under 26 and one of two swimmers coming home in a 28. The latter was matched by Japan's Kosuke Hagino who came home in 27.71 to finish second in 54.12. Lithuania's Danas Rapsys took the bronze in 54.17.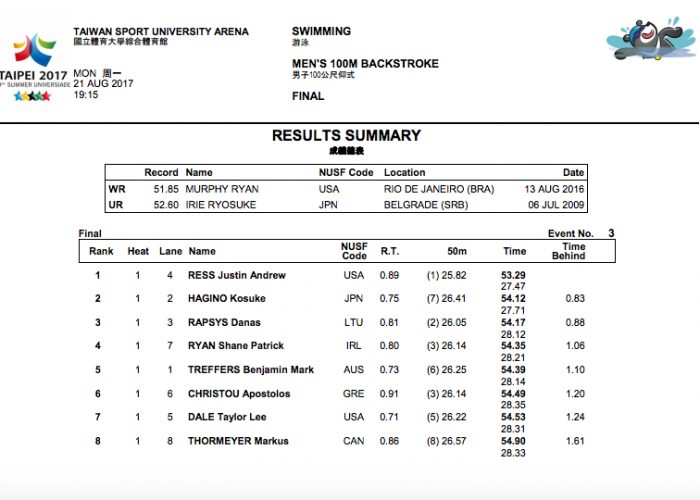 Women's 50 Butterfly
Germany's Aliena Schmidtke led the 50 fly right from the start, winning the event in 26.16. The fight for the podium was intense behind her, as Elena Di Liddo of Italy (26.50), Yukina Hirayama of Japan (26.51) and Elizabeth Kelly of Great Britain (26.53) all finished within three one-hundredths of each other.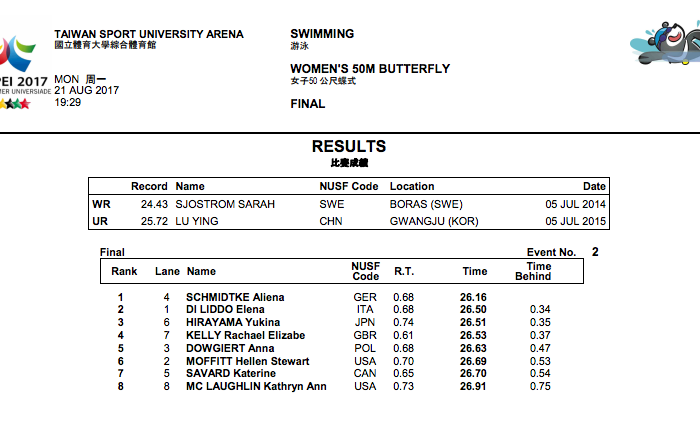 Men's 100 Breaststroke
Andrew Wilson (USA) and Ilya Shymanovich (BLR) tied for gold in the men's 100 breast at 1:00.15. Dmitriy Balandin (KAZ) was right behind for bronze in 1:00.17. The tight race was led by Wilson at the 50, 27.80 to Shymanovich's 27.97. Both men came back in 32-low, but it was Balandin with the outstanding back 50 coming in at 31.90.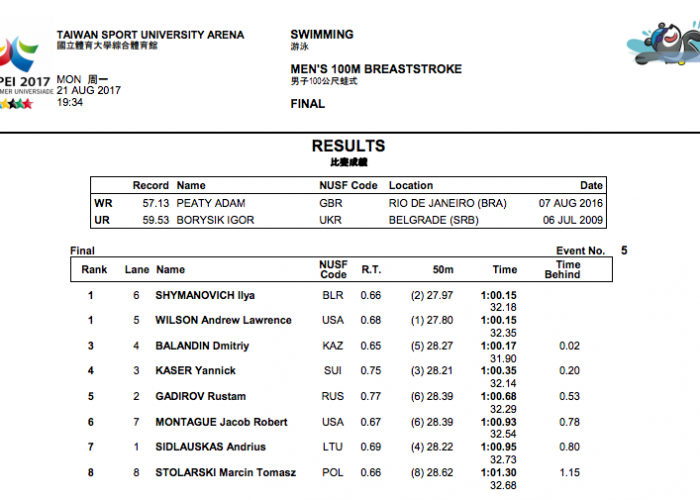 Women's 100 Breaststroke
Japan's Kanako Watanabe led South Africa's Tatjana Schoenmaker under the 1:08 barrier as the women went 1:07.71 and 1:07.77, respectively, in the first semifinal. Japan's Reona Aoki also went a quick 1:08.19 to finish third in the heat.
The USA repeated Japan's finish in the second semifinal as Andrea Cottrell took the win in 1:08.16 and Miranda Tucker finished third in 1:08.34. Both women will advance to the finals. Australia's Leiston Jane Pickett took the fifth spot in 1:08.26, while Russia's Mariia Temnikova (1:08.64) and Korea's Hyejin Kim (1:08.88) finished seventh and eighth.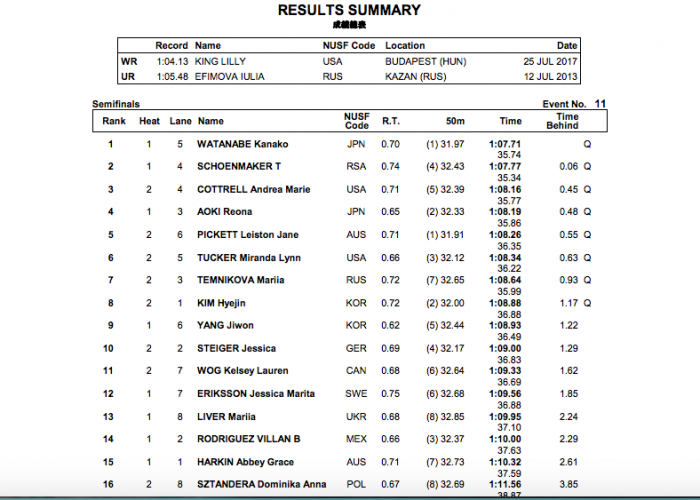 Men's 200 IM
In the first semifinal, Russia's Zhilkin got his hand on the wall first in a close race at the finish. His time of 2:00.17 was good for the second seed going into the finals. He was followed closely by Great Britain's Joe Litchfield (2:00.44) and teammate Aleksandr Osipenko (2:00.55) for the third and fourth spots.
Japan led the way in semifinal 2 in the men's 200 IM. Daiya Seto took the top spot in 1:58.63. Once again, his dominance is credited mostly to his fly and breast splits, where he split over half a second ahead of anyone else in the field. Teammate Hagino came in second at 2:00.81 after earning silver in the 100 back 45 minutes prior. His time puts him fifth going into the finals.
Michal Poprawa of Poland (2:01.09), Giovanni Sorriso of Italy (2:01.13) and Kenneth To of Hong Kong (2:01.37) will also compete in tomorrow night's final.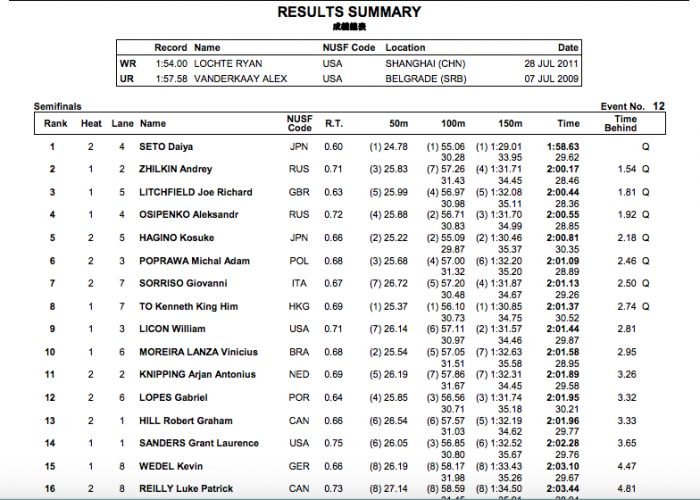 Women's 200 Backstroke
Australia's Sian Monique Whittaker posted a come-from-behind win in the 200 backstroke finishing in 2:09.50. Flipping third at the 100, her strong last 50 of 32.83 set her apart from her competition. Canada's Alexia Zevnik swam a similar race for second in 2:09.92. The USA's Bridgette Alexander led the race through the 150, but faded to third coming in at 2:10.30. Teammate Asia Seidt was narrowly behind her in 2:10.31. Margherita Panziera of Italy was also in medal contention coming in at 2:10.34 for fifth.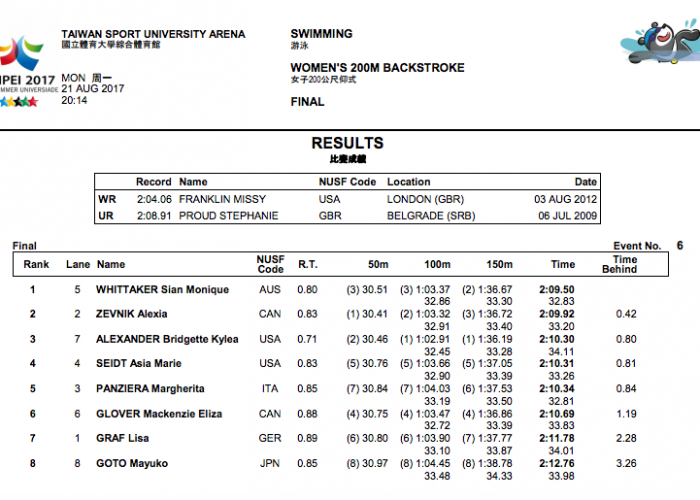 Men's 200 Freestyle
Hagino swam his third race of the night to win semi 1 out of lane 1 in 1:47.49. He was out-raced by Mikhail Vekovishchev of Russia (1:47.32) and Danas Rapsys of Lithuania (1:47.46) out of semi 2. Rapsys had plenty of speed on the last 50 and will be one to watch for in the final. Russia also placed Devon Brown in the finals, coming in seventh at 1:48.25.
Poland's Kacper Majchrzak (1:47.91), Italy's Filippo Megli (1:48.07), USA's Mitch D'Arrigo (1:48.10) and France's Koifi Atsu (1:48.26) will also compete in the final.