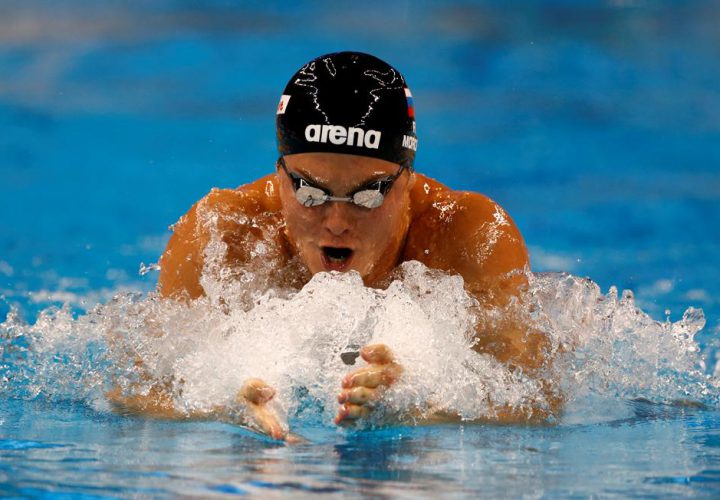 Photo Courtesy: FINA Doha 2014
Editorial content for the 2017 FINA World Cup is sponsored by TritonWear. Visit TritonWear.com for more information on our sponsor. For full Swimming World coverage, check event coverage page.
Singapore plays host to a number of fast swims tonight as we await the beginning of the first finals session of the last stop of the 2017 FINA World Cup series.
Tonight's events include:
Women's 100m Breaststroke
Men's 100m Backstroke
Women's 100m Freestyle
Men's 400m Freestyle
Women's 200m Butterfly
Men's 100m Medley
Women's 200m Backstroke
Men's 200m Butterfly
Women's 800m Freestyle
Men's 50m Breaststroke
Women's 200m Medley
Men's 50m Freestyle
4x50m Mixed Medley
For live coverage, read below. For the latest coverage, hit "refresh".
Women's 100m Breaststroke
Jamaica's Alia Atkinson earned herself another World Cup gold this evening with her time of 1:03.79. Denmark's Rikke Pedersen took the silver in 1:05.43. The bronze went to Jinglin Shi with a 1:05.64. Runa Imai out of Japan narrowly missed the podium and got fourth while China's Jingyao Yu took fifth. Pei Wun Lin and Jessie Mary Quinn nabbed six and seventh while eighth was given to Christie Chue in 1:09.76.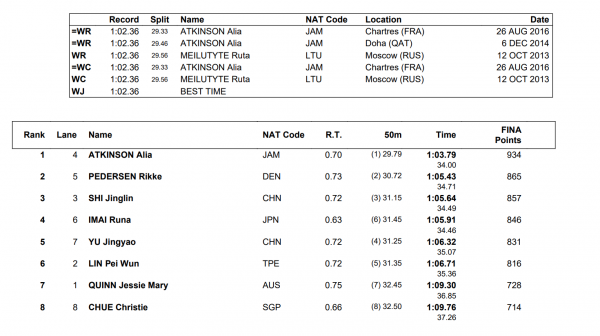 Men's 100m Backstroke
Japan's backstroke legend Ryosuke Irie returned to the World Cup stage with a gold medal performance in a time of 49.88, making him the only swimmer to dip under 50 seconds. Jiayu Xu nabbed the silver medal in a time of 50.08. The bronze was earned by Japan's Masaki Kaneko with his 50.12. Christian Diener and Junya Koga each placed fourth and fifth and rounded out the last of the 50-second swimmers. Hunagry's David Foldhazi took sixth in 51.80 while Nelson Silva Junior touched seventh in 51.81. USA's Carson Foster took eighth in 52.17.
Women's 100m Freestyle
Aussie sprint star Cate Campbell approached World Record territory tonight on her way to winning a gold medal in a time of 50.85. World Record holder Sarah Sjostrom took silver just behind in 50.99. The bronze was earned by Ranomi Kromowidjojo in 51.65. Denmark's Pernille Blume, the last 51-second swimmer, touched next in 51.94. In fifth and sixth place came Lia Neal and Menghui Zhu while Bronte Campbell earned seventh. Fellow Australian Brittany Elmslie rounded out the finals heat in 53.23.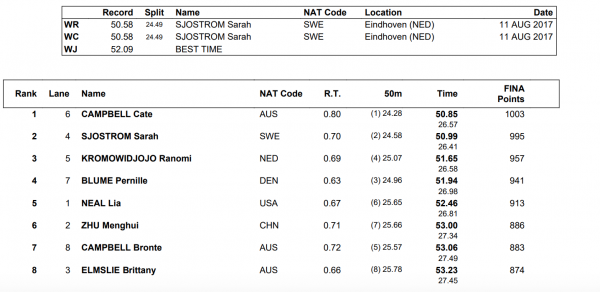 Men's 400m Freestyle
Hungary got themselves another medal this evening with Peter Bernek at bat in the distance freestyle race. Bernek cruised to a 3:39.36 victory while Aussie Cameron McEvoy and German Poul Zellmann duke it out for silver and bronze. In the end it was McEvoy who edged Zellmann 3:41.24 to 3:41.32. The fourth man to stop the clock was Gergely Gyurta out of Hungary in 3:44.13. Americans Andrew Abruzzo and Trey Freeman were fifth and sixth in 3:44.17 and 3:44.35, respectively. Seventh went to Hungarian David Verraszto while Germany's Jacob Heidtmann took eighth.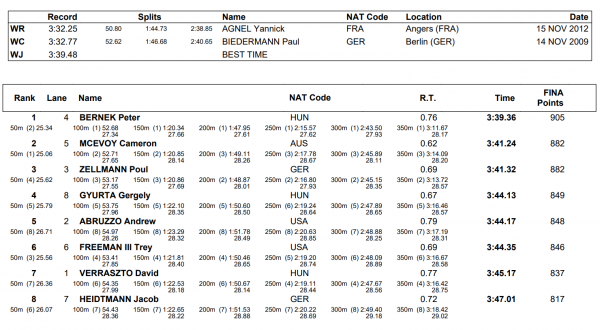 Women's 200m Butterfly
A sans Katinka Hosszu heat was underway this evening with China's Yufei Zhang taking home the gold in a time of 2:04.22. The silver was awarded to Australia's Emma Mckeon who touched in 2:04.88 while the bronze was earned by Franziska Hentke in 2:06.22. Boglarka Kapas was just outside medal territory in her time of 2:06.35. USA's Dakota Luther was fifth while China's Chenyao Zhang was sixth. Rounding out the top heat were Christina Licciardi and Alexandra Wenk.
Men's 100m Medley
Russian Vladimir Morozov did not disappoint as he approached the World Record zone on his way to winning the event in 50.49, just two tenths off his own World Record. Who did break a record though was USA's Michael Andrew who re-broke his own WJR from the Beijing stop of the World Cup tour. Andrew was 51.65 tonight as Hong Kong's Kenneth To took the bronze in 51.97. Pavel Sankovich nabbed fourth in 52.57. Yakov Yan Toumarkin (52.99) for Israel and Foldhazi (53.00) were each separated by .01 and took the fifth and sixth places. In seventh was Kyle Stolk in 53.36 and in eighth was Daniel Dudas with a 54.22.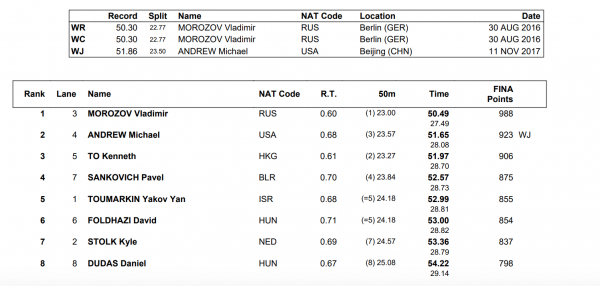 Women's 200m Backstroke
American youngster Regan Smith gave Aussie veteran Emily Seebohm all she could handle but ultimately it was Seebohm who swam away with the win with a time of 2:01.41 with Smith touching just behind in 2:02.70. Hosszu faded to third with 2:04.60. The fourth and fifth place finishers were Japan's Sayaka Akase and Germany's Lisa Graff. The Chinese duo of Jie Chen and Yaxin Liu came sixth and seventh while Australia's Quinn rounded out the top heat.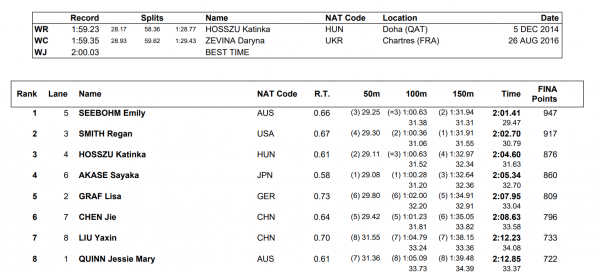 Men's 200m Butterfly
RSA's Chad le Clos continued to make waves on in Singapore by winning the event in 1:49.25, just three-quarters of a second off his own World Record from 2013. The silver was awarded to Daiya Seto who turned in a 1:50.19. The bronze was picked up by Masaki Kaneko. Aussie Nic Brown went 1:53.67 to comfortably sit in fourth place. Sajan Prakash Prakash out of India posted a 1:54.49 to get himself fifth place. Sixth and seventh went to Yauhen Tsurkin and Ramon Klenz out of Belarus and Germany, respectively. USA's Foster took eighth.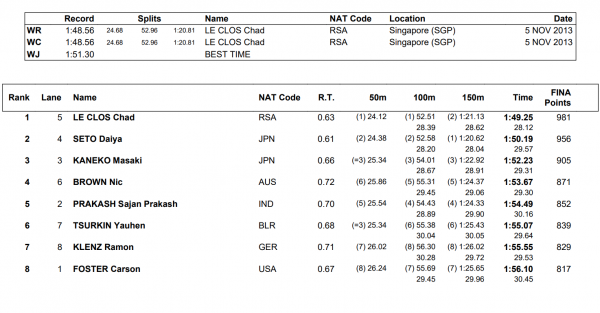 Women's 800m Freestyle
Bingjie Li almost touched the 800 freestyle WJR that her national teammate, Jianjiahe Wang, currently owns. Li did win the race though, with an 8:12.36. About a second behind was Kapas in 8:13.20 for the silver while Jie Dong out of China was able to secure the bronze with her time of 8:27.45. Australia's Molly Batchelor and Germany's Franziska Hentke missed the medal podium and placed fourth and fifth. Sixth went to Olivia Adams of Australia followed by Singapore's Ching Hwee Gan. Singapore also took eighth with Li-Shan Chantal Liew.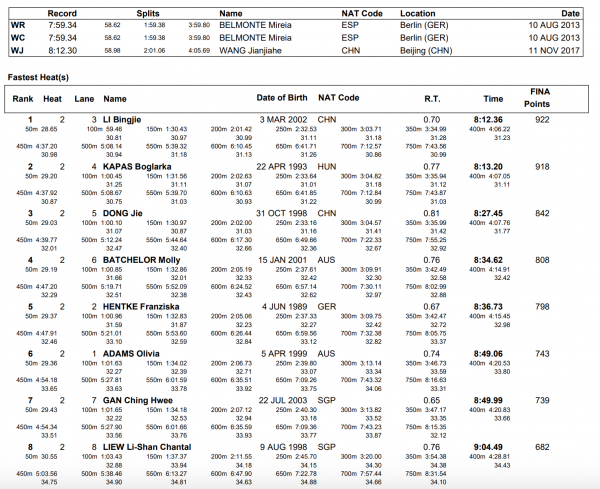 Men's 50m Breaststroke
Russia continued to make moves in the sprint events this evening as their spring breaststroke star, Kirill Prigoda earned another victory on this World Cup circuit with his time of 25.80. The silver was awarded to Belarusian swimmer Ilya Shymanovich with his time of 26.23 while the bronze was captured in 26.25 by Yasuhiro Koseki from Japan. USA's Andrew and Brazil's Rodrigues earned fourth and fifth respectively. Arno Kamminga was sixth while Anton Chupkov faded to seventh. Man Hou Chao rounded out the field with a 27.28

Women's 200m Medley
Hosszu cruised to an easy win with her time of 2:04.37 while Seebohm was second in 2:05.46. The bronze medalist was Seoyeong Kim out of South Korea with her time of 2:06.12. USA's Alex Walsh just missed the podium with her 2:06.14. Japan's Runa Imai took fifth place while Sjostrom tried her luck at the I.M. and earned a sixth place finish. German's Lisa Hopink and Alexandra Wenk rounded out the top eight.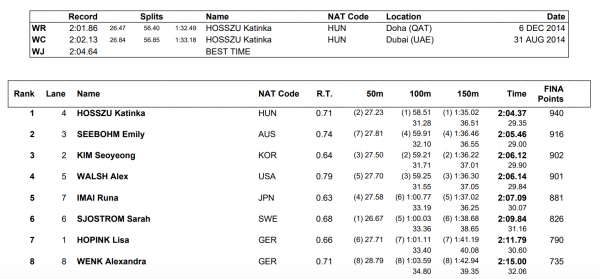 Men's 50m Freestyle
Morozov was back for more this evening as he earned himself another World Cup victory, this time just four-tenths shy of a World Record. Morozov touched first in 20.61 while the silver was presented to Japan's Shinri Shioura and Australia's McEvoy tied for the silver medal in 21.32. Fourth went to Ukrainian sprinter Andrii Govorov while le Clos Andrew tied for fifth. Jesse Puts from the Netherlands and Frenchman Clement Mignon rounded out the finals. heat.

4x50m Mixed Medley
Australia, Brazil and the Netherlands took the medals in this event but there was a record breaking swim deeper down the line. Despite placing fifth, the all 18 and under team of the United States placed fifth and earned a WJR in a time of 1:41.91. Fourth and six went to China and Germany, respectively. Hong Kong and Singapore touched the wall seventh and eighth.