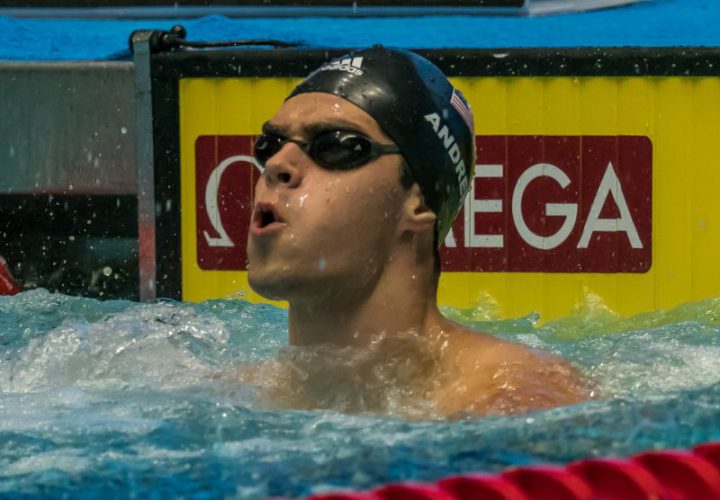 Photo Courtesy: Peter H. Bick
Editorial content for the 2017 FINA World Cup is sponsored by TritonWear. Visit TritonWear.com for more information on our sponsor. For full Swimming World coverage, check event coverage page.
Katinka Hosszu, Michael Andrew and the Country of China all have one thing in common leading into the final night of competition in Beijing; they all produced wickedly fast performances earlier this morning during the preliminaries. Can Hosszu hold off Seebohm and Neal? Can youngster Michael Andrew rise above his seasoned competition? Will China produce another WJR?
Check below for live coverage of day two finals session.
Here is the list of event's for tonight's finals:
Men's 100m Medley
Women's 200m Breaststroke
Men's 400m Freestyle
Women's 100m Freestyle
Men's 200m Backstroke
Women's 200m Medley
Men's 50m Butterfly
Women's 50m Backstroke
Men's 100m Breaststroke
Women's 800m Freestyle (fastest heat)
Men's 50m Freestyle
Women's 100m Butterfly

Mixed Freestyle Relay 4x50m
For live event-by-event coverage, read below. Hit "refresh" for the latest coverage.
Men's 100m Medley
Russia's Vladimir Morozov almost swam his way to a world record by posting a 50.36, just .06 off his own world record he set in Berlin last year. USA's Michael Andrew broke a World Junior Record, the second one of this world cup, and also got second behind Morozov. In third was Daiya Seto in 52.09. Hong Kong's Kenneth To was right behind in 52.24. Shun Yang and Pavel Sankovich took fifth and sixth place, respectively while Toumarkin Zhuravl and Daniel Dudas rounded out our top-eight finalists.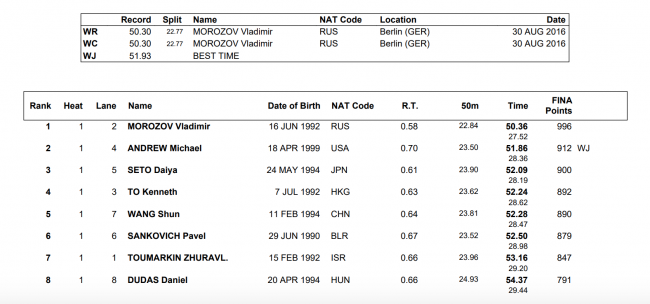 Women's 200m Breaststroke
Alia Atkinson earned her second gold medal of the meet by posting a 2:19.58, just narrowly out-touching Japan's Runa Imai who turned in a 2:19.77. Atkinson and Imai were the only two women to stay under the 2:20 mark, but Rikke Pedersen was able to earn a bronze with her time of 2:20.11. A trio of Chinese swimmers followed Pedersen, Jingyao Yu swam a 2:21.84 for fourth while Jinglin Shi went a 2:22.05 and Muyan Zheng produced a 2:26.36. Qinghua Wu and Haoyu Han rounded out our finals heat.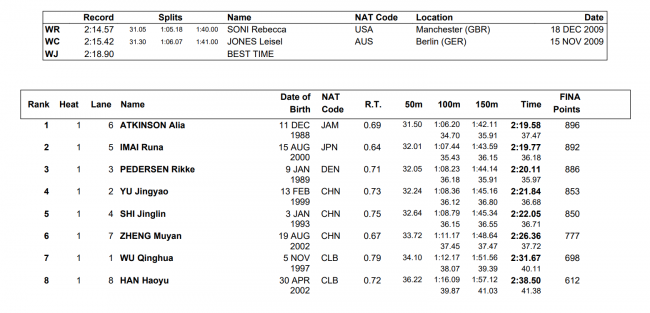 Men's 400m Freestyle
Xinjie Ji out of China got out to an early lead and just hung on for the win by swimming a 3:39.20, solidifying himself as the only man to swim under 3:40 in the field. Chinese teammate Ziao Qiu earned the silver with the time of 3:41.05. Mykhailo Romanchuk took the bronze with a 3:41.42, just .05 behind him was Poul Zellmann in fourth and Hungary's David Verraszto. Taking sixth and seventh was Alexander Graham out of Australia and Matthew Stanley from New Zealand. Jacob Ross Hansford took eighth in 3:50.24.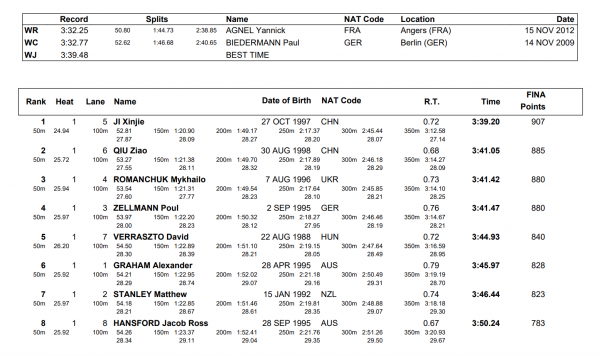 Women's 100m Freestyle
Sweden's Sarah Sjostrom earned herself another gold medal on the World Cup circuit by touching first in 51.25, just three quarters of a second off her own world record she set in August of this year. Just behind her, earning a silver, was Australian Cate Campbell in 51.45. Earning the bronze was Ranomi Kromowidjojo from the Netherlands in 51.91. Menghui Zhu finished fourth in 52.55 while Denmark's sprint start Pernille Blume posted a 52.59 for fifth. USA's Lia Neal faded to sixth, with her time of 52.68. Aussie duo of Brittany Elmslie and Bronte Campbell took seventh and eighth.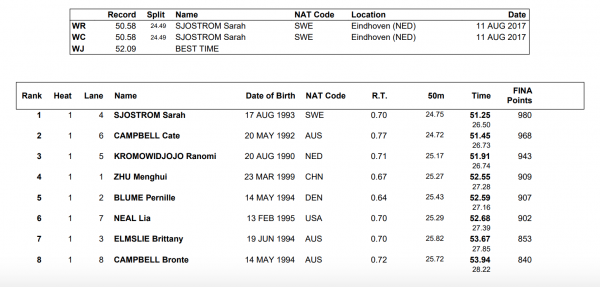 Men's 200m Backstroke
Former World Recorder holder and Japanese veteran Ryosuke Irie was lighting up the pool this evening when he swam to victory in the men's 200m backstroke. Irie produced a 1:50.24, well shy of any record but also well ahead of his competitors. Zhuravl impressively earned a silver with a 1:52.04 right after his seventh-place performance in the 100m IM. Germany's Christian Diener got the bronze with a 1:52.32. Hungary's David Foldhazi, China's Guangyuan Li and Australia's Bradley Woodward were the last of the 1:52's while Yan Jin and Nelson Silva Junior rounded out our top eight.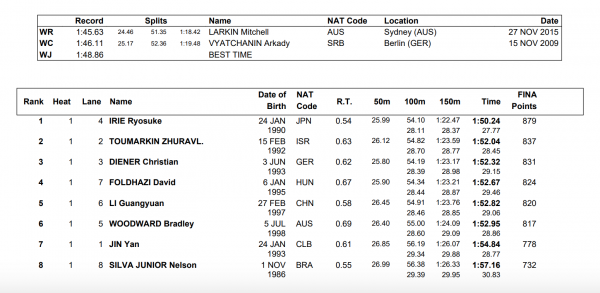 Women's 200m Medley
The Iron Lady Katinka Hosszu was back in her usual spot at the top of the podium. Hosszu touched first in 2:04.64, two full seconds ahead of Emily Seebohm from Australia who was about a second ahead of her nearest challenger, Seoyeong Kim who earned the bronze with a 2:07.96. Japan's Runa Imai was back in the pool after her silver medal performance in the 200 breaststroke, earning fourth in this event. Swimming in fifth and sixth place was Sishi Zhang and Jiaqi Zhang. Germany's Alexandra Wenk was seventh while Rikke Pedersen fell to eighth.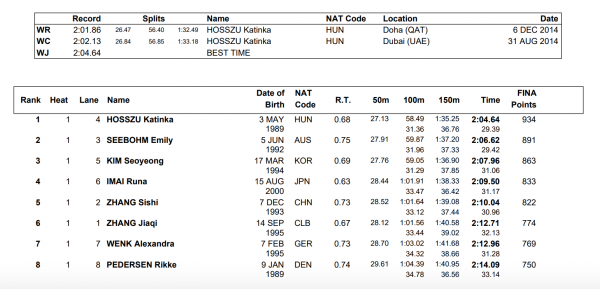 Men's 50m Butterfly
South Africa's star Chad le Clos stepped up on the blocks for the first time this evening, earning a gold medal in the process with a time of 22.22, well off any kind of record but about a half of a second ahead of Andrii Govorov, who posted a 22.60. Qibin Zhang swam a 22.88 which was good enough for bronze. Hong Kong's To, Russia's Morozov and China's Peng Wang were the last of the 22-second swimmers. USA's Michael Andrew faded to seventh in 23.05 while Yauhen Tsurkin earned eighth in 23.34.

Women's 50m Backstroke
The always tough to defeat Iron Lady was dethroned as 50m backstroke champion today by Australia's Seebohm. The Aussie backstroker swam a 26.28 to earn the gold. Hosszu was 26.42 for silver while Kromowidjojo earned bronze in 26.58. Dutch teammate Maaike De Waard swam to a fourth place finish with a time of 26.62. Xiang Liu and Jie Chen from China were the last two swimmers under 27 seconds. Xueer Wang and Sayaka Akase took seventh and eighth.

Men's 100m Breaststroke
Yasuhiro Koseki took the gold here with a time of 56.75. Earning the silver was Zibei Yan from China in 56.88. Just .01 behind was Belarusian swimmer Ilya Shymanovich with 56.89. Seto was the last of the 56's, with his fourth place time of 56.93. Coming in at 57.07 was both Kirill Prigoda and Lizhuo Wang, who tied for fifth. Feilian Mao and Matthew Wilson rounded out our top field.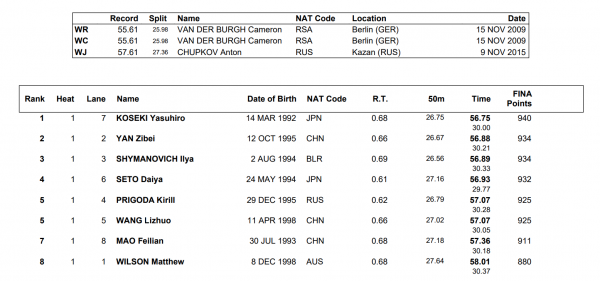 Women's 800m Freestyle (fastest heat)
Fifteen year old Jianjiahe Wang from China earned her second WJR of the meet, lowering her own WJR from the Doha stop in the World Cup series. Wang's time of 8:12.30 lowers her own WJR record by about three seconds. Behind Wang was teammate Yawen Hou in 8:15.04 for the silver. Earning the bronze was Boglarka Kapas with a 8:16.89. Bingjie Li was fourth in 8:20.84 while teammate Jie Dong swam a 8:28.69 for fifth. Zhuoxuan Yu, Ruining Guo and Yejie Chen rounded out the fastest eight swimmers.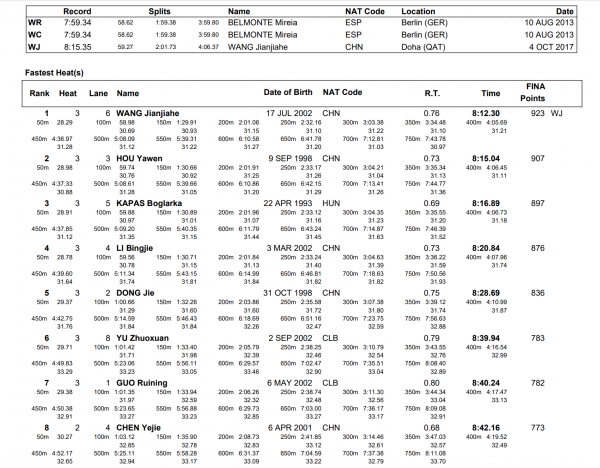 Men's 50m Freestyle
Russia's Morozov swam his way to another victory tonight, solidifying himself as the only man to dip under the 21-second barrier with a time of 20.83. Japan's go-to sprint guy, Shinri Shioura, earned silver with a 21.27. Govorov earned a bronze in 21.30. Cameron McEvoy, Chad le Clos and To were all bunched up for fourth fifth and sixth placing. USA's Andrew faded to seventh while Jesse Puts and Pavel Sankovich rounded our top heat.

Women's 100m Butterfly
Sweden's Sarah Sjostrom swam her way to another victory tonight, almost in record fashion too, as she narrowly missed the World Cup record of 55.30 by going a 55.60. Sjostrom did beat the field by about a second a half, which shows her sprint dominance at this point in the season. The silver medal went to Yufei Zhang with the time of 56.91 while Kromowidjojo took the bronze in 57.18. Kim was the last of the 57's in a 57.83 for fourth place. Kin Lok Chan, Christina Licciardi, Lisa Hopink and Xintong Lin rounded out the field, all under 59 seconds.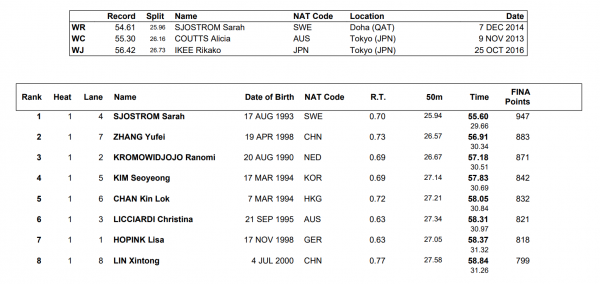 Mixed Freestyle 4x50m
Australia went with McEvoy, Graham and the Campbell sisters to win the event with the time of 1:30.81. The silver went to the Chinese team of Yu, Wang, Zhu and Liu. The Netherlands earned a bronze with Kromowidjojo splitting a 23.56 on the anchor leg, their total time was 1:31.97. Taking fourth and fifth Germany and Hong Kong, just behind the was Singapore and Club BJ. The Hungarian team rounded out the top eight with Hosszu's 25.0 split on the the anchor leg.