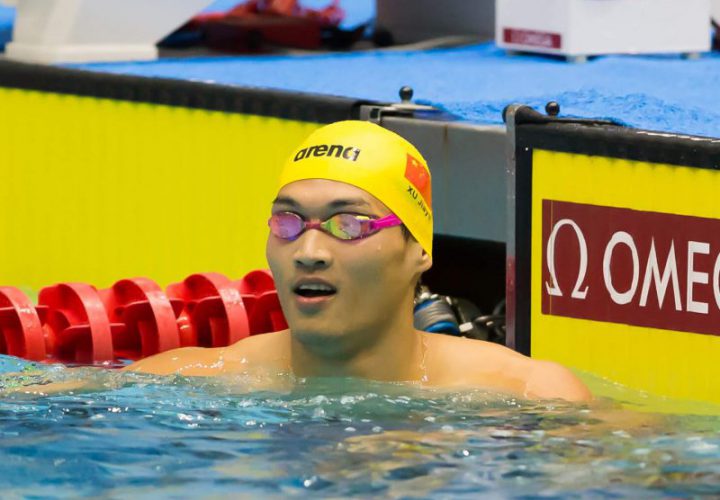 Photo Courtesy: Melissa Lundie
Editorial content for the 2017 FINA World Cup is sponsored by TritonWear. Visit TritonWear.com for more information on our sponsor. For full Swimming World coverage, check event coverage page.
Familiar names are seen in their usual spots on the podium this evening as we begin the final cluster of FINA World Cup competition. Beijing plays host to fast swimming and few broken records too. Here is everything you need to follow along with day one finals of the 2017 FINA World Cup in Beijing.
Finals start at 7:30 local time.
The schedule of events for tonight's finals is:
Women's Backstroke 100m

Men's Freestyle 200m

Women's Breaststroke 50m

Men's Breaststroke 200m

Women's Freestyle 400m

Men's Backstroke 50m

Women's Medley 100m

Men's Medley 400m

Women's Butterfly 200m

Men's Butterfly 100m

Women's Freestyle 50m

Mixed Medley 4x50m
For live event-by-event coverage, read below. Hit "refresh" for the latest coverage.
Women's 100m Backstroke 
Hungary's Katinka Hosszu came in as the top seed in the women's 100m backstroke tonight with her preliminary time of 58.03. Hosszu won the event in the finals with a time of 56.34. She was closely followed by Australia's Emily Seebohm who turned in a 56.55.
Japan's Sayaka Akase turned in a 57.99 for the bronze.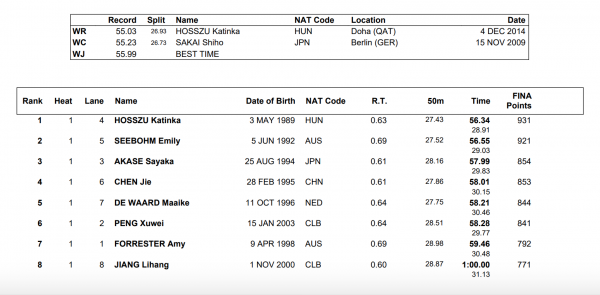 Men's 200m Freestyle
Chad le Clos continued his successful World Cup run in the 200m freestyle with a 1:41.81, which earned him a gold tonight in Beijing. Le Clos took it out fast with Australia's Cam McEvoy about a half a second behind at the 100m mark. McEvoy would fade to eighth which allowed for China's Xinjie Ji and New Zealand's Matthew Stanley to sneak in the top three with a 1:42.49 and a 1:43.68 respectively.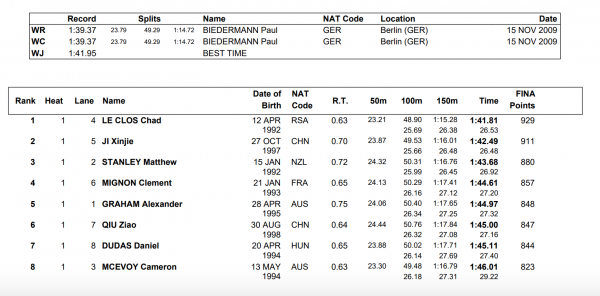 Women's Breaststroke 50m
Next up was the women's 50m breaststroke where we saw Jamaica's Alia Atkinson win the gold with a time of 29.57, about a second off her world record in the event and the only swimmer in the field to break the 30-second barrier. Following closely behind her was Junyang Feng from FINA's International Club with a time of 30.40. China's Ran Suo rounded out the podium in 30.44.

Men's Breaststroke 200m
Yasuhiro Koseki out of Japan took the gold with the time of 2:03.43. Russia's Kirill Prigoda earned the silver with a 2:04.08 while China's Haiyang Qin placed third in 2:04.18. Notably, Russian world champion in the long course version of this event Anton Chupkov, was fourth with a time of 2:04.23.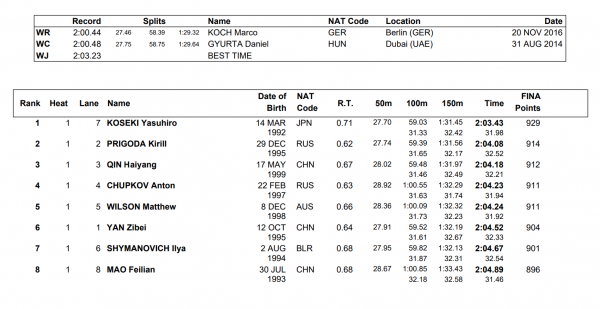 Women's Freestyle 400m
China continued their momentum into the distance freestyle events tonight with their own Jianjiahe Wang winning the event in a World Junior record time of 3:59.69. This betters the previous record of 4:00.56, which makes her the first junior swimmer to ever break 4:00 in the 400m freestyle. Her teammate Bingjie Li came in second with a 4:01.75 while Hungarian Boglarka Kapas earned bronze with a 4:03.07.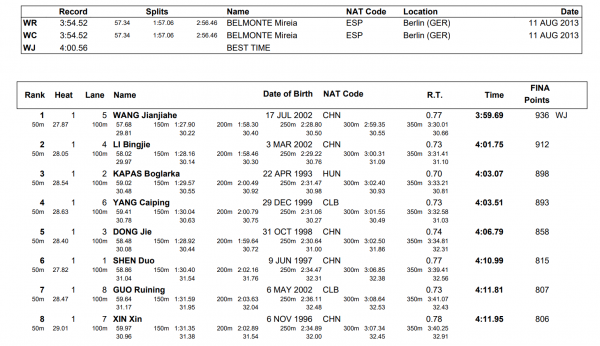 Men's Backstroke 50m
Once again showing their preparedness for tonight's finals, China sends another swimmer to the top of the podium.
This time it was Jiayu Xu who posted a 23.09 to win the gold. Belarus swimmer and FSU graduate Pavel Sankovich earned the silver with a time of 23.11. Japanese veteran Junya Koga rounded out the field in 23.34.

Women's Medley 100m
Hungary's Hosszu and Sweden's Sarah Sjostrom were back at it again, this time racing all four strokes in the same race. Hosszu touched first in 57.50, about a second off her world record set in August of this year in Berlin. Closely behind her was Sjostrom who posted a 57.78.
Rounding out the podium was Australia's Seebohm in 58.86.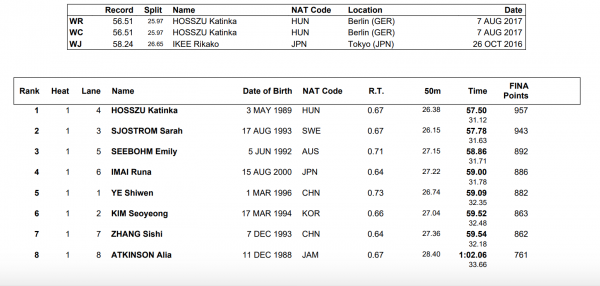 Men's Medley 400m
Flanked by two Hungarians, Japan's Daiya Seto came in as tonight's top seed in this timed final event. Seto came out on top, posting the only sub-4:00 time in the entire field by a landslide in 3:58.20. That time earns Seto a championship record. Hungary's David Verraszto earned himself a silver with the time of 4:04.31 while his teammate Gergely Gyrta posted a 4:10.74 for the bronze position.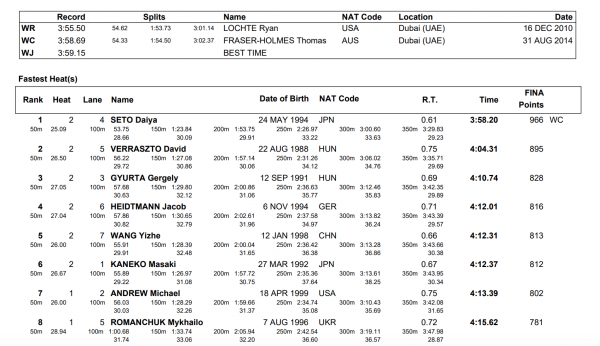 Women's Butterfly 200m
China solidified itself as the country to beat at this stop on the World Cup circuit by placing yet another swimmer atop the medal podium. This time around it was Yufei Zhang who posted a 2:05.02, earning her a gold medal in the event. German counterpart Franziska Hentke came in about a second behind in 2:06.30, earning her the silver while Aussie Christina Licciardi swam a 2:08.75 to round out the podium.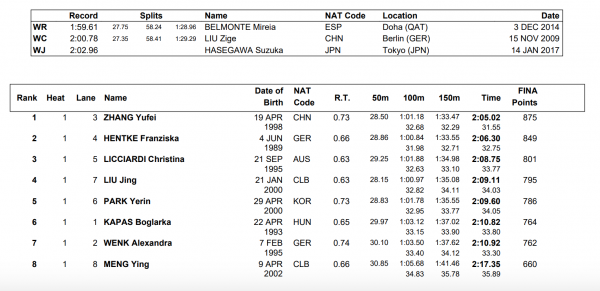 Men's Butterfly 100m
RSA's Le Clos was back in the pool for a second time tonight, earning another gold medal in the process. Le Clos' time was 49.18, about a second outside of any record but two seconds faster than the man behind him. Getting silver was Belarusian Yauhen Tsurkin, who swam a 51.18. Jiayu Xu earned his second medal of the night, this time a bronze with a time of 51.52.
Le Clos' rival, USA's Tom Shields, was seventh in the field with a 52.67.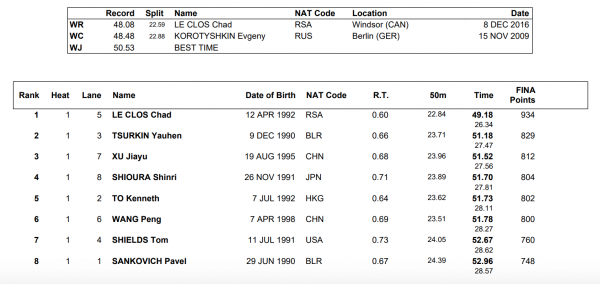 Women's Freestyle 50m
To not much surprise Sjostrom and Ranomi Kromowidjojo from the Netherlands duked it out in the splash n' dash. Sjostrom emerged victorious, as she did at the Doha World Cup, with her time of 23.40. Kromowidjojo was just .07 behind in 23.47 to earn the silver. Australian sprint star Cate Campbell rounded out the podium with her time of 23.67.

4x50m Mixed Medley Relay
China, once again proving they came to represent in their home country, wins the relay in a time of 1:39.10. It made sense for China to put three individual medalists, Xu, Zhang and Liu, on the relay in attempts to edge Australia who posted a 1:40.08, which was good enough for silver. The Netherlands put Kromowidjojo on the fly leg and earned bronze with the time of 1:40.99.