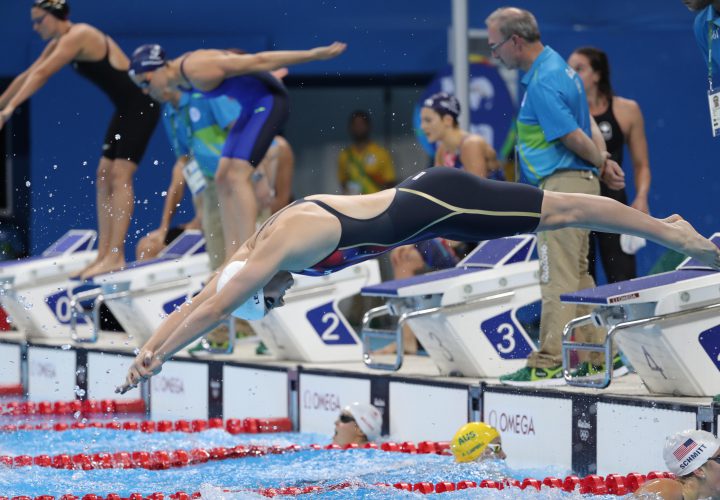 Photo Courtesy: Erich Schlegel-USA TODAY Sports
Editorial Coverage provided by

Katie Ledecky set a new championship record in the women's 400 free prelims at the FINA World Championships, highlighting a fast first session at the Danube Arena in Budapest. Other top seeds included Adam Peaty, Sarah Sjostrom and Katinka Hosszu.
Read below for full event-by-event coverage of the session.
Event Schedule:
Women's 100 fly
Men's 400 free
Women's 200 IM
Men's 100 breast
Women's 400 free
Men's 100 breast
Women's 400 free relay
Men's 400 free relay
Women's 100 Fly
Sweden's Sarab Sjostrom got her World Championships off to a rocking start when she challenged her own world record in the prelims of the women's 100 fly. Sjostrom recorded a time of 55.96, faster than any other woman in history has ever gone, to secure the No. 1 seed into semi-finals.
Kelsi Worrell of the United States qualified second in 56.44, improving to second in the world this year behind Sjostrom, and Australia's Emma McKeon was third in 56.81, moving her to third in the world. Worrell's time improved on her own lifetime best of 56.46 from the 2016 U.S. Olympic Trials.
Japan's Rikako Ikee took fourth in 57.45, while Canada's Penny Oleksiak, the World Junior Record-holder and Olympic silver medalist behind Sjostrom, was fifth in 57.51. Also finishing among the top eight were China's Zhang Yufei (57.54), South Korea's An Sehyeon (57.83) and Russia's Svetlana Chimrova (57.85).
Italy's Ilaria Bianchi took ninth in 57.98, and she will be joined in the semi-finals by Hungary's Liliana Szilagyi (58.00), the USA's Sarah Gibson (58.00), Germany's Aleina Schmidtke (58.24), Belgium's Kimberly Buys (58.45), China's Lu Ying (58.51), Great Britain's Margaret Thomas (58.65) and Australia's Brianne Throssell (58.66).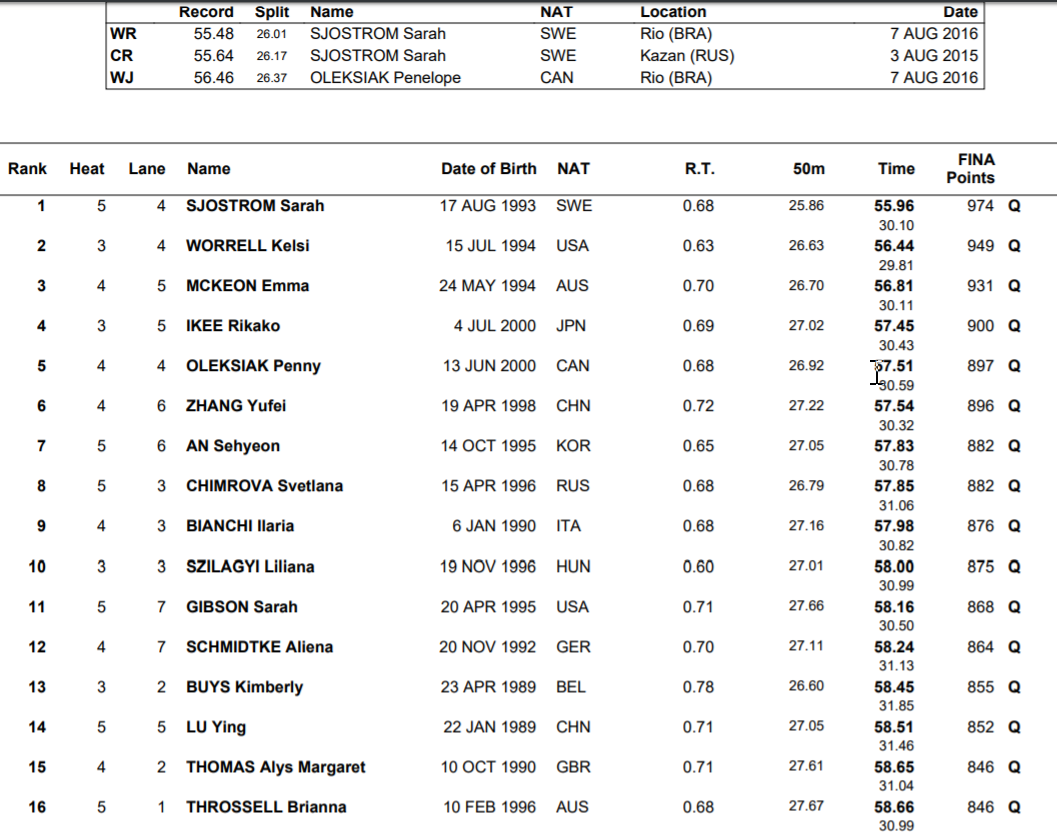 Men's 400 Free
Austria's Felix Auboeck was the surprising No. 1 seed in the first men's event of the World Championships, posting a time of 3:44.19 to win his heat from lane seven and beat out 2012 Olympic gold medalist Sun Yang.
Auboeck's effort made him the fourth-fastest performer in the world this year, while Sun, ranked No. 1 at 3:42.16, qualified second for China. The third seed went to Australia's David McKeon in 3:45.56.
South Korea's Park Tae Hwan, the Olympic gold medalist in 2012, finished fourth in 3:45.57. Park missed the Olympic final in the event last summer but has rebounded considerably this year.
Australian Olympic gold medalist Mack Horton was fifth in 3:45.60, followed by Great Britain's James Guy (3:45.64), Italy's Gabriele Detti (3:45.72) and the USA's Zane Grothe (3:46.14).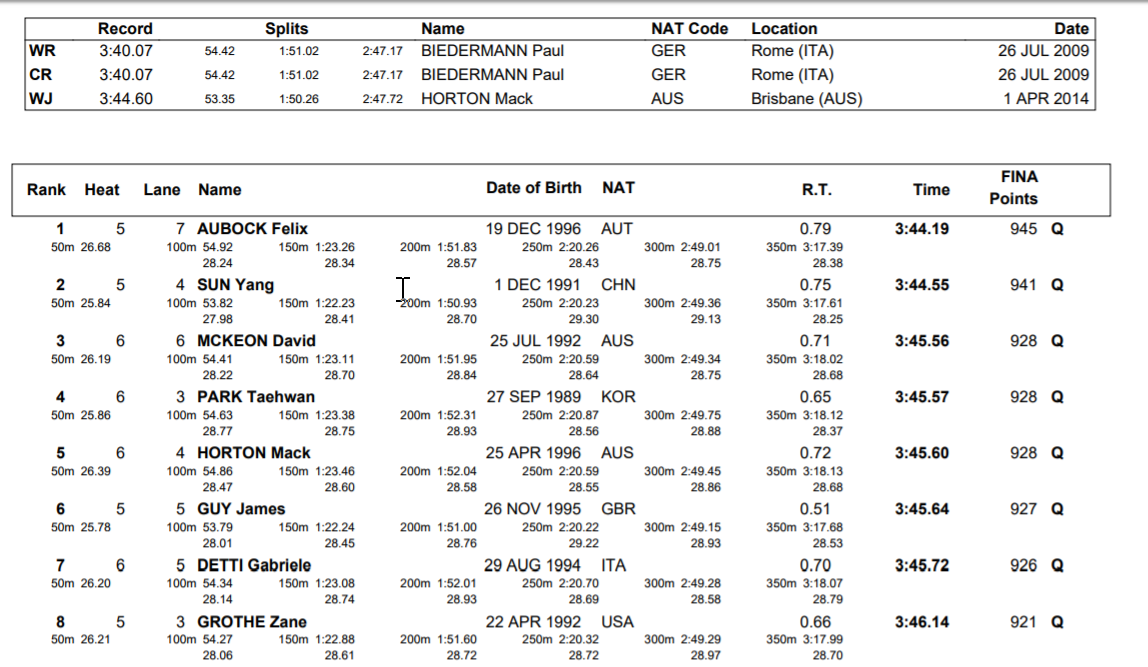 Women's 200 IM
Hungary's Katinka Hosszu put up by far the fastest time in the prelims of the women's 200 IM, coming in at 2:07.49 to finish more than 2.5 seconds ahead of anyone else in the qualifying round. She also chopped a second off her own world No. 1-ranked time.
Canada's Sydney Pickrem qualified second for the semis in 2:10.14, while the USA's Madisyn Cox was third in 2:10.16.
Great Britain's Siobhan-Marie O'Connor, the Olympic silver medalist in the event, took fourth in 2:10.42, and then there was a gap back to the fifth-place swimmer, Japan's Runa Imai (2:11.15). Also making the top eight were Great Britain's Hannah Miley, South Korea's Seoyeong Kim (2:11.33) and Japan's Yui Ohashi (2:11.44).
American Melanie Margalis, who took fourth in the event in Rio, qualified ninth for the semi-finals in 2:11.47, and Canada's Erica Seltenreich-Hodgson was 10th in 2:11.67. Also getting two semi-finalists, along with Japan, the U.S. and Canada, was Hungary, as Zsuzsanna Jakobos qualified 11th in 2:12.10.
Rounding out the final were Switzerland's Maria Ugolkova (2:12.24), Russia's Yulia Efimova (2:12.41), China's Ye Shiwen (2:12.48), Brazil's Joanna Maranhao-Melo (2:12.60) and Australia's Kotuku Ngawati (2:13.06).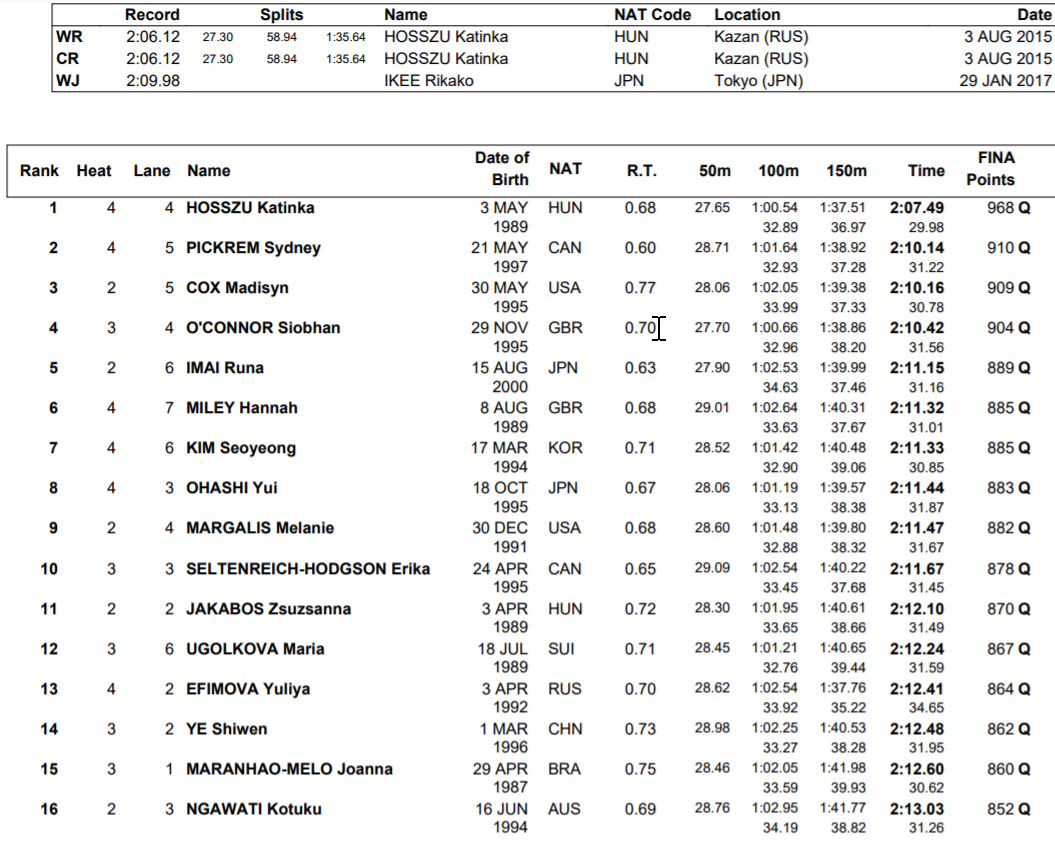 Men's 50 Fly
Ukraine's Andrii Govorov earned the top seed into semi-finals in the men's 50 fly, touching the wall in 22.92, winning his heat by five hundredths over the USA's Caeleb Dressel.
Dressel ended up qualifying second in 22.97, and Singapore's Joseph Schooling, the Olympic gold medalist in the 100 fly, was third in 23.05.
Great Britain's Ben Proud was fourth in 23.11, and he was followed by the Brazilian duo of Nicholas Santos (23.24) and Henrique Martins (23.34).
Rounding out the semi-final field were the USA's Tim Phillips (23.38), Hungary's Laszlo Cseh (23.41), Poland's Konrad Czerniak (23.42), Russia's Evgeny Sedov (23.49), Italy's Piero Codia (23.50), Serbia's Sebastian Sabo (23.51), the Netherlands' Mathys Goosen (23.52), Ukraine's Andrii Khloptsov (23.54) and the Belarus duo of Yauhen Tsurkin (23.55) and Yahor Dodaleu (23.56).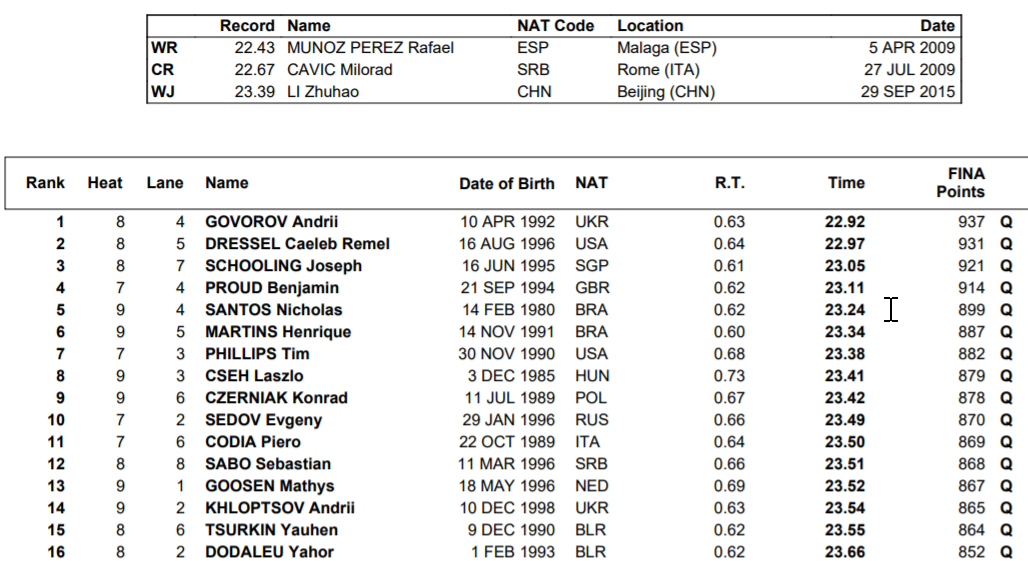 Women's 400 Free
In her first race of the week at the FINA World Championships, Katie Ledecky is already breaking records. She posted a time of 3:59.06 in the prelims of the 400 free, taking down her own championships record of 3:59.13 set two years ago on her way to gold in Kazan.
Ledecky's American teammate Leah Smith comfortably took the second qualifying spot, touching the wall in 4:02.00, two seconds ahead of Australia's Ariarne Titmus. The 16-year-old Titmus swam a lifetime best time to grab the third seed in 4:04.26.
China's Li Bingjie, 15, was fourth in 4:04.94. Hungary's home crowd will enjoy the final with two home favorites having qualified, fifth-place finisher Boglarka Kapas (4:05.93) and eight-place qualifier Anja Kesely (4:06.48). Others in the top eight included China's Yuhan Zhang (4:06.21) and Russia's Veronika Popova (4:06.40).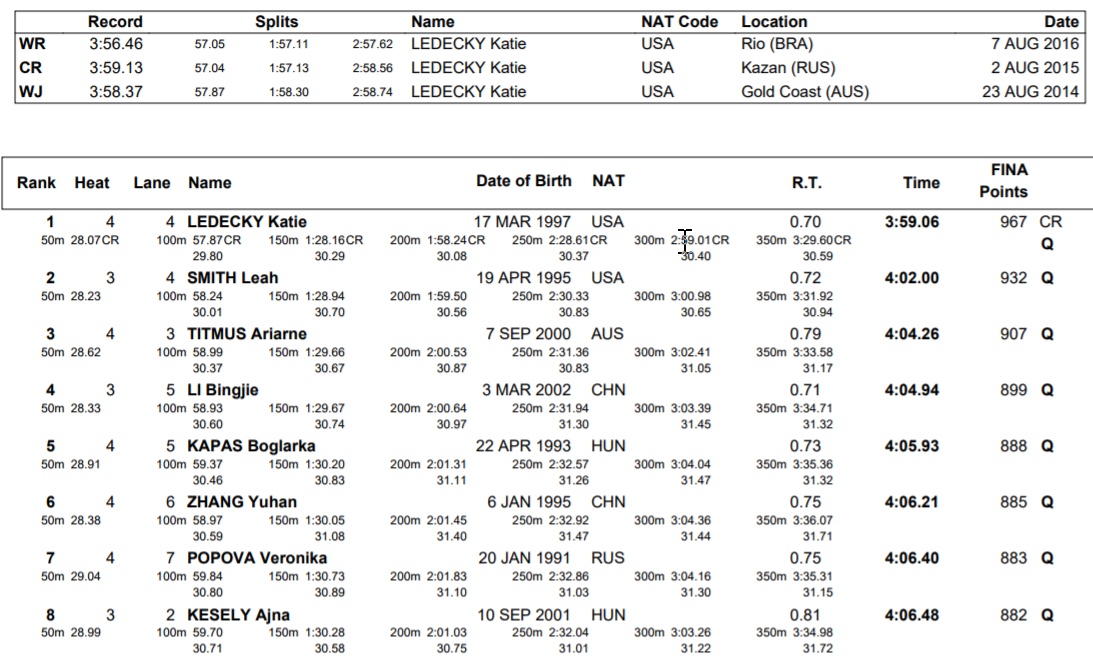 Men's 100 Breast
Great Britain's Adam Peaty finished on top of his signature event, the men's 100 breast, in prelims at the FINA World Championships. His time of 58.21, while well off his own world record, was faster than anyone else has ever swum.
United States swimmers finished in the next two spots going into the semi-finals as Cody Miller qualified in 59.14 and Kevin Cordes in 59.15. Brazil's Joao Gomes was fourth in 59.24.
Italy's Nicolo Martinenghi took fifth in 59.33, but the time was not a Junior World Record, as was listed. He was slightly quicker last month with a 59.23. Martinenghi was followed by Russia's Kirill Prigoda (59.36), Great Britain's Ross Murdoch (59.51) and Russia's Vsevolod Zanko (59.56).
China's Yan Zibei (59.61), Brazil's Felipe Lima (59.62), Japan's Yasuhiro Koseki (59.76), Lithuania's Giedrius Titenis (59.79), Belarus' Ilya Shymanovich (59.84), Canada's Richard Funk (59.89), Lithuania's Andrius Sidlauskas (59.91) and the Netherlands' Arno Kaminga (59.95) also qualified for the semis.
2012 Olympic gold medalist Cameron van der Burgh was a surprising no-show in the heats.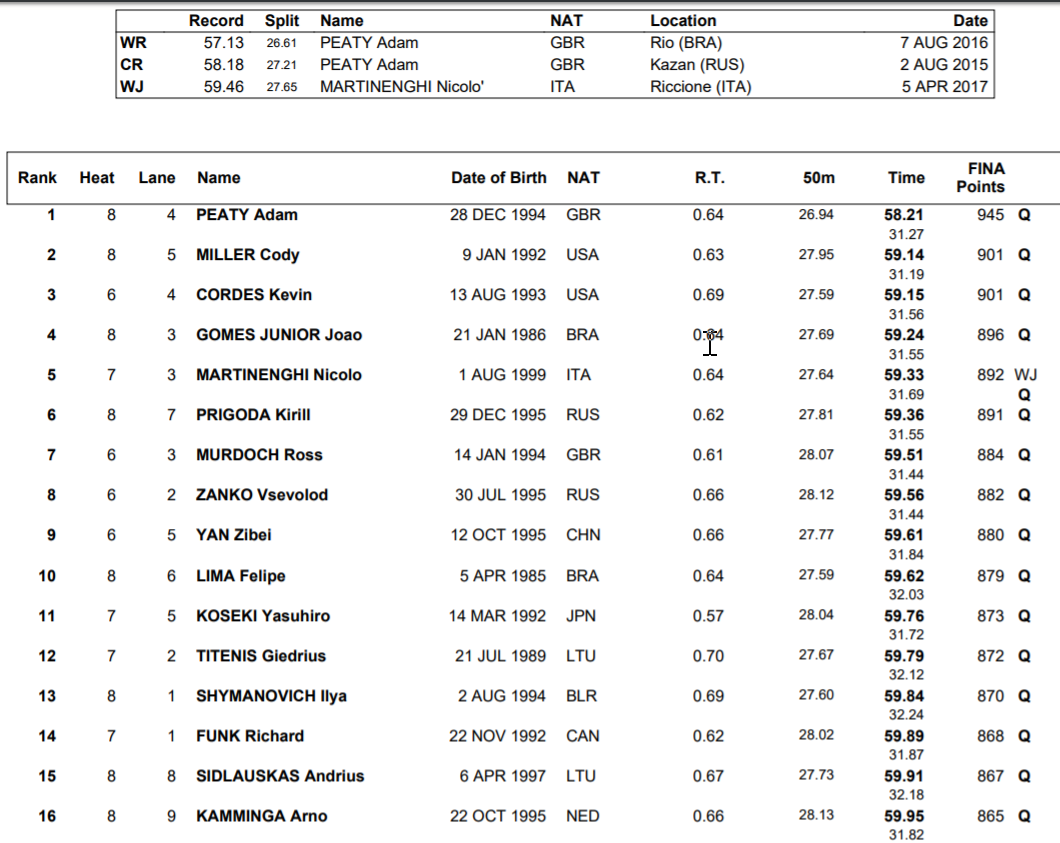 Women's 400 Free Relay
The United States women took the top spot in the women's 400 free relay prelims, buoyed by a 52.47 anchor split from Mallory Comerford in her FINA World Championships debut. Lia Neal (53.94), Kelsi Worrell (53.27), Olivia Smoliga (53.67) and Comerford combined to post a time of 3:33.35 to finish almost one second ahead of the Netherlands.
The Dutch squad of Maud Van Der Meer, Femke Heemskerk, Kim Busch and Ranomi Kromowidjojo qualified second in 3:34.26, and Australia's Emily Seebohm, Madison Wilson, Brittany Elmslie and Shayna Jack qualified third in 3:35.18.
The U.S. and Aussie squads figure to add big pieces in the final: The likes of Simone Manuel and Katie Ledecky for the Americans, Bronte Campbell and Emma McKeon for Australia.
Sweden, buoyed by Sarah Sjostrom's impressive 52.19 split, qualified third in 3:35.50, and Canada, swimming without 100 free Olympic champion Penny Oleksiak, was fifth in 3:35.85.
Also making the final were China3:37.02), Japan (3:37.46) and Denmark (3:38.29).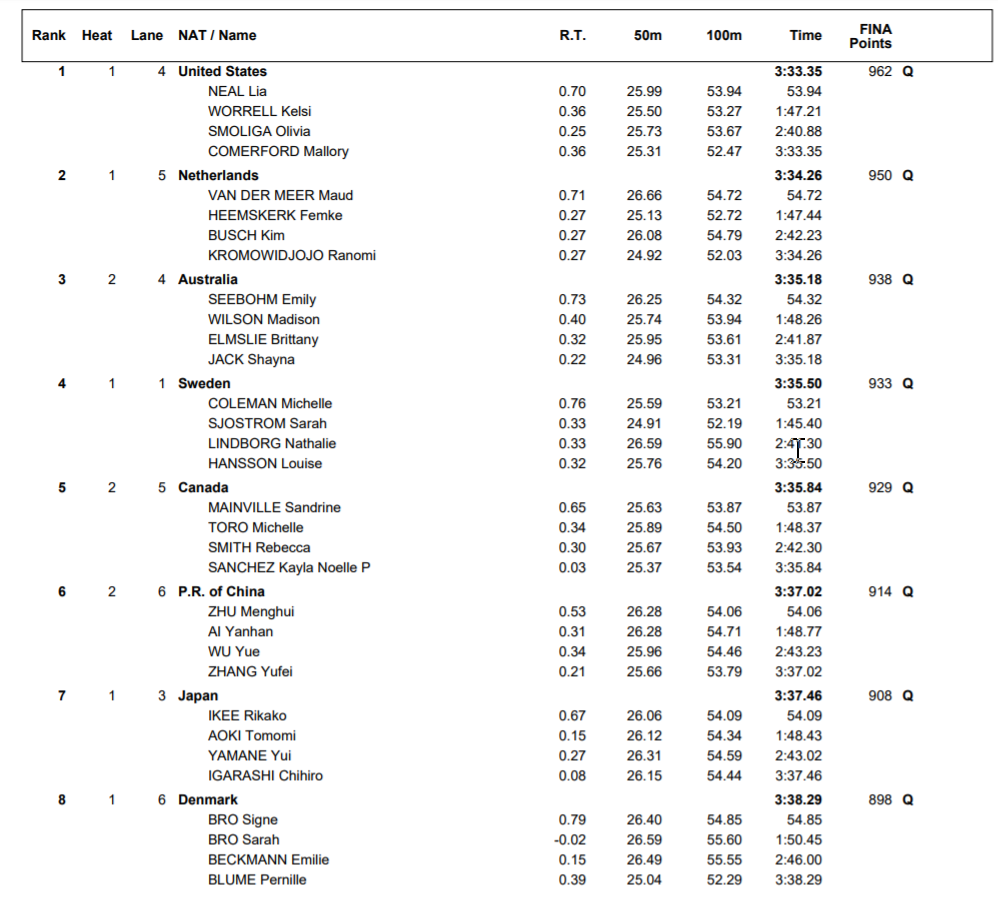 Men's 400 Free Relay
Brazil edged out Australia in the first heat of the men's 400 free relay at the FINA World Championships and ended up holding on to secure the No. 1 seed for the final. Gabriel Santos (48.84), Marcelo Chierighini (47.75), Cesar Cielo (48.15) and Bruno Fratus (47.60) combined to touch in 3:12.34.
Australia's Cameron McEvoy, Zac Incerti, Alexander Graham and Jack Cartwright qualified second in 3:12.45, and the United States finished third in 3:12.90. Blake Pieroni, Michael Chadwick, Zach Apple and Townley Haas swam on the American squad, and Pieroni and Haas appear likely to join Nathan Adrian and Caeleb Dressel on the finals squad.
Italy qualified fourth in 3:12.26, and also making the final were Hungary (3:13.28), Russia (3:13.84), Japan (3:14.82) and Canada (3:14.88)