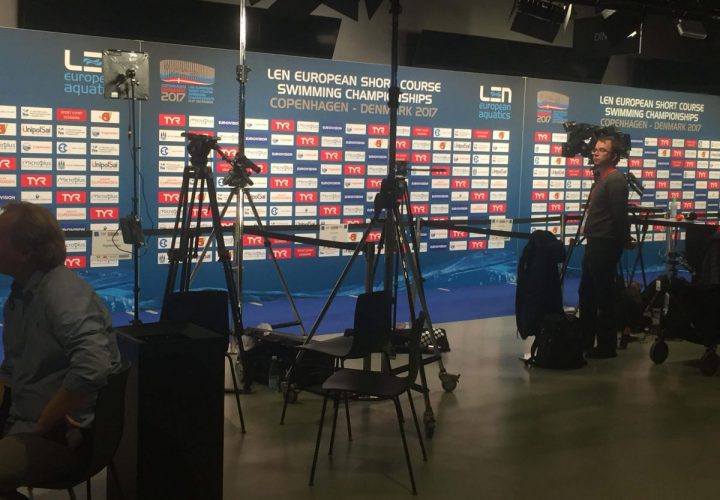 Photo Courtesy: Brent Rutemiller
During the second day of prelims at the 2017 European Short Course Championships in Copenhagen, Swedish superstar Sarah Sjostrom qualified for either semi-finals or finals in the 50 fly, 100 free and 100 IM, setting up a busy Thursday evening session that could include four individual races (three semi-finals, plus the 50 fly final).
Also in prelims, Russia's Kliment Kolesnikov and Aleksandr Krasnykh each set themselves up to go after a second individual gold medal, while the two-per-country rule locked five swimmers out of potential second swims — four of those instances coming in the women's 100 free.
Read below for a full recap of the session.
Men's 200 Free
Lithuania's Danas Rapsys finished comfortably ahead of his competition in qualifying for the final of the men's 200 free. Rapsys touched in 1:41.89, more than a second better than Great Britain's Duncan Scott (1:43.16) and Ireland's Jordan Sloan (1:43.26).
Russia's Aleksandr Krasnykh, the winner of the 400 free on day one, qualified fourth in 1:43.53, and his countryman Mikhail Dovgalyuk qualified seventh (1:44.59). Also making the final were Estonia's Kregor Zirk (1:44.26), the Netherlands' Kyle Stolk (1:44.33) and Italy's Fabio Lombini (1:44.64).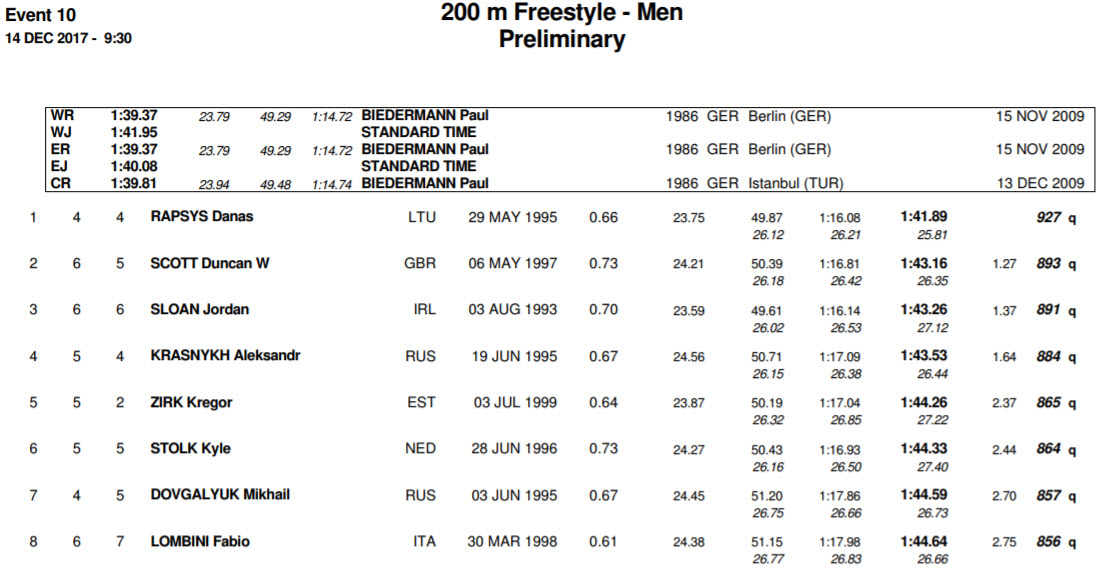 Women's 50 Fly
The Netherlands' Ranomi Kromowidjojo finished on top of prelims in 25.31, one hundredth ahead of Denmark's Emilie Beckmann, but those two will have a tough time holding off Sweden's Sarah Sjostrom through three rounds of the event, all scheduled for Thursday. Sjostrom qualified third for the semi-finals in 25.47, and she will swim next to Kromowidjojo in semi-final No. 2.
Kromowidjojo's countrywoman Maaike De Waard took fourth in 25.55, tying with Poland's Aleksandra Urbanczyk. The next three qualifiers were France's Marie Wattel (25.73), Sweden's Sara Junevik (25.77) and Belgium's Kimberly Buys (25.79).
It took a 26.28 to make the top 16 and earn a second swim, with Russia's Anastasiya Shkurdai securing the final slot for Thursday night with her time of 26.28.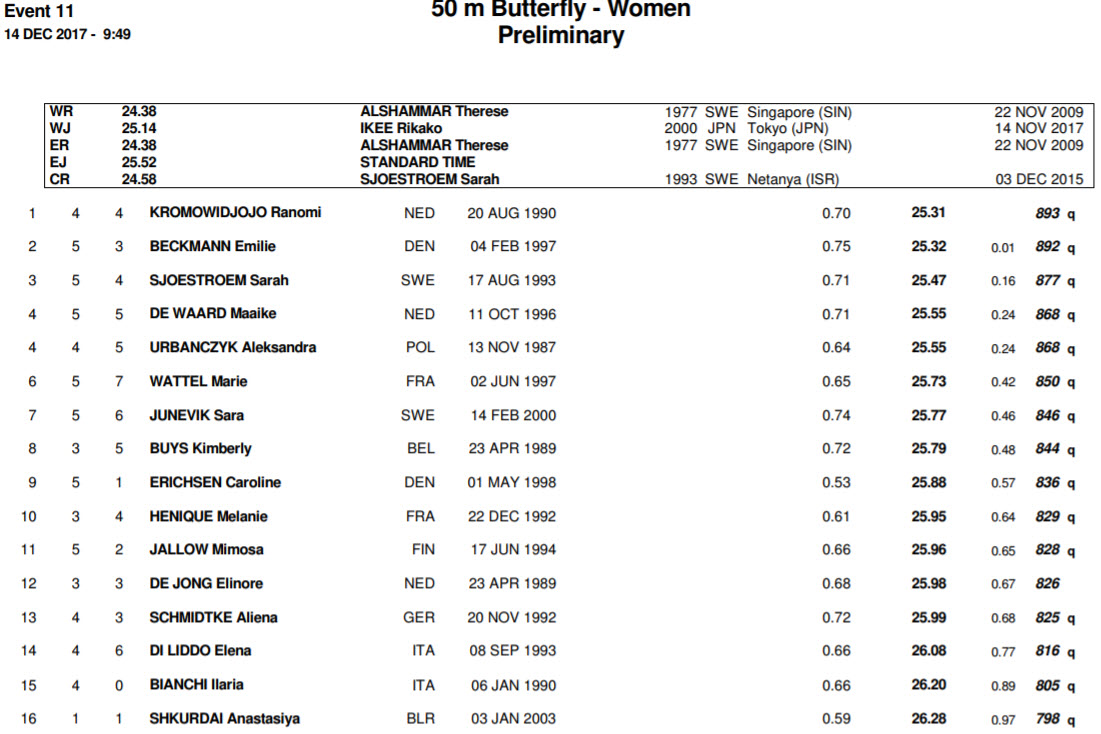 Men's 200 Breast
Russia's Kirill Prigoda, who was touched out by Fabio Scozzoli for the win in the 50 breast on day one, paced the field in the prelims of the 200 breast with his time of 2:03.38. The Russian ended up finishing just ahead of the Netherlands' Arno Kamminga, in 2:03.56, while Germany's Marco Koch qualified third.
Koch, the 2015 long course World champion in the event, recorded a time of 2:04.64. Other finalists will include Prigoda's Russian countryman Mikhail Dorinov (2:04.94), Sweden's Erik Persson (2:05.04), Hungary's David Horvath (2:05.51), Estonia's Martin Allikvee (2:05.74) and Germany's Fabien Schwingenschlogl (2:06.19).
The field was almost more notable for who did not qualify: reigning long course European champion Ross Murdoch took ninth in 2:06.44, while his heralded British countryman Adam Peaty made a rare appearance in the 200-meter event and faded badly on the last 50, ending up tied for 13th overall in 2:07.34.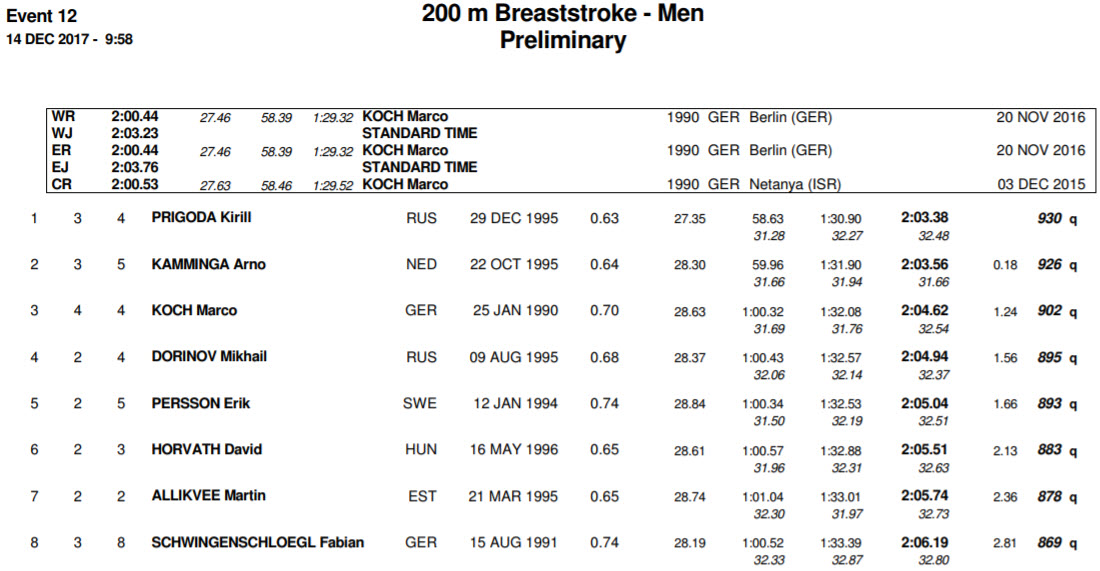 Women's 100 Free
France's Charlotte Bonnet qualified first in 52.19, just ahead of Sweden's Sarah Sjostrom. Sjostrom, who finished in 52.38, set a world record in the event in August at 50.58, only for Australia's Cate Campbell to surpass that mark with a 50.25 in late October.
Sjostrom swam this race mere minutes after qualifying third for the 50 fly semi-finals, as did the Netherlands' Ranomi Kromowidjojo. Kromowidjojo qualified first in the 50 fly and sixth in the 100 free in 53.17.
Kromowidjojo's teammate Femke Heemskerk took third in 52.47, followed by Denmark's Pernille Blume (52.49) and France's Marie Mattel (52.88). Sweden's Louise Hansson was seventh in 53.33, and another Swede, Michelle Coleman, finished eighth in 53.37, but Coleman will not advance to the semi-finals under the two-per-country rule.
The Netherlands' Kim Busch finished 15th but was also locked out of the semis under the same rule. There were also three Danish swimmers and three French swimmers finishing in qualifying positions, so 20th-place finisher Neza Klancar of Slovenia got in with her time of 54.53.
Italy's Federica Pellegrini qualified 13th in 53.61, earning her second semi-final of the week after advancing same on day one in the 100 back.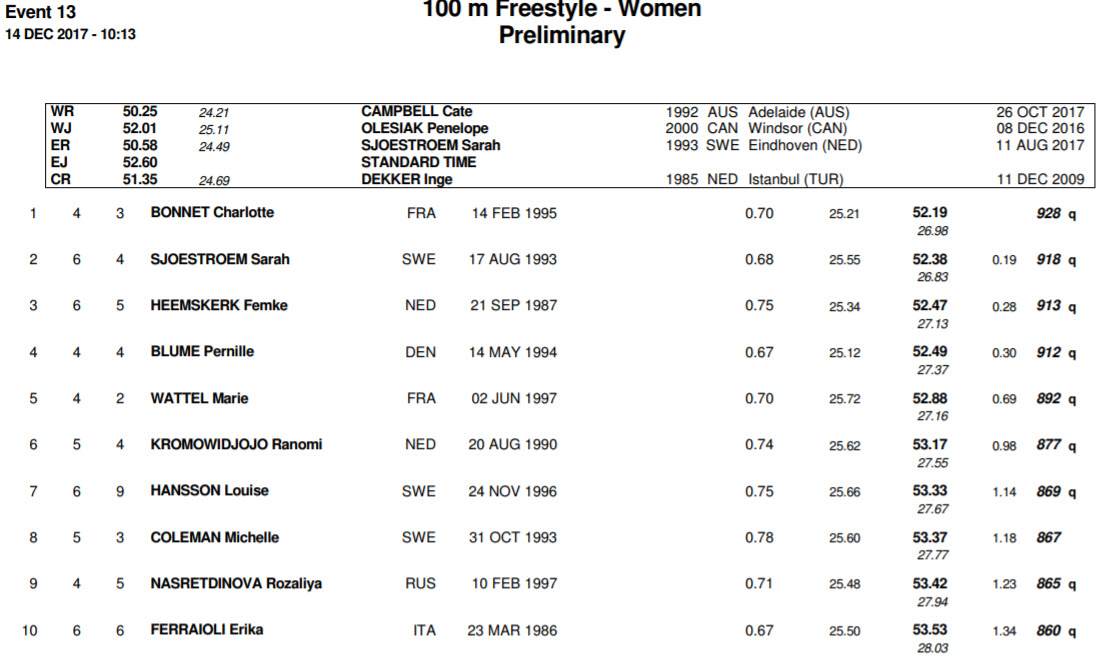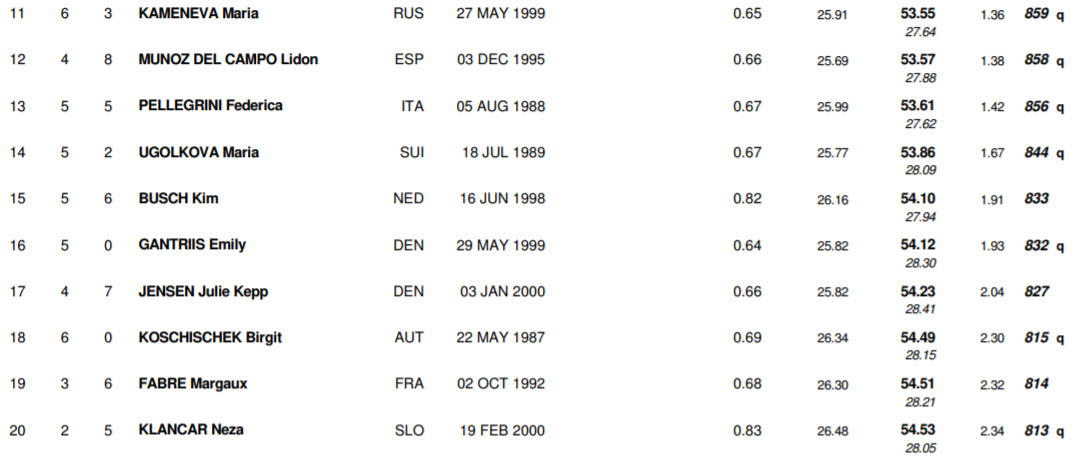 Men's 100 Back
Russia's Kliment Kolesnikov, who broke a world junior record on his way to gold in the 200 back Wednesday, took the top spot for the 100 back semi-finals with a time of 50.21. He holds the WJR in the 100-meter event at 49.84, set last month.
Italy's Simone Sabbioni picked up the No. 2 seed with his time of 50.43, just ahead of Poland's Kacper Stokowski (50.49). Germany's Christian Diener (50.95) and Greece's Apostolos Christou (50.99) also got under 51 seconds.
The Czech Republic's Tomas Franta (51.13), Russia's Andrei Shabasov (51.16) and Romania's Robert Glinta (51.20) rounded out the top eight.
200 back runner-up Radoslaw Kawecki of Poland qualified 11th in 51.49, and Italy's Lorenzo Mora was the last man in at 51.75.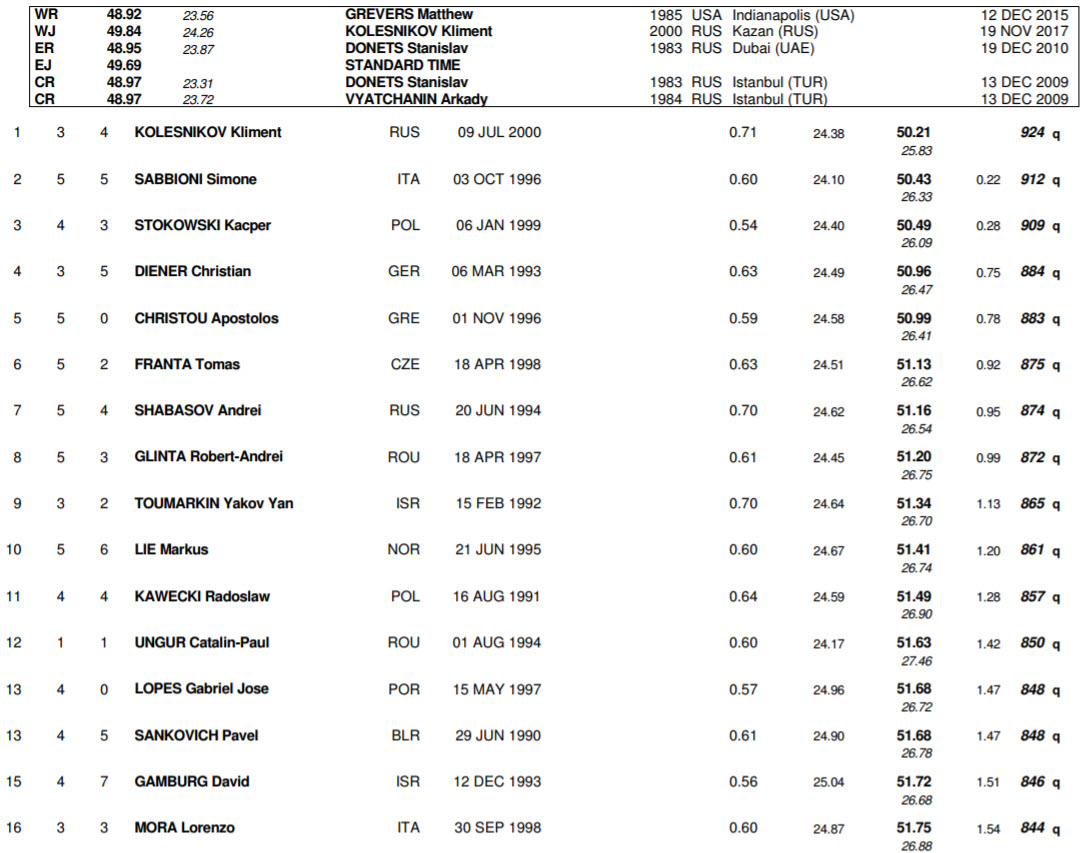 Women's 100 IM
Hungary's Katinka Hosszu put up the top time in prelims by almost three seconds, coming in at 56.75. The second seed in the event was none other than Sarah Sjostrom, who touched in 59.48 in her third race in the span of an hour.
Sweden's Jenna Laukkanen also broke the one-minute barrier, touching in 59.66. Israel's Amit Irvi and Norway's Susann Bjornsen tied for fourth in 1:00.16, followed by the Netherlands' Marrit Steenbergen (1:00.32), Hungary's Evelyn Verraszto (1:00.46) and Austria's Lisa Kreundl (1:00.57).
The Czech Republic's Kristyna Horska (1:00.70), Italy's Ilaria Cusinato (1:00.70) and Slovakia's Tjasa Pintar (1:00.76) also came in under 1:01, and it was Switzerland's Maria Ugolkova who was the 16th-fastest swimmer at 1:01.63, securing the last qualifying spot for semis.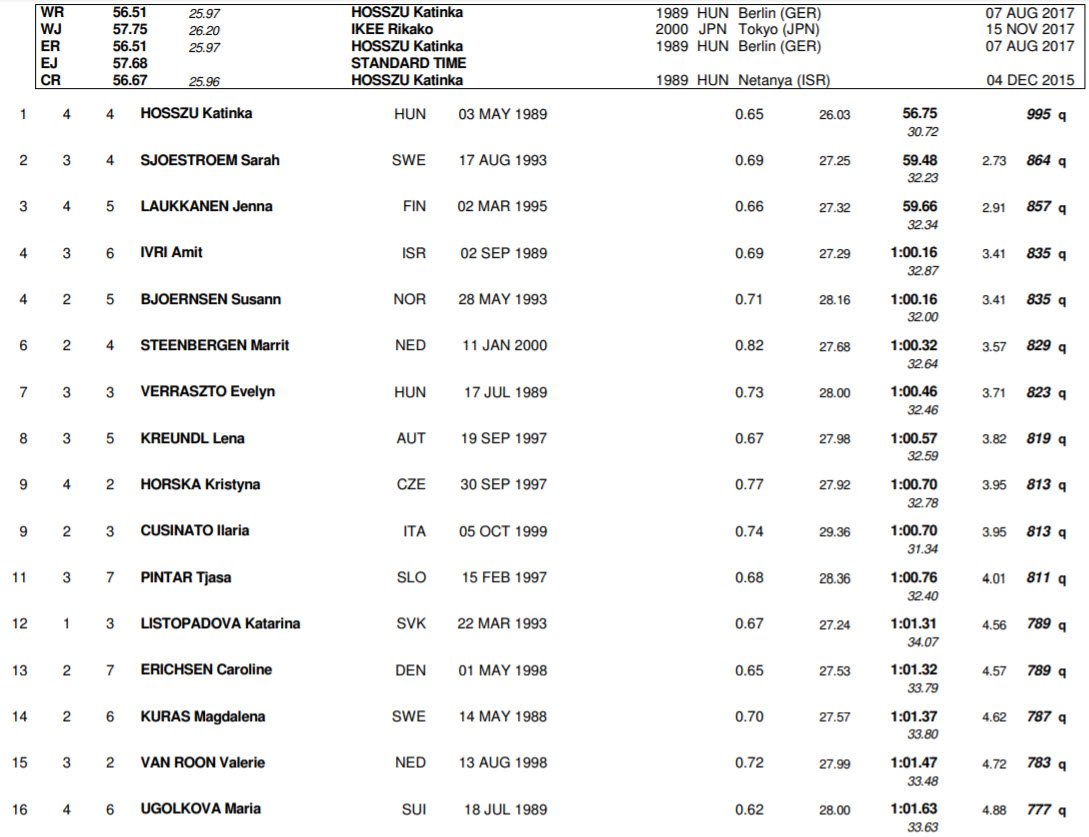 Men's 400 IM
Hungarian swimmers finished first and third, respectively, in the 400 IM prelims, with Peter Bernek finishing in 4:05.75 and Gergely Gyurta coming in third at 4:06. Countryman Benjamin Gratz finished fifth in 4:07.76, but thanks to the two-per-country rule, he is out of the semi-finals.
Germany's Phillip Heintz split the difference between the two Hungarians, touching second in 4:06.69, while Spain's Marc Sanchez Torrens was fourth in 4:07.76.
A second German, Jacob Heidtmann, qualified for the final with his time of 4:08.04, and also making it in were Italy's Federico Turrini (4:09.07), Spain's Joan Lluis Pons Ramon (4:09.20) and Portugal's Joao Alexandre Vital (4:09.23).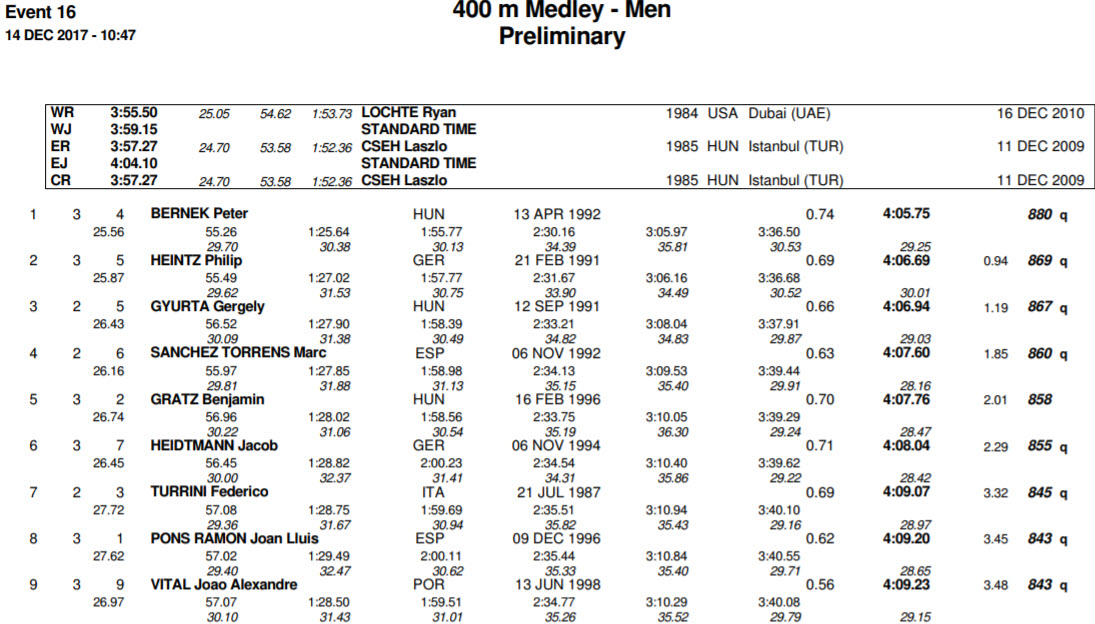 Mixed 200 Medley Relay
France's team of Jeremy Stravius, Theo Bussiere, Melanie Henique and Charlotte Bonnet edged ahead of the field for the top seed in the mixed 200 medley relay prelims. Poland's Alicja Tchorz, Krysztof Tokarski, Aleksandra Urbanczyk and Pawel Juraszek took second, less than a tenth behind in 1:39.10.
Finland qualified third in 1:39.34 with Mimosa Jallow, Jenna Laukkanen, Riku Poeytaekivi and Ari-Pekka Liukkonen. The Netherlands finished fourth in 1:39.35, but Ranomi Kromowidjojo and Femke Heemskerk both sat out prelims.
Also qualifying for finals were Belarus (1:39.61), Germany (1:39.62), Denmark (1:40.12) and Italy (1:40.23). Russia, surprisingly, finished just out of the mix at 1:40.35.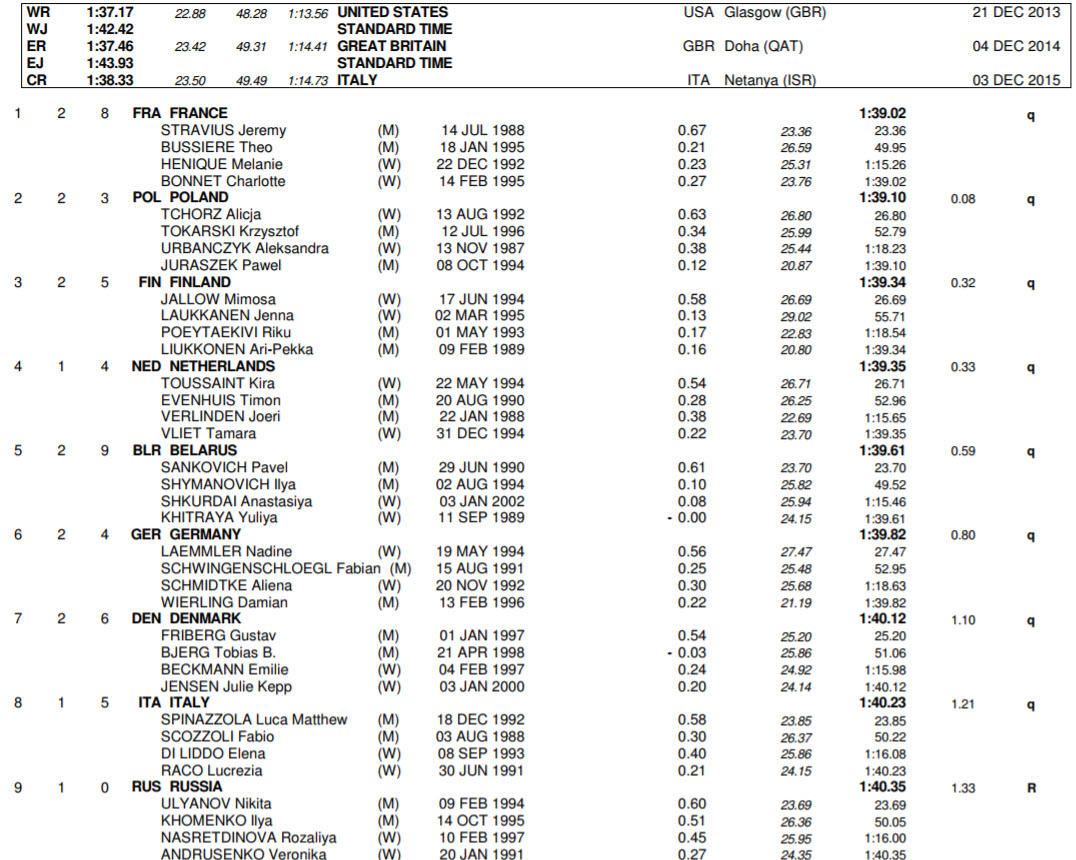 Men's 1500 Free
Ukraine's Mykhailo Romanchuk qualified first for the final of the longest race in the pool, recording a time of 14:30.30. France's Damien Joly qualified second in 14:34.47, but the biggest challenger for the final should be the third seed, Italy's Gregorio Paltrinieri.
Paltrinieri, the Olympic gold medalist and two-time long course World Champion in the event, cruised to a time of 14:34.81 in prelims.
Norway's Henrik Christiansen won his heat in a time of 14:35.41, good for the No. 4 time overall. Also making the final were Sweden's Victor Johansson (14:35.75), the Czech Republic's Jan Micka (14:35.75), Denmark's Anton Ipsen (14:38.07) and Germany's Florian Wellbrock (14:41.18).