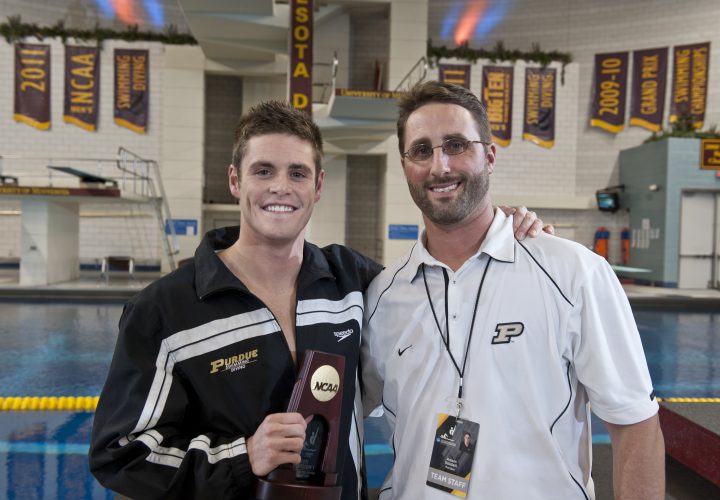 Photo Courtesy: Peter H. Bick
In a press conference held on Tuesday in Purdue's Mackey Arena, 2012 Olympic gold medalist David Boudia announced he plans on continuing training for the Tokyo Olympics in 2020.
"I needed that mental break," Boudia said on Tuesday.

"I look back on the last four years leading up to Rio, and I saw a lot of missed opportunities where I could have been a better mentor to my teammates, been more loving to the people that were coming up to me."
Boudia made the announcement alongside his coach for nearly a decade, Adam Soldati and USA Diving CEO Lee Johnson. He also noted that he will continue to train at Purdue with Soldati and current Purdue senior Steele Johnson.
Boudia made his Olympic debut at the Beijing 2008 Olympic Games where he finished fifth in men's synchronized 10-meter with Thomas Finchum and 10th in men's 10-meter. Boudia then went to Purdue University where he won six NCAA titles in his three year career.
He followed the 2008 Games with a two-medal performance at the London 2012 Olympic Games, winning gold in the men's 10-meter event and bronze in men's synchronized 10-meter with Nick McCrory. Boudia was the first American male to win the 10m Olympic gold medal since Greg Louganis won back to back golds in 1984 and 1988, and the first American male diver to win an individual Olympic gold since Mark Lenzi won the 3m springboard in 1992.
It was also the first diving medal for the United States since 2000 when Laura Wilkinson won gold in the 10m platform in 2000.
The Rio 2016 Olympic Games saw Boudia produce two more medals, winning silver in the men's synchronized 10-meter with Steele Johnson and taking individual bronze in the men's 10-meter.
Boudia will be 31 by the time the Tokyo Olympics roll around and could be one of the oldest US male diver since Troy Dumais was 32 in 2012, and also could be the first US male diver since Dumais to make four Olympic teams.
Boudia stated after the Rio 2016 Olympic Games that he would take a year off from competition and wait until the fall of 2017 before determining whether to retire or return to training. He also noted he wanted to wait until after the birth of his second child. David and his wife Sonnie welcomed Mila Primm Boudia on August 24.