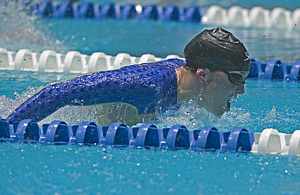 By Phillip Whitten
LONG BEACH, July 7. IT'S almost become a cliché: The US Olympic Trials, with its "Do or Die" imperative, is the world's most pressure-packed meet. It's the only meet where second is first and third is last.
Beginning this morning at 9:00 a.m., the Trials will be held in a temporary outdoor pool in Long Beach, California, only a stone's throw from the site of the 1976 Trials and, as always, there will be drama, elation and heartbreak in every event. Here lifelong dreams, nurtured by years of dedication, will be fulfilled; but more, equally nurtured, will be cruelly shattered.
Favorites will win, of course, but someone — imbued with the fire of Zeus — will emerge from gray anonymity to become an Olympian.
In 2004, swimming will be the marquis sport for NBC and the US public. It always is one of the top three or four sports ­ at least for its week of glory ­ but this year may well be different.
First of all, the competition has faded away: track and field is embroiled in a series of embarrassing doping scandals; gymnastics has no identifiable superstar personality who ranks among the world's best; and the US public has soured on the antics of spoiled, egotistical NBA players.
Secondly, US swimming boasts several genuine athletes with the potential to win multiple medals. What's more, these are thoughtful, articulate, photogenic young women and men — ­ the kind of kids Americans always say they want as role models for their youngsters. Chief among these, of course, is Michael Phelps, poised to equal or surpass Mark Spitz's seven gold medal/seven world record performance from 1972.
Of course, to be embraced by the American public, Phelps & Co. will have to win. And that won't be easy. Top swimmers seem to come from everywhere these days and Uncle Sam's kids will have to face strong, determined opposition from Australia, Japan, Germany, Britain, Holland, France, Italy, Hungary, Russia, Ukraine, Sweden, Poland, South Africa and elsewhere.

Michael
Michael Phelps, of course, will be The Man. Intense media attention will be focused on the just-turned 19 year-old superstar¹s pursuit of Mark Spitz's mythic seven gold medals/seven world records from Munich in 1972, arguably the greatest feat in Olympic history.
And Michael –­ selected by our sister publication, Swimming World, as 2003's "World Swimmer of the Year" ­ will be going for it. Enticed by a $1 million bonus offer from his sponsor Speedo (and many millions more in additional endorsement opportunities), he will enter the 100 and 200 fly, 200 and 400 IM, 200 free and 200 back. That's six individual events, giving him a shot at a mind-boggling nine Olympic gold medals.
But he's by no means a shoe-in. He should win both IMs and the 200 fly. That's three. And he should probably win the 200 free, at least at Trials.
He's skipping the 100 free here but remains eligible for the 4x100m free relay: any member of the team can be named to a relay by the coaching staff. Off his 49.0 swum earlier this year, Michael seems a cinch for a relay spot.
In fact, he's a likely member of all three US relays, though both freestyle relay teams will face very stiff opposition in Athens.
After that, it gets tough. Very tough.
In the 100 fly, he faces Ian Crocker, who beat him at last year's Worlds with a world record, and added a short course WR in March. Crocker's unshaved, unrested 51.61 from three weeks ago ranks #1 in 2004, with Michael second at 51.84. He's got to beat Crocker not only to win gold in the 100 fly but also to land the fly berth on the medley relay team, which should be a heavy favorite. We give the edge to Crocker.
Then there's the 200 back, where he ranks #2 all time. But the guy who ranks #1, Aaron Peirsol, has every intention of standing on top of the victory stand. Another close race with the edge going to Peirsol.
Finally, there's the 200 free. Assuming he wins the 200 at Trials – and one Klete Keller is determined not to let that happen – he still faces the three fastest 200 freestylers of all time: Ian Thorpe, the world record-holder; Pieter Van den Hoogenband, the defending Olympic champion; and Grant Hackett, history's third-fastest 200 man.
Even if he falls short of nine or eight or seven gold medals ­ even if he "only" wins five or so golds and a handful of medals of lesser metals — young Michael is sure to turn in performances that will keep the world of swimming buzzing for years.

Ian and Gary
There will be other great stories coming out of Long Beach. Ian Crocker, the first Olympic swimmer from Maine, will be making his bid for a multi-medal Olympiad. The world record-holder in the 100 fly, he¹ll be going for gold in his specialty, which will also give him a spot on the USA's medley relay squad. But we also think he may give the 50, 100 and 200 freestyle a go.
He set a mind-boggling short course WR in the 100 free at NCAAs, blasting Alex Popov's decade-old standard and, at the very least, should earn a berth on the 400 free relay team. Though only ranked 27th in the US in the 200 free, his workout times indicate to us that he should swim fast enough to make the 4×200 free relay. And though the 50 free is a crap shoot, we think he¹ll give it a go.
So, if all goes spectacularly well, there's a potential for seven golds for Ian, though three or four is a more likely outcome.
One of the major obstacles in Ian's way is Swimming's Mr. Personality, Gary Hall, Jr., 29. In two previous Olympiads, Gary has earned eight medals ­ four gold and two each of silver and bronze. If he can match his two previous four-medal performances, he'll have a total of 12: one more than the record 11 by Mark Spitz.
If he just makes the team, he ­- along with his dad, Dr. Gary Hall, Sr. -­ will make Olympic history: the first father-son duo to each compete in three Olympic Games.
Hall, whose courage in competing at the highest level of international sport while suffering from diabetes is universally admired, will be shooting for the 50 and 100 freestyle events, and for berths on both the 400 free and medley relays.

Natalie, Amanda, Lindsay and Jenny
Then there's Natalie, of course. Nat also has multi-gold medal potential, perhaps as many as eight. But her coach, Teri McKeever, is likely to keep the events her protégée swims to a more manageable number. Still, Natalie is incredibly versatile ­ she holds American or world marks in free, back, fly and IM ­ and is a gold medal threat every time she gets wet.
Nat has indicated she only plans to swim the 100 free and 100 back in Athens, but she's entered in the 50 and 200 free, and the 100 fly in Long Beach. At the very least, she has the potential to take five gold but, again, there are some very fast women who have other thoughts entirely.
Several other US women have their eyes on multiple medals. Amanda Beard, the most consistent woman swimmer in the world the last two years and the "hottest" female marketing property in the land, could win as many as five. Again, though, three is a more likely number.
Lindsay Benko, short course WR-holder in the 200 and 400 free, would like to win four to crown her career.
Meanwhile, Jenny Thompson, at 32, will be looking to add to her record total of 10 Olympic medals –eight gold – but still searching for that elusive first individual gold. She's the favorite in the 100 fly and should be among the top two in the 50 and 100 free. She's likely to swim on at least two relays, so she has a chance for as many as six medals. If she surpasses Spitz's grand total of 11, she will become the USA's most decorated Olympian of all time.
On the morn of the Trials, here's one man's opinion of how the events appear to be shaping up.
DAY ONE: July 7
Finals: Men's 400 IM, Men's 400 free, Women's 400 IM
Semifinals: Women's 100 fly, Men's 100 breast
Men's 400 m IM
When Michael Phelps set his world record of 4:09.09 in the 400 IM last year, it came on the last day of the World Championships after a grueling week of world-class swimming every single day.
This time, the 400 IM comes on the first day of competition, both at Trials and in Athens. That means Michael will be swimming what may well be his best event fresh. And that means the kid ­ if he decides to instill a bit of genuine "shock and awe" in his opponents ­ may lay it all on the line. If he does so, look for a WR swim somewhere in the 4:05-4:06 range (just to leave a little room for improvement at the Big O's).
The battle for the second spot should be monumental, with a sub-4:10 effort probably needed to earn an Olympic berth. The probable contenders: Erik Vendt (4:11.27), Tom Wilkens (4:14.52) and Ryan Lochte (4:16.80).
Our picks: 1. Michael Phelps; 2. Erik Vendt.
Capable of upsetting: Ryan Lochte
Men's 400 m freestyle
A lot of the same swimmers compete in the 400 IM and 400 free, but since the events fall back-to-back in long Beach, most will have to make a choice. With Australia's Ian Thorpe and Grant Hackett lurking over the horizon, top-ranked Michael Phelps (3:46.73) probably will skip this event. That should make the 400 free a wide open race, though we see Klete Keller stepping up and smashing Phelps' American record with a 3:45 or even 3:44 swim.
Our picks: 1. Klete Keller; 2. Chad Carvin
Could make it: Larsen Jensen; Robert Margalis, Peter Vanderkaay, Justin Mortimer.
Women's 400 m IM
Here's another event where no one is a lock. On the face of it, Maggie Bowen, silver medalist at the 2001 Worlds, should be favored off her 4:39.08. But she'll have to beat a rejuvenated Kaitlin Sandeno, not to mention just-turned 15 year-old phenom Katie Hoff from Michael Phelps' North Baltimore team, and other strong medleyists including 2000 Olympian Maddie Crippen, Kristin Caverly, Sara McLarty, Emily Mason, and another newbie, Julia Smit.
Our picks: 1. Katie Hoff; 2. Kaitlin Sandeno
Don't rule out: Bowen, Mason

DAY TWO: July 8
Finals: Women's 100 fly, Men's 100 breast, Women's 400 free
Semifinals: Women's 100 back, Men's 200 free, Women's 100 breast, Men's 100 back
Women's 100 m butterfly
There are 12 entrants in the 100 fly with times under a minute, 24 under 1:01. Only two have broken 59 in the last few years, and they both have gone 57-high. If anyone is going to beat Natalie Coughlin or Jenny Thompson, the 2003 world champ, it will take a phenomenal effort. But Nat says she doesn't plan to swim the 100 fly in Athens, so the third-place finisher most likely will be on the team.
Our picks: 1. Jenny Thompson; 2. Natalie Coughlin
If Natalie steps aside: Mary Descenza, Dana Vollmer, Shelly Ripple, Misty Hyman
Men's 100 m breaststroke
This is another event where the top two guys ­ Ed Moses and Brendan Hansen — appear to be head and shoulders above the rest. The co-American record-holders (1:00.21), both feel they have something to prove: Ed, that he can win the big ones; Brendan, that he can overcome having twice finished third in 2000.
Our picks: 1. Ed Moses; 2. Brendan Hansen
Don't count out: Mark Gangloff, Scott Usher
Women's 400 m freestyle
Off her record, Diana Munz (4:07.87)has a huge, two-second advantage on the rest of the field. What's more, she's always risen to the occasion when it counts. But somehow, Diana seems vulnerable. Among the 19 swimmers who have gone 4:14 or better, veterans Lindsay Benko, Kaitlin Sandeno and Rachel Komisarz will be in the hunt. So, too, will be hungry youngsters Kalyn Keller and Mary Hill. Don't forget defending Olympic champ, Brooke Bennett, finally coming back after double shoulder surgery.
Our picks: 1. Diana Munz; 2. Kalyn Keller
Definitely could make it: Brooke Bennett, Lindsay Benko, Mary Hill, Emily Mason

DAY THREE: July 9
Finals: Men's 200 free, Women's 100 back, Men's 100 back, Women's 100 breast
Semifinals: Women's 200 free, Men's 200 fly, Women's 200 IM
Men's 200 m freestyle
It seems as though everyone is going for one of the six spots up for grabs in this event. Phelps should win, possibly with a 1:44 performance. Second place appears to be a battle between Klete Keller and Nate Dusing. Thirty-one year-old Josh Davis has a good shot at making his third Olympic team, while we look for Ian Crocker and Aaron Peirsol to surprise.
Our picks: 1. Michael Phelps; 2. Klete Keller
On the relay: Nate Dusing; Ian Crocker; Aaron Peirsol; Josh Davis
Looking to upset: Scott Goldblatt; Chad Carvin; Jayme Cramer; others
Women's 100 m backstroke
Natalie ­ the only woman ever under a minute ­ should have the top spot locked up. After that, you pick 'em from among the 14 women who have gone 1:01 or 1:02. A dark horse looking to upset: Misty Hyman.
Our picks: 1. Natalie Coughlin; 2. Haley Cope
A good shot at #2: Hayley McGregory, Courtney Shealy; Margaret Hoelzer, Misty Hymaan
Men's 100 m backstroke
Oh, what a lovely war. Though this event is loaded, WR-holder Lenny Krayzelburg (53.60) and world champion Aaron Peirsol (53.61) should get the nods. One slip, and there's a horde of world-class backstrokers eager to step up, including 33 year-old Jeff Rouse, the 1996 Olympic champ, short course WR-holder Peter Marshall, and 50-meter world champion, Randall Bal..
Our picks: 1. Aaron Peirsol; 2. Lenny Krayzelburg
Can upset: Randall Bal, Peter Marshall, Jeff Rouse, James Westcott, Neil Walker
Women's 100 m breaststroke
Three women appear to have the best shots at the two Olympic Team slots. Megan Quann is AR-holder and defending Olympic champion, Tara Kirk just set the short course WR, and Amanda Beard was second at Worlds last year. Oh yeah, then there's The Kid – 17 year-old Long Beach high school junior and national high school record-holder, Jessica Hardy. To top it off, Stacianna Stitts, a surprise 2000 Olympian, has been looking very tough. This should be one of the meet's highlights.
Our picks: 1. Amanda Beard; 2. Tara Kirk
Don¹t count out: Megan Quann; Kristy Kowal, Stacianna Stitts, Jessica Hardy

DAY FOUR: July 10
Finals: Women's 200 free, Men's 200 fly, Women's 200 IM
Semifinals: Men's 100 free, Women's 200 fly, Men's 200 breast
Women's 200 m freestyle
Just as in the men's 200, the women's race features a horde of legitimate contenders, with nine women under 2:01, 12 more at 2:01 and 24 more at 2:02.
Lindsay Benko, last year's world leader, and Natalie Coughlin should go 1-2 (or 2-1). After that, it's a scramble, with several high school kids likely to make it. Once again, the #2 spot in the individual 200 free may be up for grabs if Natalie sticks to her plan not to swim it in Athens.
Our picks: 1. Natalie Coughlin; 2. Lindsay Benko
Battling for the #3 spot: Rhi Jeffrey; Dana Vollmer; Mary Hill; Gaby Rose
Could make relay: Mary Hill; Diana Munz; Colleen Lanne; Jessica Foschi
Men's 200 m butterfly
This should be a no-brainer. Michael Phelps is the world record-holder (1:53.93) and Tom Malchow (1:55.03) is the defending Olympic champion. Only Michael Raab is within three seconds of the leaders.
Our picks: 1. Michael Phelps; 2. Tom Malchow
If someone slips off the blocks: Michael Raab, Eric Donnelly; Jayme Cramer
Women's 200 m IM
In contrast to the previous race, this one features several legitimate contenders for the two available slots. Maggie Bowen, the 2001 world champion, is top-seeded at 2:11.93, but Kaitlin Sandeno, and Amanda Beard are only about a second behind. Gaby Rose, the big surprise in 2000, has also been looking good lately, while Katie Hoff or Whitney Myers could surprise.
Our picks: Amanda Beard; 2. Kaitlin Sandeno
Legit challengers: Maggie Bowen; Gaby Rose; Katie Hoff; Whitney Myers

DAY FIVE: July 11
Finals: Men's 200 breast, Women's 200 fly, Men's 100 free
Semifinals: Women's 100 free, Men's 200 back, Women's 200 breast, Men's 200 IM
Men's 200 m breaststroke
Once again, this race should pit Ed Moses vs. Brendan Hansen, both of whom have gone 2:10s and both of whom have targeted Japan's Kosuke Kitajima. No one else is under 2:13.
Our picks: 1. Brendan Hansen; 2. Ed Moses
Remote shots: Dave Denniston; Gary Marshall; Kyle Salyards; Mark Gangloff
Women's 200 m butterfly
On paper, Mary Descenza (2:08.38), Dana Kirk (2:08.45) and Kaitlin Sandeno (2:08.52) are two seconds ahead of the rest of the field. They are definite contenders, but we see this race as entirely up for grabs. Emily Mason, comebacking Shelly Ripple, 15 year-old Elaine Breeden, and several others. Don't dismiss 2000 Olympic champion Misty Hyman. It should take 2:07-high to 2:08-low to make the team. Dana has an added incentive: If she and Tara Kirk make the team, we believe they will be the first sisters to swim on the same US Olympic team.
Our picks: 1. Dana Kirk; 2. Kaitlin Sandeno
On any given day: Misty Hyman; Mary Descenza, Emily Mason, Shelly Ripple, Dana Kirk, Elaine Breeden, Noelle Bassi, Whitney Myers, et al.
Men's 100 m freestyle
This won't be a race; it will be a war. Jason Lezak is seeded #1 going in, and he'll be tough. But challenges will come from Neil Walker, who has been looking very sharp, Scott Tucker and others. Look for these two guys to be in the mix: Ian Crocker and Gary Hall, Jr. (despite the fact that he has a best of 51.02 the last three years). Looking for a big upset: Sabir Muhammad. The newcomer with the best shot of making the relay: Garret Weber-Gale. Adding to the spice: Lezak and Hall are not overly fond of each other.
The top two: 1. Gary Hall, Jr.; 2. Jason Lezak
Could make Top Two: Neil Walker, Ian Crocker
Relay swimmers: Nate Dusing, Garrett Weber-Gale, Scott Tucker, Sabir Muhammad

DAY SIX: July 12
Finals: Women's 200 breast, Men's 200 back, Men's 200 IM, Women's 100 free
Semifinals: Men's 50 free, Women's 200 back, Men's 100 fly
Women's 200 m breaststroke
Once again, three tough contenders will be going for the two available spots. Amanda Beard, who tied the WR (2:22.99) in winning the world title last year, has to be the favorite. Going for the second spot are Kristy Kowal (2:25.84), the 2000 Olympic silver medalist, and Tara Kirk, who vaulted into contention with a PR of 2:26.37 recently. Three others who could rise to the occasion: Megan Quann, Stacianna Stitts and Caroline Bruce.
The top two: 1. Amanda Beard; 2. Tara Kirk
Definite threats: Kristy Kowal; Megan Quann, Stacianna Stitts and Caroline Bruce
Men's 200 m backstroke
This is another race where the top two guys appear to have a lock on the two available slots. Aaron Peirsol holds the WR (1:55.15) while Michael Phelps is #2 all-time. So dominant are these two men that we suspect defending Olympic champion Lenny Krayzelburg won't even contest the event.
Athens bound: 1. Aaron Peirsol; 2. Michael Phelps
Just in case: Bryce Hunt, Mark Liscinsky
Men's 200 m IM
Michael Phelps is untouchable in this event, but it comes immediately after his very tough 200 backstroke race. Despite having only a few short minutes' rest, Michael is still the man to beat. The battle for #2 should be a doozy, with Phelps' NBAC teammate Kevin Clements a slight favorite. Don't count out 2000 Olympic bronze medalist Tom Wilkens.
The top two: 1. Michael Phelps; 2. Kevin Clements
Battling for the second spot: Ryan Lochte, Tom Wilkens; Nate Dusing.
Women's 100 m freestyle
The women¹s 100 free will showcase a battle of the generations. Jenny Thompson will captain the old-timers, while Amanda Weir will head up the rookies. Experience probably will trump youth and enthusiasm for the top two spots, but this is an awesome field in which anything can happen.
Likely winners: 1. Natalie Coughlin; 2. Jenny Thompson
Relay swimmers: Kara Lynn Joyce; Amanda Weir; Lindsay Benko; Rhi Jeffrey
Definite maybes: Colleen Lanne, Maritza Correia, Tammy Stone; Christina Swindle, et al.

DAY SEVEN: July 13
Finals: Women's 200 back, Men's 100 fly, Women's 800 free, Men's 50 free
Semifinals: Women's 50 free
Women's 200 m backstroke.
Natalie holds the American record and was world-leader in this event last year. But she doesn't particularly like it and has not entered, leaving the race to Margaret Hoelzer who is right behind her. No one else is within two-and-a-half seconds of Hoelzer. The second spot is up for grabs with Haley McGregory looking good, but Misty Hyman could surprise here.
The top two: 1. Margaret Hoelzer; 2. Haley McGregory
Could surprise: Misty Hyman; Jamie Reid
Men's 100m butterfly.
Ben Michaelson is one of the fastest butterflyers in the world. Unfortunately, the two faster Americans ­ Ian Crocker and Michael Phelps ­ are the two swiftest in history. They should battle for the gold in Athens. Both men desperately want the gold in this event, as the winner gets to swim on the heavily-favored US medley relay team.
Top two: 1. Ian Crocker, Michael Phelps
Hoping for a breakthrough: Ben Michaelson, Tommy Hannan
Women's 800 m freestyle.
Diana Munz, with her 8:22.19 last year, is the class of this field, but with 15 women under 8:40, there¹s no shortage of challengers. Double defending Olympic champion Brooke Bennett is making a comeback after surgery and looking better every day. The only question: Will she be ready by July?
The top two: Diana Munz; Kalyn Keller
Worthy challengers: Brooke Bennett, Hayley Peirsol, Kaitlin Sandeno, Adrienne Binder, Alyssa Kiel
Men's 50 m freestyle.
Once again, the sprint freestyle may come down to Jason Lezak, who ranked #1 in the world in 2002, vs. Gary Hall, the American record-holder and 2000 co-Olympic champion. Gary has set his goal at 21.5 ­ well under Alex Popov¹s world record of 21.64. Potential spoiler: Ian Crocker.
The top two: 1. Gary Hall, Jr.; 2. Jason Lezak
Contenders: Ian Crocker, Sabir Muhammad, Aaron Ciarla, Scott Tucker

DAY EIGHT: July 14
Finals: Women's 50 free, Men's 1500 free
Women's 50 m freestyle
The final women's race will be a free-for-all, with at least 10 women having a legitimate shot at making the team. Jenny Thompson probably has the edge, but we were impressed by Kara Lynn Joyce at NCAAs. Whoever wins, she will have to be under 25 seconds to be competitive internationally.
The top two: Kara Lynn Joyce, Jenny Thompson
Could make it: Haley Cope, Maritza Correia, Amanda Weir, Tammie Stone, Colleen Lane, Christina Swindle, et al.
Men's 1500 m freestyle
With Chris Thompson, the Sydney bronze medalist and American record-holder sidelined by injury, the prohibitive favorites become Eric Vendt and Larsen Jensen.
The faves: Erik Vendt, Larsen Jensen
Outside threats: Robert Margalis; Peter Vanderkaay, Fran Crippen; Chris Thompson