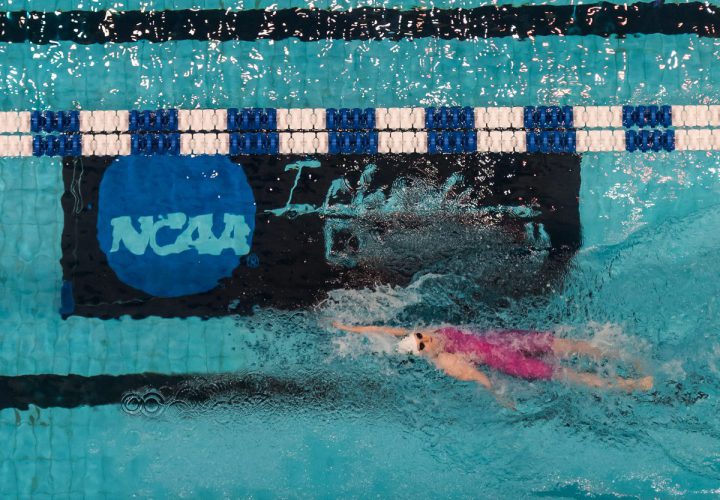 Photo Courtesy: Peter H. Bick
The NCAA has announced the 145 female student-athletes who are their conference's nominee for the 2017 NCAA Woman of the Year Award. Fourteen swimmers and divers have been named. That's an impressive five more than the nine swimmers and divers named Conference nominees last year.
View full list of swimmers and divers, their school, and their conference below:
| Name | School | Conference | Division |
| --- | --- | --- | --- |
| Anika Apostalon | University of Southern California | Pac-12 | I |
| Chantal Van Landeghem | University of Georgia | Southeastern Conference | I |
| Danielle Galyer | University of Kentucky | Southeastern Conference | I |
| Blaise Wittenauer-Lee | Seattle University | Western Athletic Conference | I |
| Aerika Wieser | Urbana University | Mountain East Conference | II |
| Caroline Conboy | Hobart and William Smith Colleges | Libery League | III |
| Anna Corley | University of Mary Washington | Capital Athletic Conference | III |
| Eliana Crawford | Kenyon College | North Coast Athletic Conference | III |
| Jaquelyn Creitz | Washington College (Maryland) | Centennial Conference | III |
| Naomi Gaggi | College of Staten Island | City University of New York Athletic Conference | III |
| Margaret Olock | Cedar Crest College | North Eastern Athletic Conference | III |
| Meg Stanley | Illinois Wesleyan University | College Conference of Illinois and Wisconsin | III |
| Sara Bey | State University College at Old Westbury | Skyline Conference | III |
| Valerie Urban | Connecticut College | New England Small College Athletic Conference | III |
MIT swimmer Margaret Guo was named the 2016 NCAA Woman of the Year. Guo was then featured on the cover of the February 2017 issue of Swimming World magazine.
Read the full press release from the NCAA here:
From a program-record pool of 543 school nominees, 145 female student-athletes have been nominated by conferences and an independent selection committee for consideration for the 2017 NCAA Woman of the Year Award.
The nominees represent college athletes from 16 different sports spanning all three NCAA divisions. Of those recognized, 58 nominees competed in Division I, 34 in Division II and 53 in Division III.
For the first time, nominees competing in a sport not sponsored by their school's core conference were placed in a separate pool to be considered by a selection committee. Up to two independent nominees could be selected to move forward in the process with the conference nominees.
In early September, the Woman of the Year selection committee will name the Top 30 honorees, which include 10 women from each division. At the end of September, the selection committee will select and announce nine finalists, with three from each division. The NCAA Committee on Women's Athletics will select the 2017 NCAA Woman of the Year from those finalists.
The Top 30 honorees will be celebrated and the 2017 NCAA Woman of the Year will be named at the annual banquet Oct. 22 in Indianapolis.
The NCAA Woman of the Year program has recognized graduating female student-athletes for excellence in academics, athletics, community service and leadership since its inception in 1991.
View the full list here.