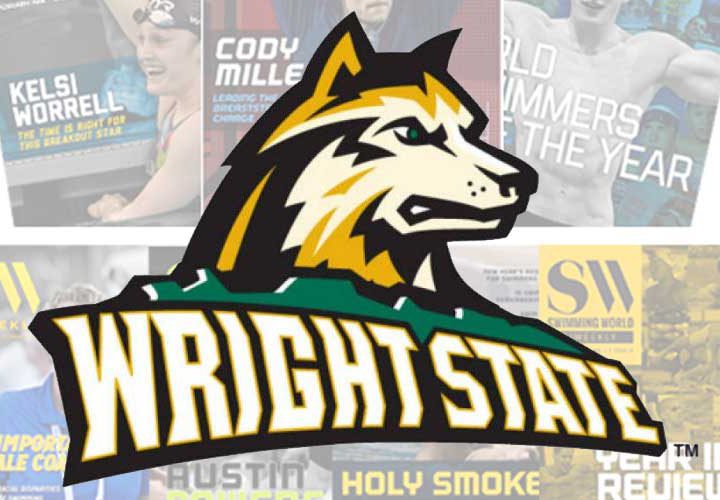 Swimming World is proud to support the Wright State swimming and diving teams by offering a one-year digital access subscription for $39.95, with $10 of every subscription purchased being donated to the Wright State team. This subscription will stay active through June 30th, the last day donations will be accepted for the Save Wright State fund.
Click here to subscribe and donate to the Save Wright State fund! 
Wright State University announced back in May that the university would be cutting programs, including the swimming and diving teams, in an effort to save on annual expenses.
Current student athletes, friends, and alumni of the swimming and diving teams quickly came together, creating a fundraising group with the goal of raising $85,000 by June 30. With just 11 days left in the fundraising window, the group is nearing 50% of their goal with a total of $39,115 in donations.
The digital subscription includes access to the next twelve months worth of Swimming World Magazine, Swimming World Biweekly, and Swimming Technique, as well as access to the previous twelve months.
You can also donate to help save the Wright State University Swimming and Diving programs by donating on the CSCAA website here. Or by sending check payments C/O Greg Lockard, CSCAA, Attn: Wright State Fund, PO Box 121, Essex Fells, NJ 07021.
ABOUT SWIMMING WORLD MAGAZINE
The magazine, both print and digital, presents complete national and international coverage of competitive aquatic sports; including open water, diving, synchro and water polo. This includes stunning photos, columns and personality features of age group, high school, college and elite athletes. Total Access allows subscribers to download and view magazines on any device. All products are on automatic renewal and can be cancelled at anytime.
ABOUT SWIMMING WORLD BIWEEKLY
This magazine comes out every two weeks and aggregates all the top internet stories that you might have missed in the fleeting world of internet content.  Each issue recaps top stories and unique content not previously published.
ABOUT SWIMMING TECHNIQUE MAGAZINE
This magazine comes out every three months and includes great information on training and technique.  The content is geared for coaches and swimmers who want to learn more about the science and technical aspects of competitive swimming.  Look for additional features on dryland, health and mental training with each issue.