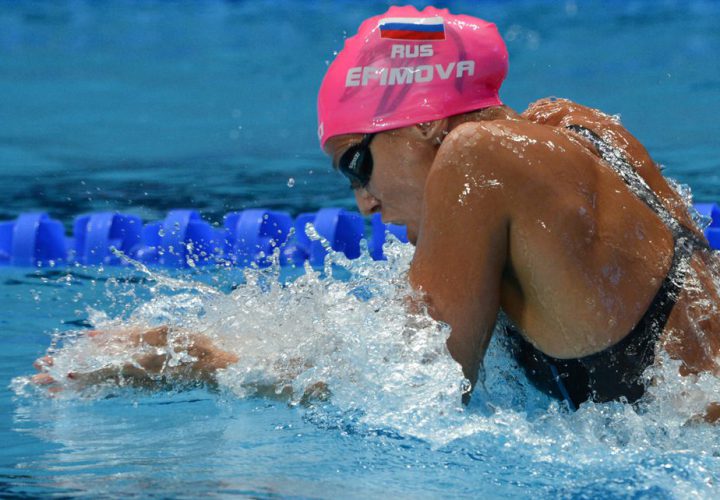 Photo Courtesy: R-Sport / MIA Rossiya Segodnya
Yulia Efimova won the women's 200 breaststroke finals at Russian Nationals and World Trials in Moscow with a rapid 2:21.35. This easily the fastest result in the world right now. It's also her fastest result in the last two years (her fastest 200 breast in 2016 was a 2:21.41 from Arena Pro Swim Series in Orlando). She won silver in the Rio Olympics with 2:21.97. Efimova, who earlier won women's 50 breast, is already on the team. Her next events are the 100 breast and 200 Individual medley, an event she was preparing for while training in Australia this year.
Maria Temnikova won silver (2:24.80) in the 200 breast, but is unlikely to be on the Worlds team due to criteria. Sofia Andreeva got bronze, 2:26.82
Vladimir Morozov celebrated victory in one of his favorite events – the men's 100 freestyle. He posted a 48.28, and makes the Worlds team in his first individual event. Morozov remains the second ranked swimmer in the world after Cam McEvoy, who improved his semifinal result by 0.3. Danila Izotov won silver and got the second spot on the team with a 48.53. Nikita Korolev and Alexander Popkov (49.16, 49.35) will join the relay team. Olympian Nikita Lobintsev finished fifth (49.39) and his fate on the team is unclear, he could still make the relay.
Olympian, and young mom, Anastasia Fesikova won her first event of the meet – the women's 50 backstroke. Fesikova, also known as Zueva, beat her younger rival and world junior champion Darya K. Ustinova. Fesikova posted a 27.93, against Ustinova's 28.34. Both ladies will represent country in Budapest. Maria Kameneva missed the team but got bronze, 28.38.
Kirill Prigoda, who surprisingly finished third in the men's 200 breast, tried to make the team in the 50. In semifinals Prigoda set a National record with an impressive 27.12, ranked no 3 in the world this year. Prigoda headed into the finals where he was the favorite for the win. However, Vsevolod Zanko managed to out-touch him for the gold, winning with 27.20 against Prigoda's 27.28. While criteria for Worlds was not only first two places in the final but also first two who set needed time for qualification (27.24), Prigoda's final result did not fit him into the team. Yet Prigoda might still be on the team based on his National record from semifinals. Ilya Khomenko was third with a 27.29.
Svetlana Chimrova set a National record in the women's 100 fly semifinals. She posted a 57.42, a result that moves her within the top five this year. She will definitely try to re-set her new record in tomorrow's finals. Polina Egorova with s 59.38 and Anastasia Lyazeva with a 1:00.17 are the two next qualifiers for finals.
Kliment Kolesnikov and Evgeny Rylov are the two top seeds for tomorrow's men's 200 backstroke final. Rylov's strategy for semis was saving energy, getting on the finals mattered more than his time. Nevertheless, he outtouched Kolesnikov for lane four for finals and posted a 1:59.03. Kolesnikov qualified second with a 1:59.10. Andrey Shabasov heads into the finals third with a 1:59.88
Veronika Popova was the top seed for finals in the women's 200 freestyle. She posted a 1:57.72, a confident result to hope for the win tomorrow. Popova already won 400 free but failed to make the team in the 100 free. One of her closest rivals, Victoria Andreeva, finished with a 1:58.48, and Anastasia Guzhenkova was third with a 1:58.84.