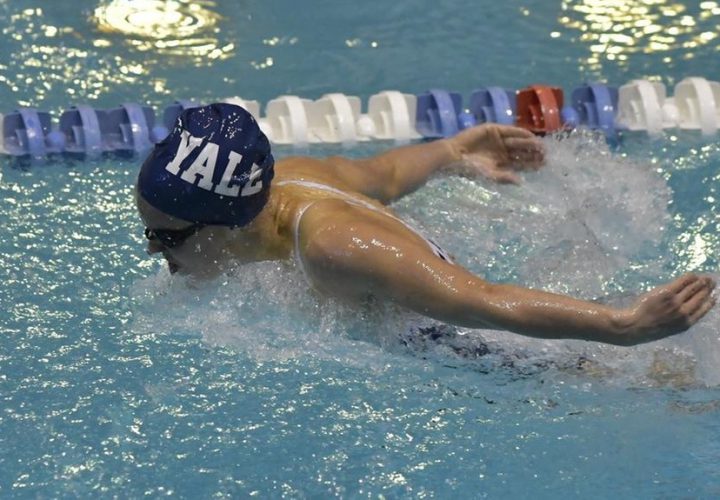 Photo Courtesy: Yale Athletics
2017 Women's Ivy League Day 3 Finals – Results
Yale's Cailley Silbert won the 1000 free by over three seconds in 9:44.17. This is the junior's second-consecutive title in this event and she'll add a gold to her 500 free silver from yesterday. Penn's Grace Ferry dropped 17 seconds from her seed time to take second in 9:47.77. Harvard's Willa Wang knocked 12 seconds from her entry time to finish third in 9:50.09.
For the second year in a row, Harvard's Sonia Wang won the 400 IM. The sophomore touched the wall in 4:14.21 en route to setting a new pool record. Yale's Destiny Nelson, who also took second in the 200 IM, finished behind Wang in 4:15.23. Penn's Ellie Grimes took third in 4:16.14.
Harvard's Brittany Usinger narrowly won the 100 fly, out-touching the runner-up by .02. After finishing fifth in this event last year, the sophomore stopped the clock in 52.92. Yale's Maddy Zimmerman finished a close second in 52.94 while her teammate Heidi Vanderwel took third in 53.80.
Penn's Virginia Burns won the 200 free in yet another nail-biter. The junior, who won the 500 free yesterday, finished in a time of 1:45.51, only .03 ahead of second place. Harvard's Miki Dahlke finished just behind Burns in 1:45.54 and Yale's Kina Zhou took third in 1:46.86. Dahlke still holds the Ivy League record in this event from her leadoff leg of the 800 free relay.
Yale's Cha O'Leary too gold in the 100 breast in 1:00.94. The freshman was just off her pool record of 1:00.88 she set this morning during prelims. Harvard's Meagan Popp touched second in 1:01.67 while her teammate Georgie Enoch took third in 1:01.99.
Not too long after taking third in the 100 fly, Yale's Vanderwel won the 100 back in 52.79. The junior was only .02 off the meet and pool record. Yale's Bella Hindley swam to second in 53.34 and Harvard's Marissa Cominelli took third in 54.11.
Yale has gone four-for-four so far in the relays this meet after winning the 400 medley relay tonight. The Bulldog team of Vanderwel (53.38), O'Leary (1:00.99), Zimmerman (52.50), and Zhou (49.08) finished in 3:35.95. Their time broke the meet record from 2013.
Team Scores:
1. Yale-1103
2. Harvard-1035.5
3. Princeton-662
4. Penn-655
5. Brown-597
6. Columbia-487.5
7. Cornell-441
8. Dartmouth-250