World University Games, Day Two: Qin Haiyang Wins 100 Breast Gold In 58.92; Games Record For Zhang Yufei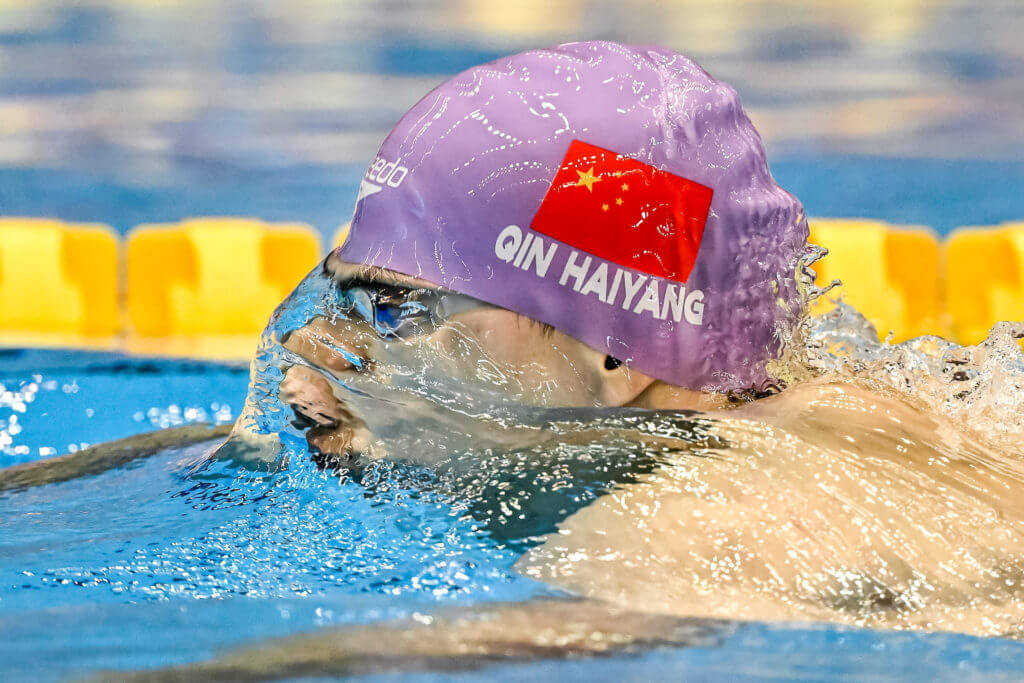 Qin Haiyang: Photo Courtesy: Andrea Masini / Deepbluemedia / Insidefoto
Left Sidebar
World University Games, Day Two: Qin Haiyang Wins 100m Breaststroke In 58.92; Games Record For Zhang Yufei
Qin Haiyang added another gold medal to his collection after taking the 100 breaststroke title at the World University Games in Chengdu on Wednesday. Qin split 27.58/31.34 to stop the clock in 58.92, 1.23 seconds outside the 57.69 in which he became world champion in Fukuoka nine days ago.
It was also 0.50 outside his semifinal time, after returning from his historic meet in Japan where he swept the breaststroke events topped by a 2:05.48 WR in the 200. Jan Kalusowski (59.86) edged out Andrius Sidlauskas as the Lithuanian took bronze in 59.89.
Zhang Yufei won the 50 fly in 25.20, also lowering her 25.29 World University Games record she set on Tuesday. It comes days after she set an Asian record of 25.05 en route to silver behind Sarah Sjostrom in Japan. Zhang left Fukuoka with five medals and will head to Hangzhou next month for the Asian Games.
Erin Gallagher lowered the South African standard from the semis from 25.71 to 25.66 for silver with Viola Scotto di Carlo taking bronze in 26.01.
China's Liu Yaxin kept the Chinese roll going when she won the 200 backstroke in dominant fashion. Liu was timed in 2:08.18, which was more than two seconds ahead of silver medalist Camila Rodrigues Rebelo, who touched the wall in 2:10.47. Hungarian Eszter Szabo-Feltothy was the bronze medalist in 2:10.77.
China capped off the night with a decisive gold in the mixed medley relay behind the foursome of Wang Gukailai, Qin Haiyang, Zhang Yufei and Li Bingjie going 3:44.02. Wang led off in 54.83 for the backstroke and Qin followed with a breaststroke split of 58.64. Zhang checked in on the fly leg with a split of 56.81 and Li closed on freestyle in 53.74. Poland grabbed silver in 3:46.07 and Italy won bronze in 3:47.25.
Simone Stefani led home an Italian one-two in the men's 100 back, stopping the clock in 53.95 ahead of Michele Lamberti (54.02). Denis Popescu took bronze in 54.21.
Luca Armbruster of Germany won the men's 50 fly in 23.22 ahead of a tie for silver between Jakub Majerski and Lorenzo Gargani, both men clocking 23.39.
In semifinal competition, Lithuania's Kotryna Teterevkova moved into the final of the women's 100 breaststroke in convincing fashion, going 1:07.27. That swim was almost a second clear of the No. 2 time, the 1:08.17 of South Africa's Kaylene Corbett. Portugal's Gabriel Almeida Lopes topped the field in the men's 200 individual medley, clocking 2:00.69, and Italy's Giovanni Caserta earned the top seed for the final of the 200 freestyle, going 1:47.84, just ahead of the 1:47.92 of American Jack Dahlgren.
Results
Men's 50 Butterfly (Final)
Men's 100 Backstroke (Final)
Women's 50 Butterfly (Final)
Men's 100 Breaststroke (Final)
Women's 100 Breaststroke (Semifinals)
Men's 200 Individual Medley (Semifinals)
Men's 200 Freestyle (Semifinals)
Women's 200 Backstroke (Final)
Mixed Medley Relay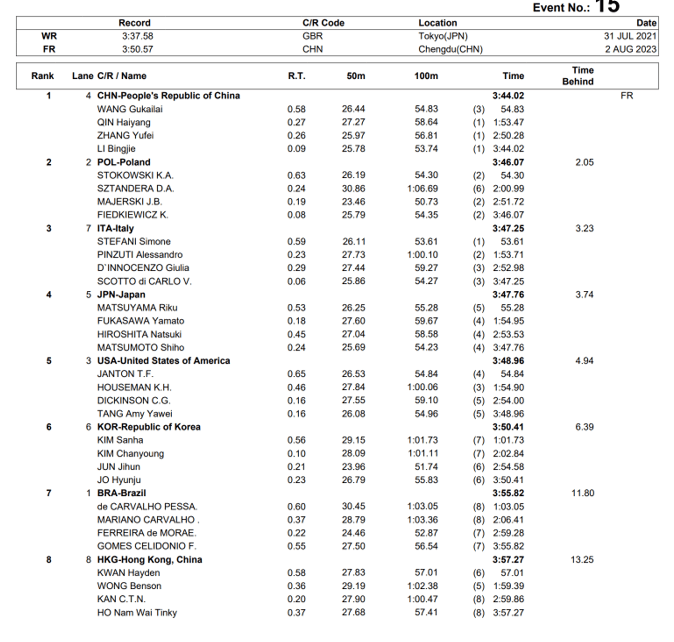 Photo Courtesy: