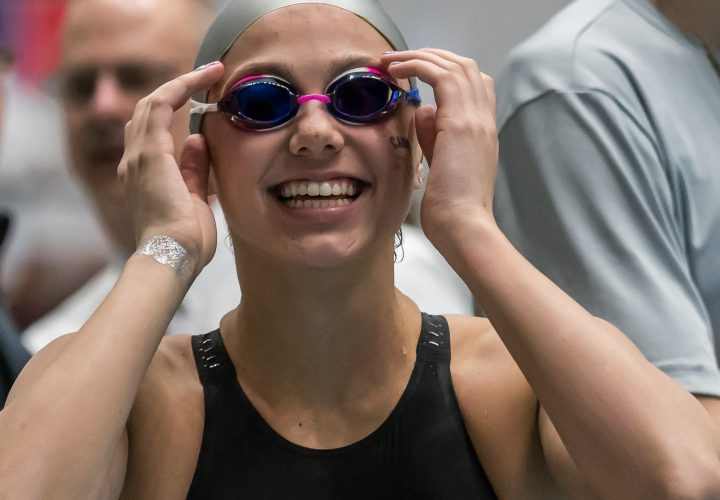 Photo Courtesy: Peter H. Bick
Agon is the proud sponsor of all high school coverage (recruiting, results, state championships, etc.) on SwimmingWorld.com. For more information about Agon, visit their website AgonSwim.com.
To report a college commitment, email HS@swimmingworld.com. Join Swimming World's Watch List
In what has been a big day for the Texas Longhorns women's swimming and diving team, head coach Carol Capitani has picked up verbal commitments from three outstanding members of the 2019 high school class. Miranda Heckman sent a verbal earlier this morning and fellow World Juniors team member Kelly Pash and Ohio High School State Champion Cora Dupre also sent verbals to the Texas Longhorns on Monday.
Pash is from Carmel, Indiana where she is a part of the powerhouse Carmel Swim Club. She has best SCY times of 48.55/1:45.25 in the 100 and 200 free where she should be very valuable on the free relays for the Longhorns. She is also a versatile swimmer with best times of 1:57.97 in the 200 fly and 1:58.02/4:10.97 in the IM events.
Pash is also a solid long course swimmer as she made the 2017 World Juniors roster for the 800 free relay. She has a best of 2:01.87 in the 200 LCM free and 55.96 in the 100.
Pash is currently a junior at Carmel and will be a freshman in the fall of 2019. She will be joining fellow Carmel teammate Claire Adams in her senior season as well as Lauren Case and Kennedy Lohman when they are seniors.
Texas also has a very strong incoming recruiting class in the fall of 2018 with Julia Cook and Grace Ariola coming to campus. They will be sophomores by the time Pash and Dupre are on campus as freshmen.
Cora Dupre is another sold sprint freestyler out of the Mason Manta Rays north of Cincinnati. She has SCY best times of 22.51/49.17 in the 50 and 100 free and could develop into a solid relay swimmer for the Longhorns, much like current senior Rebecca Millard who developed into a 21.71/46.89 anchor on the end of the Longhorn medley relays at NCAA's last year.
Dupre also has a solid 200 free of 1:48.65. She also has solid backstroke times of 54.83/2:00.19 that could be developed. Dupre is also in the class of 2019 and will join Pash and Heckman on campus in the fall of 2019. By the time those three get to campus along with Mary Smutny, the Longhorns could be a national powerhouse like they once were under legendary head coach Richard Quick.
Overall, Texas' relays got much stronger with these three verbal commitments. The Longhorns were just a hair shy of their first top four finish at NCAA's last year, but the team is showing no signs of slowing even with the graduation of Madisyn Cox, Tasija Karosas and the impending departure of senior Millard.