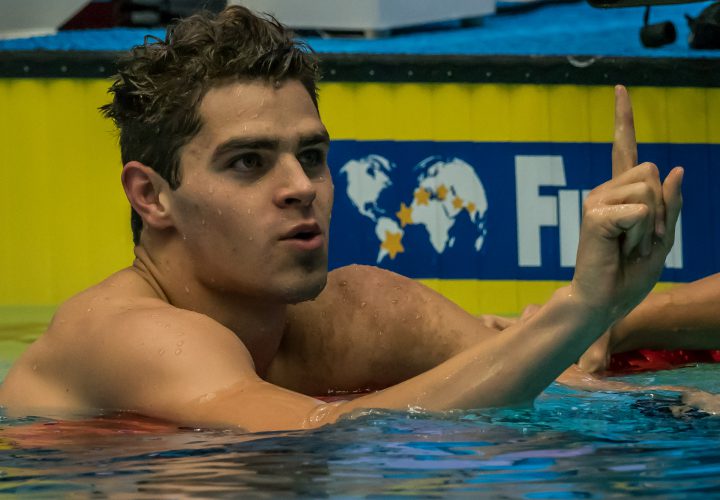 Photo Courtesy: Peter H. Bick
By David Rieder.
Nobody even came close. These were two 50-meter races, where margins of victory are far more often fingertips than bodylengths, and Michael Andrew won both by at least a half-second.
Andrew bagged two gold medals on the fourth night of the World Junior Championships, first defending his gold medal in the 50 back—and leaving 100 back World Junior champion Hugo Gonzalez in his wake—before taking gold in the 50 free as well. He actually raced three times on the night, with a 50 fly semi-final tucked into the middle of it.
Oh, and he set three World Junior Records. First up in the 50 back, he tied his own mark of 24.63 that he had set in the prelims one day earlier. In the 50 fly semis, despite a short stroke on the finish, he came in well under Li Zhuhao's previous WJR with his time of 23.27.
To round it all out, Andrew came back and dominated the 50 free, touching in 21.75 to again tie his own World Junior Record from the previous day's prelims.
"I just wanted to get under 22," Andrew said. "To do that, it was amazing. I'm kind of blown away by it. I didn't really expect it from myself. My goal time was 21.75 exactly, but I'm speechless."
All of that was within one hour. Aside from the sheer improbability of tying two his own records, that's a heck of a performance. The religious Andrew called it a "Holy Spirit kind of night."
"Coming into finals, my goal was to break three World Junior Records in one session. I was like, 'Okay. I'll take it,'" Andrew said, after accomplishing his goal, more or less.
Andrew came to the Junior World Championships—his final meet as a junior-level swimmer—with big hopes, and over the last two days, he has surely delivered.
"I really wanted to go out with a hurrah," Andrew said. "In 2015, I had a really rough (World) Juniors, or so I felt. I don't believe I broke any World Junior Records. So coming here, I wanted to obviously break as many records (as I could), because that's kind of what I've been known for, I guess."
Andrew's performance in the 50 free this week has been eye-opening, to say the least. He had finished fifth at U.S. Nationals—as it turned out, a slow race for most of the headliners—but he dropped almost three tenths off his lifetime best when he first set the World Junior Record in Thursday's prelims.
Only one American has been quicker all year—World Champion Caeleb Dressel—and Andrew now ranks 11th in the world this year. He now ranks as the ninth-fastest American in history, one hundredth ahead of Gary Hall Jr.'s best time.
It was the first time in his career Andrew had put up a swim that legitimately ranks among the best in the world in an Olympic event.
As for the times in the 50 fly and 50 back, those rank nicely as well—eighth in the world in the 50 back and tied for 10th globally in the 50 fly. But those events still do not have spots in the Olympic program, so strong efforts in those events simply don't mean as much in the grand scheme of things.
Andrew, like any swimmer, will be judged on what he accomplishes on the Olympic level. He's gotten plenty of attention over the years for all the records he's broken—first the glut of National Age Group records and more recently the World Junior Records—but to get to the Olympic level, he first must find a niche.
Well, he found one. That 50 free will make sprinters around the country take notice, and they will be looking his way come next summer's all-important National Championships in Irvine, Calif.
What else? Andrew's form in the 100 breast looked promising in 2016, when he finished fourth in the 100 breast at U.S. Olympic Trials in 59.82, then a World Junior Record. Andrew was never going to make the Olympic team in 2016, and to even finish that high as a 17-year-old was certainly a commendable effort.
But he never found that level this year in the 100 breast, and he settled for bronze in the event at World Juniors in 1:00.37.
His 100 free has never clicked as one of his better events, and when he swam on the prelims squad of the American men's 400 free relay in Indianapolis, but his split 50.58 was the slowest time of the four swimmers.
The other event in which he's shown real promise in long course is the 200 IM. In March, set a World Junior Record in the same Indianapolis pool with his time of 1:59.19. But for whatever reason, he was off his best in that event, too, over the summer, finishing 10th at U.S. Nationals in 2:00.97.
His low point for the entire year came in that event on night two at the World Juniors meet, when he swam the 200 IM final barely 15 minutes after the 100 breast final. For a swimmer far better known for his speed than for his endurance, that quick a turnaround proved crippling.
Halfway through the race, Andrew had already fallen to eighth place. He ended up finishing in 2:07.27, more than three seconds behind anyone else in the race and some six seconds slower than he had swum in prelims.
Andrew realized that he never should have attempted that difficult double.
"The IM was abysmal—I don't know what else to say," he said. "I feel like I need to apologize to the team and to the athlete that could have taken my spot in the 200 IM. It probably was irresponsible of me to swim that in my state."
Note that Andrew wasn't concerned that he had embarrassed himself. Of much more importance to him was that he let down his team. Andrew was voted a team captain before the meet began, and he has not taken that honor lightly.
"It's cool that my teammates from the U.S., they see me as a leader," Andrew said. "Coming into the meet, I knew that maybe there was a chance for me to be captain, and I came into it with the mindset of, even if I'm not selected a captain, I want to do what I can to lead.

"I know that I've gotten a lot of incredible experience through racing and travel and such, and I think I can now take that and help other athletes do that for the first time."
But again, this is definitively his final meet with the U.S. Junior team, with his 19th birthday approaching next April, and that means he has to make an impact in the 50 free or some other Olympic event to stick with the senior team.
Already, Andrew has begun thinking about that future with his father and coach, Peter Andrew. The plan includes an upcoming nine-week block of intense racing that will include all sorts of events, including 200s of stroke and the 400 IM. And Andrew's training, based on the principles of Ultra Short Race Pace Training will change—just a little bit.
"We know we have to do a bit more yardage, but it's still the same principles—so more yards at race pace—just to increase that endurance because I want to be good at the 100s and the 200s," Andrew said.
What will be his best event or two events in two years? Andrew isn't ready to limit himself, and he wants to keep his options open with the 100s of strokes and the 200 IM, but certainly, the 50 free isn't going anywhere from his program.
There's an old saying: "There's no heavier burden than great potential." And yes, Michael Andrew has enormous potential—that has been evident for years.
Potential leads to expectations, and Andrew only ramped up what would be expected of him when he turned professional at age 14. But he was never going to turn himself into Michael Phelps. Comparing any swimmer—heck, any athlete—to the 23-time Olympic gold medalist is downright unfair.
Like most 18-year-olds, Andrew is still working to define himself as a swimmer, to figure out what his best events are for the Olympic level, and that's perfectly okay.
But come next summer, there will be no more age group records to break or junior-level meets to star at. Once he turns 19, Andrew will be swimming with the big boys.